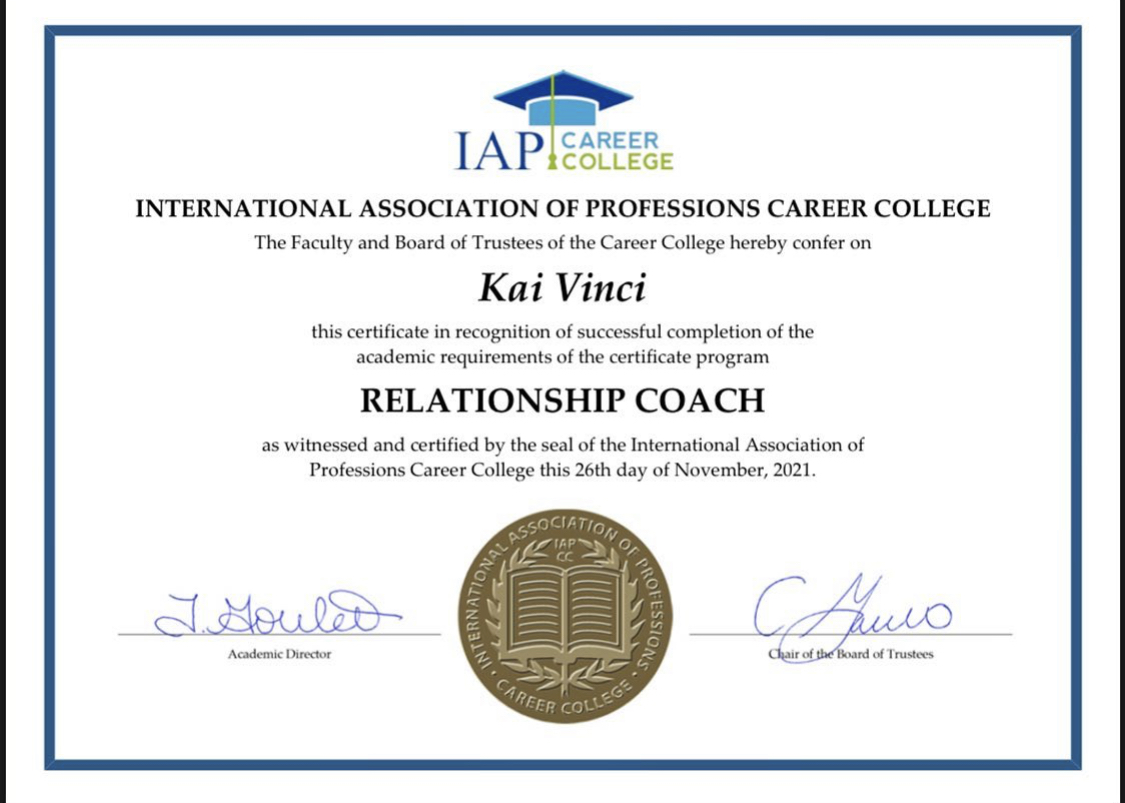 Certified relationship and life coach, Coach Kai Vinci, set to help more women and men build happy relationships through one-on-one coaching sessions
Coach Kai Vinci, a life and relationship coaching brand, founded by a certified relationship coach with a background in psychology, Kai Vinci, has reiterated their commitment to support building healthy, happy relationships through their one-on-one coaching sessions. Kai Vinci brings his years of experience and expertise as a relationship expert with different categories of people to the table, helping clients to live happily with their partners.
"I have a passion for helping others in any way that I can. This has been with me since before college. I knew that my place was to help, inspire, and motivate others around me to be their best in all that they do," said Kai Vinci. "I am available to men and women needing guidance. There are so many who have gone through terrible trauma and abuse who just want someone there to listen. They want to regain control of themselves and their life again. I am here to Coach you through it."
The increasing rate of breakups and divorce cases has become a thing of concern due to the importance of the family in building a sane community. A recent report data from the American Psychological Association revealed that up to 50% of marriages in the United States eventually end in divorce, with 70% of couples breaking up in the first year of their relationship. In a related development, a plethora of relationship guides and resources have been developed by so-called experts to help people. However, Coach Kai Vinci aims to change this narrative by making his services available to as many people as possible worldwide leveraging the internet to reach a wider audience.
Coach Kai Vinci covers the core issues that often lead to broken relationships, helping individuals to effectively cope with different kinds of challenges, including emotional and physical abuse, trauma, and isolation.
In addition to the 1:1 relationship coaching sessions, Coach Kai Vinci also reaches out to his audience via different social media platforms.
For more information about Coach Kai Vinci and the services offered, visit – www.Coachkaivinci.com. Coach Kai Vinci can also be found on TikTok, and Instagram.
Media Contact
Contact Person: Coach Kai Vinci
Email: Send Email
Country: United States
Website: http://coachkaivinci.com/