Nano Hearing Aids has launched a Buy One, Get One free campaign for their Nano Sigma Plus Wireless Hearing Aid. On top of the BOGO offer. Nano Hearing Aids is also giving out free charging docks. This incredible offer also includes free shipping. So this is probably one of the best deals you are going to get when it comes to wireless hearing aids.
This new hearing aid, the Nano Sigma Plus Wireless, has the famous Smart App control feature. With this device, you will be able to control your hearing aids with just your smartphone!
This, of course, does not mean that the hearing aids are not suitable for those who are a little less technologically inclined. In fact, it does not matter if you have a smartphone or not, you will still be able to use this device using only the volume and the mode buttons.
This new wireless hearing aid from Nano has been going completely viral. Let us take a look at why that is the case. Below are some of the benefits of using these hearing aids.
• They are rechargeable and a single charge can last up to 16 hours.
• Comes with wireless control features using a mobile application
• Hearing tests are available directly on the app itself and the device will make adjustments according to the needs of the user
• These devices are nearly invisible
• They have noise reduction capabilities
• Comes with a free dock for charging
• Very easy to operate
• Includes directional Microphone Technology
• Very Reasonably priced and they cost about 80 percent less than the regular hearing aids
• 45-Day completely risk-free money-back guarantee
So, How Exactly Does it Work?
After you have completed the hearing test with just a single click on the hearing aid, the device will then proceed to adjusting itself accordingly. The device will optimize how it operates so that the user has the best and the most comfortable listening experience.
It is important to note that the current offer in place is a limited time one. This offer will be available to only the first 500 people. On top of that, if you place your order today, you will also be able to get the following two bonuses!
Bonus #1 = FREE 1 Year Elite Protection Plan! (worth around 129 USD).
• You will get 100 percent coverage for all types of unintentional damage.
• Protected against any defects and also malfunctions
• About 70 percent coverage against all losses.
• Will get 1 completely free service tune-up (worth around 79 USD) To Buy: nanohearingaids.com or call (480) 999-9068
Bonus #2 = FREE Shipping Within The States! ($15 Value)
With the special price of the device on offer today, you will be able to get a full and complete pair of hearing aid devices. With this limited time offer, you will be able to use one of the best and one of the most effective devices at this very limited price. Your order will contain everything you will ever need in order to operate these hearing aids. It does not matter if you are good with technology or not. This will include
• Around 4+ Sizes that will fit your Ear Canal Size
• Instructions Manual
• Supplies needed for cleaning
In order to make sure that you do not miss out on this once in a lifetime offer, make sure you click on the "Buy It Now" Button and then Checkout Online. If you want to do things in a more old-fashioned way, simply call the toll free number (480) 660-0665 in order to speak to a sales representative online.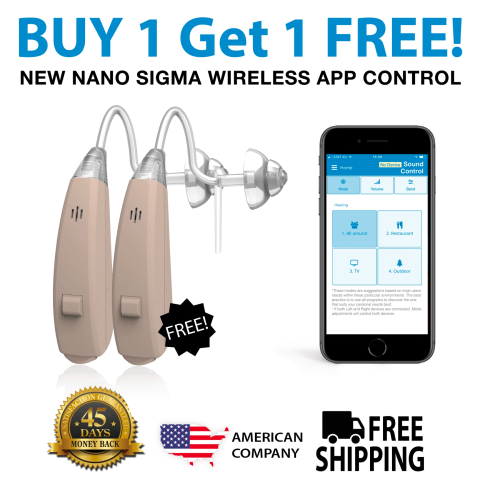 Why Choose Nano?
Wireless Control Features
This is a hearing aid device that can be completely controlled using the app. This device can be fully customized using just the mobile app.
It is Rechargeable
This is a hearing aid device that can be fully recharged and that can really save you a ton of money when it comes to battery costs. On top of that, if you order today and get this incredible deal, you will also be getting a charging base completely free of charge. That, in itself, is worth around 79 USD. Each of the hearing aids will take around 3 hours to charge completely and it can give you around 16+ hours of battery life.
Extremely Easy To Use
This is a very well known feature of the Nano Sigma + hearing aids which is that it is a device that is very easy to use. In addition, you will be getting all of the following things when you make use of this deal.
Advanced Microchip Technology Made in the States
The chip that drives these hearing aids are manufactured right here in the United States in Minnesota by a company called Intricon. The chip being used here is "Audion 4." This is the same chip that is being used in many other much costlier devices.
Very Comfortable Design
These devices are so small that everyone can wear them and not draw attention to themselves. This is because they are able to fit behind your ears. This will make it hard for everyone to even know if you are wearing something or not.
All in all, this is a once in a lifetime opportunity that you should definitely make the most out of if you are experiencing hearing problems.
Media Contact
Company Name: Hearing Aids
Contact Person: Media Relations
Email: Send Email
Country: United States
Website: https://nanohearingaids.com/