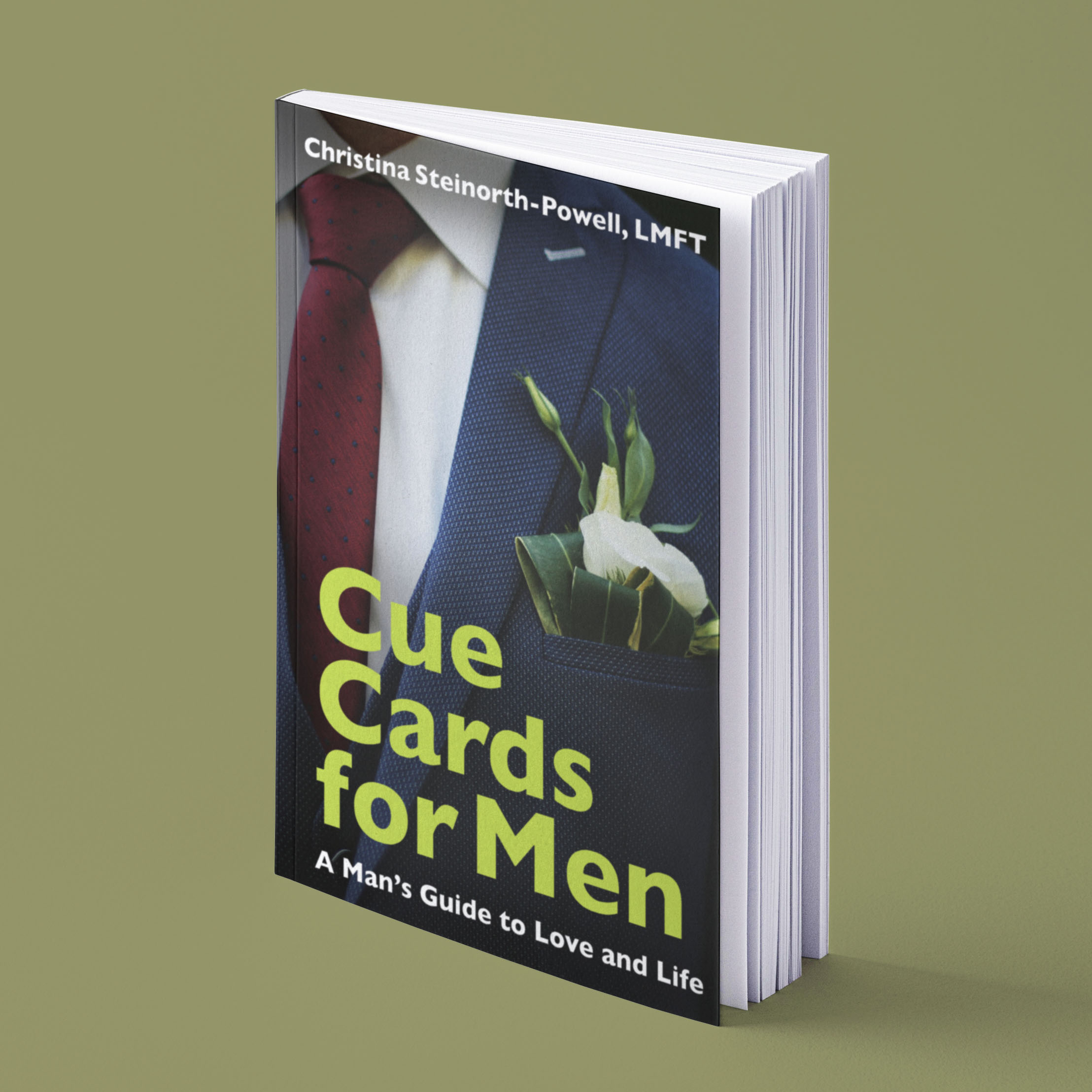 Kharis Publishing today announces the release of "Cue Cards for Men: A Man's Guide to Love and Life" (ISBN: 978-1637460771) by Christina Steinorth-Powell, LMFT, the perfect read for men seeking a little help in their relationship.
CHICAGO, Ill. – Cue Cards for Men: A Man's Guide to Love and Life is today's go-to resource for every man who feels he has nowhere to turn for private, solid relationship advice. One of the best parts about Cue Cards for Men is that you will never have to read it from cover to cover to get something out of it.
Through a series of easy to follow Cue Cards, men will find:
Confidential and easy-to-understand relationship advice from dating through marriage written by a licensed Marriage and Family Therapist.
Tips for being a great father.
Support and guidance while navigating a divorce.
Advice for general well-being.
Let Cue Cards for Men be your guide to love and life!
Video Link: https://www.youtube.com/embed/AJlixm53h4E
According to Terri Orbuch, Ph.D, (aka, The Love Doctor®), and Distinguished Professor at Oakland University), "Cue Cards for Men is the perfect read for men seeking a little help in their relationship. From dating to marriage to fatherhood, no stone is left unturned. Good, quick advice that's easy to put to use immediately."
Cue Cards For Men is published by Kharis Publishing and is now available wherever books are sold, including Amazon: https://www.amazon.com/dp/1637460775/. Retailers and other agencies may order copies from Ingram Content Group or through the publisher (ISBN: 978-1637460771): CUE CARDS FOR MEN – Kharis Publishing
Christina Steinorth-Powell is a Licensed Psychotherapist and Board-Certified Diplomate of professional counseling (IAMBCP). Cue Cards for Men is her third book. She's one of a handful of therapists in the United States licensed in four States (Kentucky, Tennessee, Texas and California). Christina shares her home in rural West Kentucky with her beloved husband, renowned bassist, Dr. Rusty Powell (The Bee Gees, Bruce Springsteen, etc.) and their Basset Hound, Winston.
About Kharis Publishing:
Kharis Publishing, an imprint of Kharis Media LLC, is a leading Christian and inspirational book publisher based in Aurora, Chicago metropolitan area, Illinois. Kharis' dual mission is to give voice to under-represented writers (including women and first-time authors) and equip orphans in developing countries with literacy tools. That is why, for each book sold, the publisher channels some of the proceeds into providing books and computers for orphanages in developing countries, so that these kids may learn to read, dream, and grow. For a limited time, Kharis Publishing is accepting unsolicited queries for nonfiction (Christian, self-help, memoirs, business, health and wellness) from qualified leaders, professionals, pastors, and ministers.
Learn more at: About Us – Kharis Publishing – Accepting Manuscript
Media Contact
Company Name: Kharis Media LLC
Contact Person: Rufus Philip
Email: Send Email
Phone: (630) 423-6309
City: Aurora, Chicago
State: IL
Country: United States
Website: https://kharispublishing.com/kp/product/cue-cards-for-men/