A high-quality cast-iron pan equipped with a non-invasive temperature detector improves the cooking experience for users.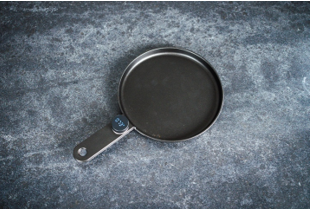 GOFO Battery-free Temperature Detector & Pan-Style Cast Iron Skillet launched today on Indiegogo, an innovative cooking set now being crowdfunded at <https://bit.ly/3nDfbAM>.
As a temperature detector, GOFO does not involve the use of probes and needles. It works through non-invasive heat conduction, displaying the exact temperature of the food that the user is cooking on an LCD display. The sensor is magnetically held and designed to withstand high temperatures without melting or changing shape.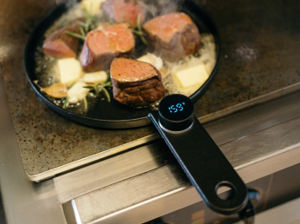 They want people to be able to keep the visuals of their cooking perfect and untouched while still knowing the exact temperature of what they are cooking at any given time. The device does not use batteries, removing any battery-related hazard, cumbersome user experience, and environmental impact. It just works through a thermoelectric module.
Along with being heat resistant, the temperature detector is also waterproof, but only to allow for a quick flush cleaning or for surviving an accidental dip into a kitchen sink.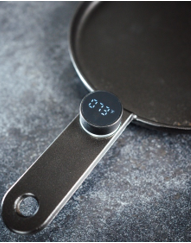 At the same time, as a cast-iron skillet, the pan is built to last for 100 years or more. It can be used on cookers of any type, and it features perfect heat conduction, keeping a constant 200ºF temperature. Its wall thickness also supports slow cooking, which is extremely popular nowadays. The dish-like design makes it possible to use GOFO Skillet also as a serving dish, and it aligns with current trends of preferred dish-shaped pans.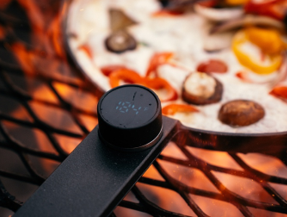 The skillet also features wide ergonomic handles for a functional and burn-free user experience, and the company assures backers that no chemical coatings have been used to build the pan. It just uses a natural vegetable oil coating to ensure it doesn't stick and that it stays safe and chemical-free.
The GOFO Battery-free Temperature Detector & Pan-Style Cast Iron Skillet campaign on Indiegogo at <https://bit.ly/3nDfbAM> is seeking funds to build the large-scale production of the sensor and device. Backers who support the campaign gain early and discounted access to the product.
For more information, please visit <https://bit.ly/3nDfbAM>
or contact GOFO on hemphilljewel220@gmail.com
Media Contact
Company Name: ORANGE TECH INC
Contact Person: SMITH OZZIE
Email: Send Email
Country: United States
Website: https://www.indiegogo.com/projects/gofo-temperature-detector-style-cast-iron-skillet/reft/28394301/pr