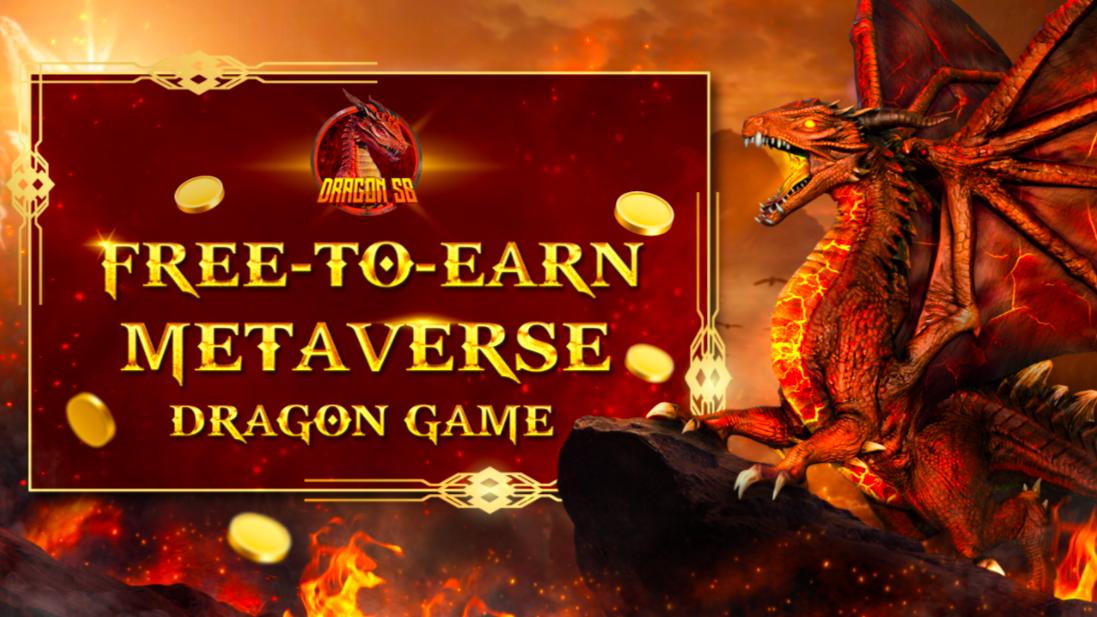 If you are looking for a game that both entertains you while being stuck at home, and accumulates earnings without initial capital, then DragonSB is what you need.
About DragonSB
DragonSB is an RPG Metaverse game built on the Terra platform and the BSC blockchain. The game is the place where players take control of dragons to fight and explore a whole new world – the world of dragons. In particular, players take the role of ancient humans who train, upgrade equipment, and control dragon warriors to participate in fierce battles, destroying powerful monsters. The goal is to defeat the dark dragon lord for peace.
Players are rewarded with SB tokens and NFTs after winning battles. In addition, players can transfer in-game NFTs out of the game for trading. They can also use SB tokens for staking and farming to increase profits.
The game is developed by DragonSB Pte Ltd – A Blockchain Startup Company established in Singapore. The DragonSB team has many years of experience in the fields of blockchain technology and GameFi conception. They all are in-house staff includes multi-dimensional artists, game developers, graphic designers, content writers, and marketers. The main goal of DragonSB is to create a game that is supported by many players around the world, allowing users to earn money while entertaining themselves!
The game Metaverse MMORPG helps players increase income without capital
Free-To-Earn: In some other NFT titles, you may need a large amount of capital to start the game. However, it's unnecessary for DragonSB's players. Once logged in DragonSB, each player will be assigned a dragon. Players can condition their dragons in preparation for battle. Upon winning the battles, players are awarded with SB tokens and NFTs.
Play-To-Earn: DragonSB gives the community many opportunities to earn valuable SB tokens:
Perform in-game quests and win battles to earn NFT and SB as rewards.
Participate in events such as Airdrop, Minigames, …
Staking and Farming SB tokens on SBswap to earn passive income
Sell ​​NFTs such as dragons, eggs, gems, … on NFT Marketplace
An interesting thing about the NFT game genre that makes DragonSB sought-after is: Items such as dragons, eggs, gems, skill books in DragonSB are not only used as equipment to increase your dragon's fighting power but also can be transferred to out-of-game NFTs for direct trading.
SB – The valuable token of DragonSB
SB is the main currency as well as the heart of the DragonSB ecosystem as it is used for most of the in-game activities such as purchasing items, etc.
Basic Metrics
Ticker: SB
Blockchain Network: CW-20 and BEP-20
Token Supply: 100,000,000
Project Valuation: $15M
Two of the important and decisive factors for the long-term development of DragonSB are the "In-game Inflation Reduction Mechanism" and the "Coin Burning Mechanism." DragonSB builds a tight gaming and reward mechanism, the DragonSB team will commit the use of 70% of profits generated from the ecosystem to buy back and burn SB tokens. This action reduces total supply and increases scarcity, resulting in the increased value of the SB tokens.
Roadmap of DragonSB
The two events that are greatly anticipated by both the Crypto and Gaming communities are Beta Game Testing which will launch in Q1/2022 and Game Version 1.0 which will launch in Q2/2022.
IDO will launch on Terraformer and DAOmaker soon.
In February, DragonSB will launch an IDO on TerraFormer and DAOmaker. The official date for this launch will be announced shortly. Upon launching the IDO, DragonSB will prepare SB token listing on CEX and DEX.
Investors
To develop the project as well as build community trust, DragonSB has partnered with leading investment funds groups from across the globe. DragonSB pleased to have partnered with the following: DAOmaker, Metrix Capital, DnR Labs, Magnus Capital, ReBlock, Chronos Ventures, Insignius, Photo Chromic, Diversity, GHAF Capital, Automatic Venture Group, AntEx. Looking towards the future, DragonSB will continue to build relationships with other expert fund managers with the goal of strengthening DragonSB's financial capacities.
With unique gameplay as well as character design, and the application of blockchain technology to ensure maximum security, DragonSB will certainly be the expectation of many global users who are looking for a game that is not only excellent but also profitable.
Follow Us:
● Website: https://dragonsb.finance/
● Telegram Channel: https://t.me/DragonSB_finance
● Telegram Group: https://t.me/dragonsb_offical
● Twitter: https://twitter.com/DragonSBFinance
● Discord: https://discord.com/invite/4nGtYABc
Media Contact
Company Name: DRAGON SB PTE.LTD.
Contact Person: HuongDuong
Email: Send Email
Phone: 0392981022
Country: Vietnam
Website: https://dragonsb.finance/