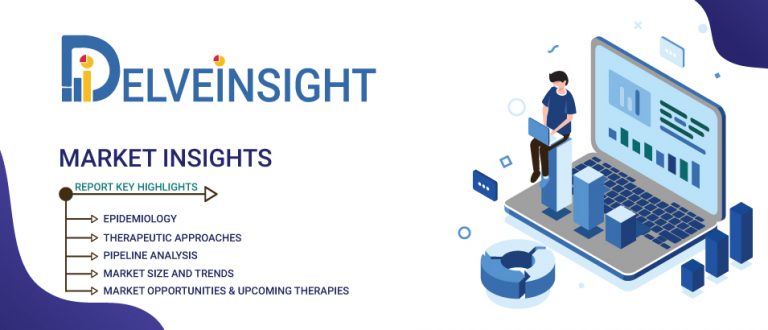 DelveInsight's Antiphospholipid Syndrome Market Insights report provides a thorough understanding of current treatment practices, emerging drugs, Antiphospholipid Syndrome market share of the individual therapies, current and forecasted Antiphospholipid Syndrome market size from 2019 to 2032 segmented into 7MM (the USA, EU5 (the UK, Italy, Spain, France, and Germany), and Japan).
Antiphospholipid Syndrome Overview
Antiphospholipid antibody syndrome (commonly called antiphospholipid syndrome or APS) is an autoimmune disease which can cause frequent clotting in arteries and veins and/or miscarriages. The clotting results from the presence of proteins in the blood called anti-phospholipid autoantibodies (commonly called aPL) formed against the person's own tissues.
Download Sample Report @ Antiphospholipid Syndrome Market Report
Some of the key features of the Antiphospholipid Syndrome Market Report
According to American College of Rheumatology (2021) it was reported that antiphospholipid antibody syndrome affects women five times more commonly than men.
The annual estimated prevalence of antiphospholipid antibody syndrome was 50 (95% CI 42–58) per 100,000 population.
Antiphospholipid antibodies (aPL) were present in approximately 9% of patients with pregnancy losses, 14% with stroke, 11% with myocardial infarction (MI), and 10% with deep vein thrombosis (DVT).
Antiphospholipid Syndrome companies such as Austhera Biosciences, and several others.
Antiphospholipid Syndrome therapies such as KRIVA, and several others.
Antiphospholipid Syndrome Causes
Autoantibodies in blood causes blood to flow improperly and can lead to dangerous clotting in arteries and veins, problems for a developing fetus and pregnancy miscarriage. People with this disorder may otherwise be healthy, or they also may suffer from an underlying disease, most frequently systemic lupus erythematous. Clots forming in the veins most frequently occur in the lower legs. Blood clots in the leg veins can break off and travel to the lung, causing a very serious condition called pulmonary embolism. Pulmonary embolism blocks blood flow to the lung and decreases the amount of oxygen in the blood.
Antiphospholipid Syndrome Diagnosis
The diagnosis of antiphospholipid syndrome is made by testing the blood of patients with blood clots and/or recurrent miscarriages for the presence of aPL. Some of the test are lupus anticoagulant test, anticardiolipin and anti-beta-2-glycoprotein I antibodies, and other laboratory findings.
Antiphospholipid Syndrome Treatment
Currently, treatment of patients with Antiphospholipid syndrome is based on long-term oral anticoagulation therapy for thrombotic manifestations and the combination of low dose aspirin (LDA) and low-molecular-weight heparin (LMWH) to prevent obstetric manifestations. However, the lack of well-designed studies means that the strength of some recommendations is debatable. Innovative therapeutic approaches, such as immune modulation, complement inhibition, and targeting inflammation, are under study. Further mechanistic and clinical studies are needed to develop improved therapies for this potentially devastating illness. Better understanding of the pathophysiological mechanisms of Antiphospholipid syndrome will help to identify new therapeutic targets, and a balance between anticoagulation and immunomodulatory drugs for different Antiphospholipid syndrome manifestations.
Antiphospholipid Syndrome Emerging Therapy Assessment
As per the secondary findings and Clinicaltrials.gov, not many companies have indulged themselves to develop a novel treatment option for APS. This might be due to the lack of awareness and may be due to its rare nature. Presently, many hospitals and universities (University of Turin, University College, London, and others) are conducting trials of already approved agents for this rare disorder. The engagement of pharmaceutical key players is urgently required. It is important to highlight that few companies tried coming into this arena, however, failed. Alexion Pharmaceuticals began an open-label proof-of-concept phase IIa study of ALXN1007 for the treatment of APS non-criteria manifestations, however, it was prematurely stopped due to minimal patient recruitment.
Antiphospholipid Syndrome Epidemiology Segmentation
Total prevalence cases
Age-Specific cases
Clinical Manifestations
Diagnosed and Treatable cases
Gender-Specific cases
Get an overview of the report @ Antiphospholipid Syndrome Market Share
Antiphospholipid Syndrome Market Drivers
Increase in awareness
Increase in R&D of diagnostic tools leads to better diagnosis of the disease
Increasing Prevalence of the Disease
Antiphospholipid Syndrome Market Barriers
Off-label drugs usage
Lack of emerging therapies
Lack of management of Disease
Antiphospholipid Syndrome Market Report Scope
Study Period- 2019-2032
Coverage- The United States, EU5 (Germany, France, Italy, Spain, and the United Kingdom), and Japan
Key Companies: Austhera Biosciences, and several others.
Key Therapies: KRIVA, and several others.
Unmet Needs
KOL's Views
Market Drivers
Market Barriers
Request Sample Report @ Antiphospholipid Syndrome Market Insights
Table of Content
1. Key Insights
2. Executive Summary of Antiphospholipid Syndrome (APS)
3. Competitive Intelligence Analysis for Antiphospholipid Syndrome (APS)
4. Antiphospholipid Syndrome (APS): Market Overview at a Glance
5. Antiphospholipid Syndrome (APS): Disease Background and Overview
6. Patient Journey
7. Antiphospholipid Syndrome (APS) Epidemiology and Patient Population
8. Treatment Algorithm, Current Treatment, and Medical Practices
9. Antiphospholipid Syndrome (APS) Unmet Needs
10. Key Endpoints of Antiphospholipid Syndrome (APS) Treatment
11. Antiphospholipid Syndrome (APS) Marketed Products
12. Antiphospholipid Syndrome (APS) Emerging Therapies
13. Antiphospholipid Syndrome (APS): Seven Major Market Analysis
14. Attribute analysis
15. 7MM: Market Outlook
16. Access and Reimbursement Overview of Antiphospholipid Syndrome (APS)
17. KOL Views
18. Market Drivers
19. Market Barriers
20. Appendix
21. DelveInsight Capabilities
22. Disclaimer
23. About DelveInsight
About Us
DelveInsight is a Business Consulting and Market research company, providing expert business solutions for life science vertical and offering quintessential advisory services in the areas of R&D, Strategy Formulation, Operations, Competitive Intelligence, Competitive Landscaping, and Mergers & Acquisitions.
Contact Us
Yash
info@delveinsight.com
Media Contact
Company Name: DelveInsight Business Research LLP
Contact Person: Yash Bhardwaj
Email: Send Email
Phone: 9193216187
Address:304 S. Jones Blvd #2432
City: Las Vegas
State: NV
Country: United States
Website: https://www.delveinsight.com/