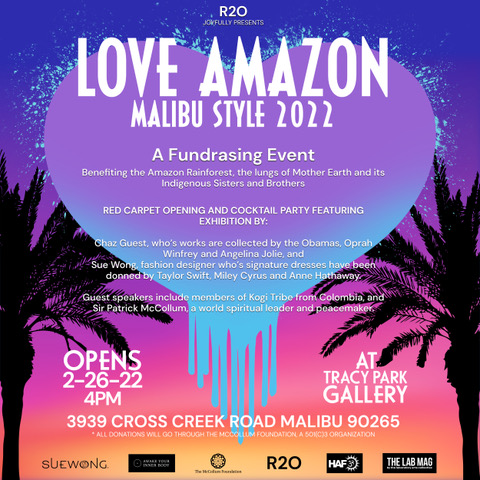 World-renowned artist Chaz Guest and Fashion Icon Sue Wong are teaming up to raise money and awareness for "Love Amazon: Malibu Style" fundraising event.
"Love Amazon: Malibu Style" is a Red Carpet Extravaganza to raise money and awareness benefiting the Amazon Rainforest, the lungs of Mother Earth and its Indigenous Sisters and Brothers. This fundraising event, presented by R2O: Return to Origin, starts 4pm on Saturday, February 26th, 2022, with a mental health panel scheduled to take place on 1pm on Sunday, February 27th, 2022.
The red-carpet extravaganza pop-up art show will take place at the Tracy Park Gallery located in the Malibu Lumber Yard located at 3939 Cross Creek Road, Malibu, California 90265.
"Love Amazon: Malibu Style" at Tracy Park Gallery is a fundraising event to raise money as well as the awareness of the decimation and the deforestation that is unfolding in the Amazon, the heart and lungs of Mother Earth, and the negative impact this is having on the ecosystem and the natural balance of the planet.
The Amazon Prophecy Project is being led by the Rev. Patrick McCollum, who is a life-long peace activist specializing in conflict resolution by elevating marginalized and indigenous voices. He is an interfaith chaplain, spiritual mentor, author, and peace counselor. He built The Peace Violin himself using elements from various wars, the ashes of the Holocaust victims, bits of dust from the brick that Buddha stood on, incorporating so many elements which represent both the good and the horror of humanity. He now plays The Peace Violin all over the world and at historic events.
Kandy Maku, the guardian of the elders of the Kogi, will have an important message for the world at the event, with video appearances from Sadhguru, Sadhviji Bhagawati Saraswati and Jane Goodall. In addition, there will be a video of Chant and words from Krisha Das with video music performances by Snow Raven and Nacho.
The event will include the display of several art pieces donated by artist Chaz Guest and a Fashion/Art Installation by world-renowned Iconic fashion designer Sue Wong, who has graciously donated 60 of her glamorous Hollywood gowns to raise money for the indigenous tribes of the Amazon. All Sue Wong designer gowns are available for sale and are perfect for prom, Spring/Summer weddings, anniversary celebrations and Red Carpet Events.
To bid on Sue Wong's designer gowns to raise money for the Return To Origin Fundraiser click this link: https://one.bidpal.net/r2opark
Chaz Guest is an American painter and sculptor of profound inventiveness for capturing the raw essence reflection of the universal human spirit. Blessed with gifts of realizing his richly textured visions and tapping into their vibrant essence, Guest leaves those who encounter his works moved in powerfully personal ways. From his acclaimed "Cotton Series" paintings of enslaved African Americans rendered on 100% pure Georgia cotton flags to his latest graphic novel creation Buffalo Warrior that is about to be a state of the art major motion picture, Guest proudly inserts his culture into every piece he makes. Typically donned in a Japanese kimono and slippers in his Mid-Wilshire Los Angeles studio where he is surrounded by bold, beautiful Africa-originated inspirations, Guest captures light energy and life legacy in his works. The catalyst of his art lies in how Guest injects purity and excellence throughout. "I trust my voice," Guest states. "I have a story to express for humanity."
Sue Wong is a Chinese-born American Fashion Designer best known for her dress designs with a contemporary twist based on old hollywood glamor style. Her collections, available in some 27 countries, have been noted for her interpretations of the traditions of couture dressmaking of romantic eras such as Weimar Berlin, 1930s Shanghai, pre-code Hollywood, and Manhattan's gilded Jazz Age.
The official website for R2O may be found at https://return2origin.org/home/
The Amazon Prophecy Journey in March https://return2origin.org/walk-with-the-kogis/
The world peace violin https://patrickmccollum.org/the-world-peace-violin/
For questions or more information contact Lainie Strouse (310) 500-9216 lainie.strouse@gmail.com
Media Contact
Company Name: World Star PR
Contact Person: Jimmy Star
Email: Send Email
Phone: 631-506-6600
Country: United States
Website: https://www.facebook.com/WorldStarPR/