Sale of biker clothes that make riders comfortable and stylish, on and off the road.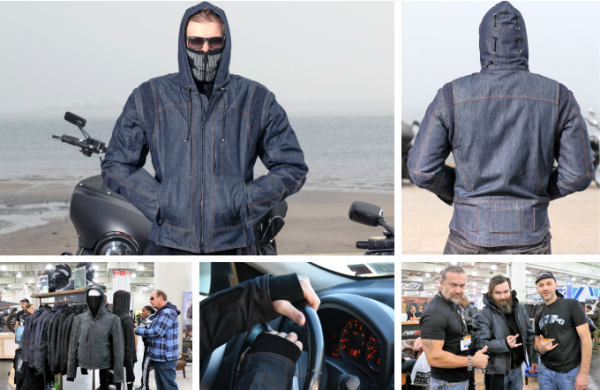 Rybak Riding Gear & Apparel is merging innovation and style while bringing comfort and flexibility to street riding apparel. The new clothing brand has officially launched its online shop dedicated to selling motorcycle riding apparel that is disrupting the industry. The company recognized that much of the motorcycle apparel are usually created based on appealing design and not really derived from a rider's perspective and Rybak Riding Gear & Apparel set about to turn this around.
With a mission to make clothing that meets the needs of frequent riders as well as make them comfortable on the road, the new clothing line was launched. The product line now includes modular jackets, humbly called "The Biker Club" jacket which has a long list of novel features that make a rider's life on the hog considerably better. The Biker Club Jacket is made with Dyneema® denim construction which gives it an unparalleled abrasion resistance. It also has a patented fasten and collapsible hood design that is unlike anything else on the market and is said to revolutionize hood function as we now know it, for those in the motor apparel industry, as well as for active wear in general. This collapse and fasten function is unlike any conventional hood. It allows wearers to take it off without raising a hand or make it fit tightly on their head without impeding the field of view.
Furthermore, the modular jackets come with detachable and interchangeable face guard and sleeves, expansion panels, built-in ventilation, drawstrings with magnetic catch plates, retractable sleeve cuff that functions as a fingerless glove. Because this is a modular jacket, it allows for all parts to be removable and interchangeable. There are also 10 pockets, 6 of which doubles as ventilation and if all is removed, the wearer gets an unusual looking vest. In addition, purchasing this unbelievable jacket gives owners an opportunity to become a "member" of "Biker Club" which is the first label of the Rybak Riding Gear & Apparel. According to the team, "Are you ready to join the club? BikerClubClothing.com is the place to do it."
With Rybak Riding Gear & Apparel, riders will be getting clothing that are truly innovative. One of such positive feedback came from Alex Lerner, Celebrity bike builder who had this to say about Rybak Riding Gear & Apparel, "Will gladly pay you whatever it costs, never seen anything so accommodating. It feels and looks great on. The denim looks and feels very nice. Very well thought out functional elements. The versatility is amazing, cool, very cool jacker, can I have this one?"
Another, Konstantin Kotov, founder of Bratva MC said, "This is the most comfortable jacket I ever wore. Looks really – really cool. And all the feature keep me saying: wow! Wow! Wow! Absolutely love the jacket, but not as much as the Hoodie, LOL!"
Media Contact
Company Name: Rybak Riding Gear & Apparel
Contact Person: Steve Rybak
Email: Send Email
Phone: +1 212-671-0225
Country: United States
Website: BikerClubClothing.com