Perseverance and a great idea, combined with a bit of luck, is the recipe for success for a London-based start-up that is building an online community for children. Little Bridge, with a detour to Eastern Europe, has finally arrived in Silicon Valley.
Many stories about startups appear in magazines, and most readers have no idea what goes on behind the scenes.
"Everyday successes are being achieved, and at POZI.io we want to set an example for those who have not yet dared to start their own business," says Roland Kovács, CEO of the Pozi.io platform. "Little Bridge's project performed strongly in several competitions, showing that both the idea and the team were born to succeed."
The story is simple: Little Bridge, itself an exciting project, plus excellent preparation and confidence, entered the 'Pitch Please!' competition, hosted by Draper Startup House Network and POZI.io. Their polished-pitch impressed the judges, where it was voted first place by an international jury. The head of Draper Startup House Network, who chaired the jury, offered the winners a place on the Draper University online startup-course, which provides mentorship and opportunities for entrepreneurs.
"Little Bridge has received a huge boost from the positive feedback we received at the POZI.io competition. Even though everything was done online, it was a challenge to win first place among strong competitors." – said Sarah White, co-CEO of Little Bridge. "The competition not only brought us victory but also useful feedback and amazing international opportunities, including participating in Draper University."
Along with competing (and winning) the 'Pitch Please!' event, Little Bridge also participated in another competition hosted by the Pozi.io platform; the Women Startup Competition, which brings together top female entrepreneurs from across Europe.
The potential of the Little Bridge project and vision was recognised by the judges, who awarded it first place.
With two competition wins in their pocket, the Little Bridge team entered the Draper University Fundamentals of Entrepreneurship course in January.
The Draper University course culminated in a pitch event, hosted by Draper University founder and venture capitalist Tim Draper.
"The Draper University competition was fierce! Having just won the Women Startup Competition, we were in a really positive mindset and felt very confident going into the pitch with Tim Draper."- said Sarah White, "The pitching experiences we had with Pozi.io were really helpful in preparing us for this opportunity."
The result? Little Bridge were selected by Tim as the first-place winners in the event, adding that 'We think this could be the new thing, we are very excited about it!'.
Along with following up with Tim Draper, Little Bridge has been invited to attend the Draper University summer course at their Silicon Valley campus, which is usually the precursor to securing further investment in Silicon Valley.
Tim Draper's motto seems to be true: "The more you try new things, the more chances you have to succeed." The Draper Startup House Network is building the international startup community with this philosophy in mind. "Little Bridge's solution could bring casual English language learning to many young people, which is why I saw fantasy in it as the jury chair of the POZI.io competition, but it was Sarah's personality that made the presentation most credible. The Draper Startup House Network community wants to spread this mentality internationally, to share it with those who have not yet built bridges between international startup hubs," says Vikram Bharati, founder of Draper Startup House Network.
"The Pozi.io network offers great opportunities to entrepreneurs looking to grow their startups quickly. Within 2 months of finding Pozi.io, we've won several international pitch competitions, are in discussions with potential investors, and have secured an international scholarship to a Silicon Valley accelerator. Platforms like Pozi.io offer essential networking and pitching opportunities for startups like, especially for companies like Little Bridge who have embraced remote working."
*Little Bridge is reimagining social media for kids aged 6 – 12 and revolutionising how they learn the international language, English.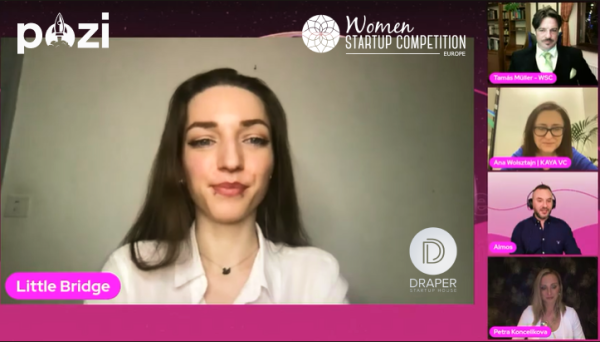 Media Contact
Contact Person: Tamas Müller
Email: Send Email
Phone: +36 30 280 6060
Country: Hungary
Website: www.pozi.io