A RAW Natural Born Artist sponsored event
Albany — on Saturday, March 26, 2022 — 6:00 pm, RAW Artist ent will host Ready, Set, Go, at The Linda WAMC's Performing Arts Studio at 339 Central Avenue in Albany, New York. The showcase will display a wide array of art in the form of visual, photography, music, and more with 18 artists in total from the Capital Region.
"The showcase is to give upcoming artists in the Capital Region a platform to shine and introduce their talent to a new network of ppl," said Essence Todman of RAW Artist Ent.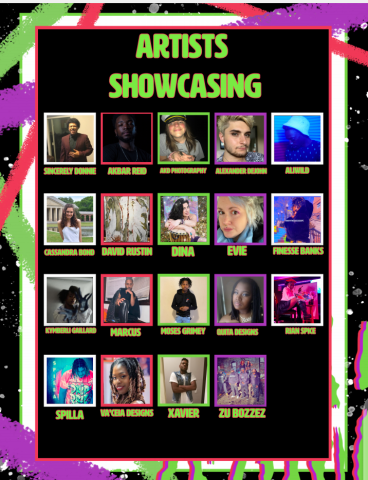 The Showcase is an opportunity for up-and-coming artists in the area to display their art to a new network of people through a variety of outlets. Ready Set Go is a showcase like no other. The assembly of talent presents a brilliant variety of music, fashion, poetry, and visual art. Spectators should be prepared to be astonished by the collection of art that will give them joy, sorrow, inspiration, and fascination.
Spectators should expect to see a visual, short independent film alongside pop-up galleries of the varying visual artists. As well as several performances from the varying poets and music artists. Equipped with the event will be multiple fashion shows with models and artists from the capital region. There will also be vendors with eclectic products to match everyone's needs.
This event is friendly to all ages, participants are required to have a negative covid test 72 hours prior to the event or a vaccination card with the second dose verified to be 14 days prior to the event to enter.
Tickets and information
General admission starts at $25.00. Tickets can be purchased at https://rawartists.com/albany/ReadySetGO.
Some Artists include:
Zu Bossez – Music
Va'Ceia Designs – fashion
Kimberly – Visual Art
RAW Artist Ent and RAW are either registered trademarks or trademarks of RAW Artist Ent in the United States and/or other countries.
The names of actual companies and products mentioned herein may be the trademarks of their respective owners.
Facebook: RAW Artists Albany
Instagram: @raw_albany
Media Contact
Company Name: Albany
Contact Person: Essence Latifah – Albany Showcase Director
Email: Send Email
Phone: (838) 934-0957
Country: United States
Website: https://rawartists.com/albany/ReadySetGO