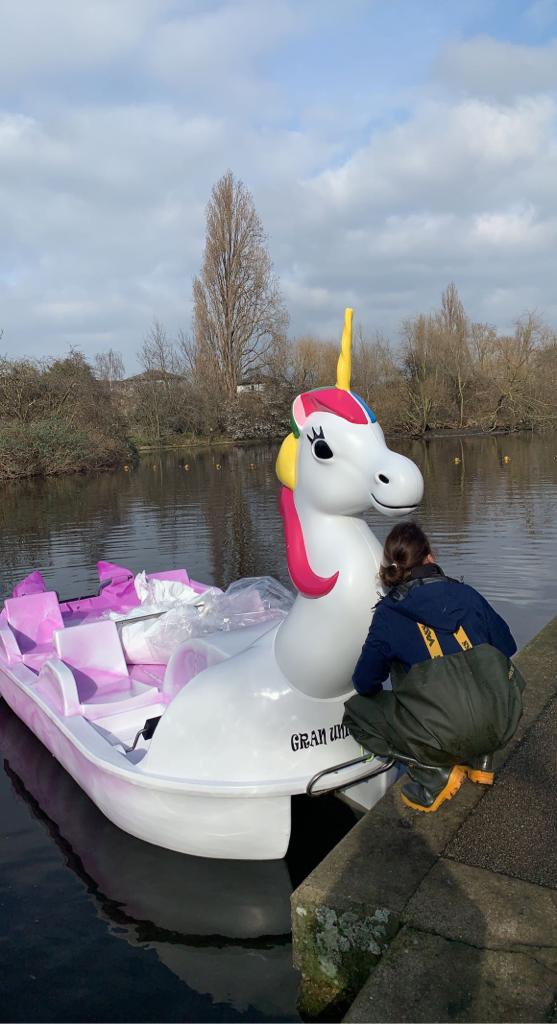 Just imagine beautiful Unicorns gliding peacefully on the lake! It is not a fairy tale but a reality! Named The Magical Unicorn Lake, the boating lake with 20 brand new pedal boats in a shape of a Unicorn just starting its season. Perfect for family days out, birthday parties, romantic dates, and other such celebrations.
Splash & Boats Ltd has announced the launch of a new boating line established to offer a magical and exciting lakeside experience for those interested in water-related recreational activities. Scheduled to be launched on the 19th and 20th of March, 2022, with an official opening day on the 02nd of April the new boating lake will be open on weekends, public and school holidays, and sunny days during term time between April and the end of October.
The Magical Unicorn Lake was created to provide everyone with an exciting adventure where they can create fun magical memories to last them a long time.
Situated in the heart of Barking Park, the new boating lake is made up of 20 unicorn pedal boats, each of which can accommodate 1 to 5 people and give fun exciting boat rides ranging from 15 to 30 minutes long.
"The Magical Unicorn Lake was created to provide you with a fun and exciting adventure. Whether you're planning a family day out, friends gathering, creative proposal or romantic date for your significant other, our boats are well equipped to guarantee you a wonderful time as you create magical memories that will last through the sands of time. As one of the staff pointed out, they are not boats, they are Unicorns!"
While adults and children of all ages are welcome to come to have an exciting time, floating on top of the water in the comforting warmth of the sun, the company wishes to inform everyone that it maintains a "no pets, no swimming, no smoking, and no drinking policy," to ensure a clean and safe experience for all guests.
Anyone interested in having a new exciting adventure as promised by the boating lake can reach out to The Magical Boating Lake via the contact info below.
For more information, please visit: http://www.themagicalunicornlake.co.uk
Media Contact
Company Name: Splash & Boats Ltd
Contact Person: Monika Drozd
Email: Send Email
Country: United Kingdom
Website: http://www.themagicalunicornlake.co.uk