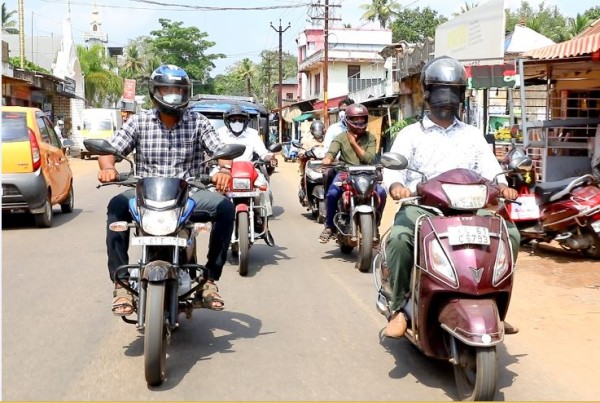 March 15, 2022 – Kerala, India – The world-famous Magician Dr. Tijo Varaghese performed a "blindfold motorcycle ride" on women's day at 10 am, to create awareness among ladies and children about harassment. This breathtaking ride starts from Karunagapally, Kollam district, Puthayakava Junction to Aramadathukavu and back for about 25 Kilometres.
Heart-stopping "blindfold motorcycle ride" by Magician Dr. Tijo Varghese and flag off by MLA C.R.Mahesh, Advocate Mr. Somprasad (MP), and Sasthomcotta Kollam district fresh lake management group Mr. Dilip, Mr. Cinu, and a few others, inaugurated the blindfold ride.
The public witnessed the act. Magician Dr. Tijo Varghese is a specialist in blindfold motorcycles. With a blindfold, he has done many achievements in the magic field. Dr.Tijo Varghese took this concept on women's day to create the perception that the government should take more attention to the harassment that's happening every day. And Dr. Tijo pointed out that children and ladies should be brave and shouldn't be blind whatever happens open your eyes and fight. According to the report, nearly 1 in 3 have been abused in their lifetime. No one deserves harassment. Ladies and children should be brave.
Dr. Tijo Varghese also says that "a woman is stronger than she thinks". Because there is a strong woman hiding inside herself. Tijo Varghese from Monster city Coimbatore who at the age of 35 did 125 world records and paved his irreplaceable place in the magic field. Dr. Tijo's Varghese name is also on the list of various world magic communities and various magic-based organizations in major states like Tamil Nadu, Kerala, and Delhi in India. His most notable magic is blindfolded. He has done this for a long time and gained recognition in the world records list. His efforts and hard work have made his name on the India Book of Records, Universal Records Forum, WAC Book of Records, World records India, and many more. He was also hailed as a peace envoy on behalf of the government. His reputation was honored on behalf of the UN.
The World Peace Organization honored Tijo Varghese with the Peace Prize. His achievements are taken as an example for many magicians. Tijo Varghese king of magic, Nigeria government has honored him by appointing him as a Special Combat Security Service. He has done his magic on various TV channels and has attracted the attention of many and he has also encouraged many to learn magic. At a very young age, he has touched the sky.
Dr. Tijo Varghese says that Magic is an art. His main aim is to change everyone in positive thinking and to spread happiness all over the world through his various heartbreaking magic and mentalism acts. Dr. Tijo Varghese was also holding 125 plus National /Asia / World Records. 400 plus Nation / International Award holder.
Media Contact
Company Name: Magiciantijo
Contact Person: Dr Tijo Varghese
Email: Send Email
City: Kuniyamuthur, Coimbatore
State: Tamilnadu
Country: India
Website: https://magiciantijo.com/