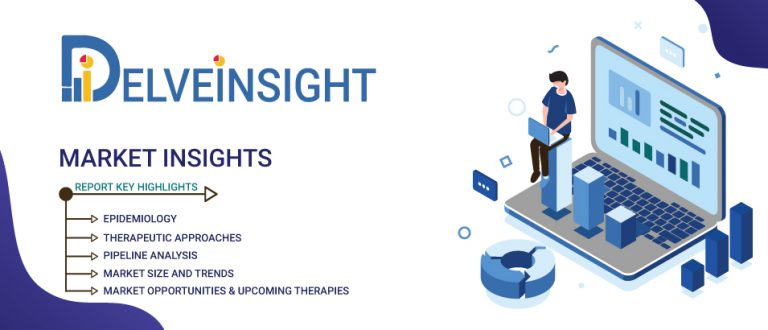 DelveInsight's Shingles Market Insights, Epidemiology, and Market Forecast 2032" report delivers an in-depth understanding of the disease, historical and forecasted epidemiology as well as the Shingles Market Size and Share in the 7MM (i.e. the United States, EU5 (Germany, Spain, Italy, France, and United Kingdom) and Japan).
The Shingles market report covers emerging drugs, current treatment practices, market share of the individual therapies, current and forecasted market size from 2019 to 2032. It also evaluates the current treatment practice/algorithm, market drivers & barriers, and unmet medical needs to curate the best of the opportunities and assess the underlying potential of the market.
Shingles: Overview
Shingles, also known as herpes zoster (HZ), is a viral infection caused by the chickenpox virus, varicella-zoster virus (VZV). Herpes zoster results from activation of the virus, which in many instances has remained latent for years following a primary chickenpox infection. Once active, the virus travels along a nerve to the skin and causes a rash.
Get access to a free copy of our latest sample report @ https://www.delveinsight.com/sample-request/shingles-market
Some of the key facts of the Shingles Market
According to Center for Disease Control and Prevention (CDC), almost 1 out of 3 people in the United States are at risk of developing shingles in their lifetime. An estimated one million cases of herpes zoster occur annually in the US. Additionally, the incidence for HZ is approximately 4 cases per 1,000 US population annually while the incidence among people 60 years and older is about 1 case per 100 US population annually.
As per findings from secondary domain, females are more commonly affected by Shingles than males.
As per study conducted by Takao et al. (2015) titled "Incidences of Herpes Zoster and Postherpetic Neuralgia in Japanese Adults Aged 50 Years and Older From a Community-based Prospective Cohort Study: The SHEZ Study", the incidence of HZ was 10.9/1,000 person-years (men: 8.5/1,000 person-years; women: 12.8/1,000 person-years) and was significantly higher in women than in men (HR 1.5; 95% confidence interval, 1.2–1.8).
Shingles market size is anticipated to increase during the study period owing to the increasing incident population and rising awareness of Shingles in the 7MM. The expected launch of emerging therapies and the research and development activities of pharmaceutical companies will also fuel the market growth during the forecast period.
The market outlook section of the report helps to build a detailed comprehension of the historic, current, and forecasted Shingles market size by analyzing the impact of current and emerging therapies in the market. It also provides a detailed assessment of the market drivers & barriers, unmet needs, and emerging technologies.
The report gives a thorough detail of the Shingles market trend for each marketed drug and late-stage pipeline therapies by evaluating their impact based on the annual cost of therapy, inclusion and exclusion criteria, mechanism of action (MoA), competition with other therapies, brand value, their impact on the market and view of the key opinion leaders.
Shingles Market Insights
Shingrix is a new shingles vaccine developed by GlaxoSmithKline and was approved by the US FDA in 2017. It contains inactivated varicella-zoster viral particles, which aids the body's production of more antibodies that are necessary to fight the virus with a stronger immune system response. As an inactive vaccine, it may be administered to patients with compromised immune systems. It reduces the risk of getting shingles by more than 90% and it's effective for five years. Two doses are required for Shingrix to be effective. The second dose should be injected within two to six months of the first dose. Both doses are injected into the muscle. It is recommended for patients who are at least 50 years old. Normal side effects include muscle pain, tiredness, fever, and gastrointestinalsymptoms.
Shingles Treatment Market
Shingles Treatment must be initiated by a dermatologist or other health-care provider within 3 days of getting the rash. Ideally, if the treatment is initiated within 3 days, it can prevent possible complications, such as long-lasting nerve pain. However, receiving treatment after 3 days still has benefits.
Shingles Epidemiology
The epidemiology section covers insights about the historical and current Shingles patient pool and forecasted trends for every seven major countries (7MM) from 2019 to 2032. It helps to recognize the causes of current and forecasted trends by exploring numerous studies and views of key opinion leaders. The epidemiology section also provides the diagnosed patient pool and their trends along with assumptions undertaken.
Shingles Drugs & Pipeline Development Activities
The drugs uptake section focuses on the rate of uptake of the potential drugs recently launched in the Shingles market or expected to get launched in the market during the study period. The analysis covers Shingles market uptake by drugs; patient uptake by therapies; and sales of each drug.
Report's Drugs Uptake section helps in understanding the drugs with the most rapid uptake, reasons behind the maximal use of new drugs and allow the comparison of the drugs on the basis of market share and size which again will be useful in investigating factors important in market uptake and in making financial and regulatory decisions.
The report also covers the Shingles Pipeline Development Activities and provides valuable insights about different therapeutic candidates in Phase II, and Phase III stages and the key companies in the market involved in developing targeted therapeutics. It also analyses the recent Development such as collaborations, acquisitions, and mergers, licensing patent details, and other information for emerging therapies.
Shingles Emerging Therapy Assessment
There are a few emerging key players, which are expected to enter the Shingles market in the coming years, which includes Nobelpharma (Fostoin), Curevo (CRV-101) and NanoViricides (NV-HHV-101). These therapies are under early phase clinical development and the launch of these therapies is expected during the forecast period of 2021–2030.
Shingles Companies includes-
Novartis
GlaxoSmithKline
Maruho
Nobelpharma
Curevo, and others
Shingles Therapies includes-
CRV-101
Fostoin
Shingrix
Amenalief (amenamevir)
Valtrex (valacyclovir)
Famvir (famciclovir), and others
View Detailed Report of key players and therapies @ https://www.delveinsight.com/sample-request/shingles-market
Table of content
Key Insights
Executive Summary
Competitive Intelligence Analysis
Market Overview at a Glance
Disease Background and Overview
Patient Journey
Epidemiology and Patient Population
Treatment Algorithm, Current Treatment, and Medical Practices
Unmet Needs
Key Endpoints of Shingles Treatment
Marketed Products
Emerging Therapies
Seven Major Market Analysis
Attribute analysis
7MM: Market Outlook
Access and Reimbursement Overview
KOL Views
Market Drivers
Market Barriers
Appendix
DelveInsight Capabilities
Disclaimer
About DelveInsight
About Us
DelveInsight is a Business Consulting and Market research company, providing expert business solutions for life science vertical and offering quintessential advisory services in the areas of R&D, Strategy Formulation, Operations, Competitive Intelligence, Competitive Landscaping, and Mergers & Acquisitions.
Media Contact
Company Name: DelveInsight Business Research LLP
Contact Person: Yash Bhardwaj
Email: Send Email
Phone: 9193216187
Address:304 S. Jones Blvd #2432
City: Las Vegas
State: NV
Country: United States
Website: https://www.delveinsight.com/