For many people, it has a lot of fun to design their own game room, from gaming PC to gaming chair, even some little decoration. Generally speaking, all of them will follow one principle: same color scheme.
VICTORAGE pink princess gaming chair is an unmissable choice for those pink rooms. It has come out for a long time and is welcomed by lots of fans around the world. At present, it not only sells in the USA, but also is available in Japan. It's so lucky to get one from VICTORAGE Amazon store and here is a brief review of this desirable gaming chair.
The chair came together quickly, with the total build time taking only around 15 minutes, thanks to its clear official installation guide. The overall installation process is very concise and convenient. Not tough for one to do it alone too.
There is not a girl who doesn't love this design. Pink and white are two popular colors that loved by girls. Not to mention the pattern of star looks like the element from famous cartoon. It suits the pink game room setup so well. Compared to the most chairs in the market, it uses premium PU leather, which is hydrolysis resistance and more durable. The overall shape of this is from VICTORAGE Crown series, which has a thicker backrest and seat cushion, absorbing pressure effectively especially after long time sitting. As per its introduction, its foam boasts a density well above industry standard that helps the chair retain its shape over extended periods of time. That's why it feels flexible and gives a great support.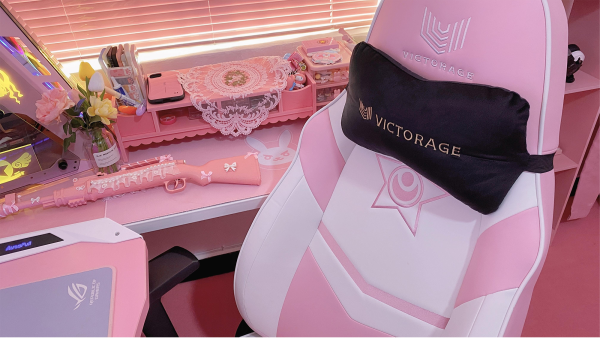 VICTORAGE has extraordinary workmanship of the chair, especially see from the details of its bottom. It looks very well-made and neat. Frog mechanism offers a relax function by tilting, at the same time 90-155 recline degree offers flexible seat positioning that allows consumers to lay back as far as they want, even sleep on it.
The only weakness is its spare parts are black while it would be better if it was white. But that's not a big problem because it's easy to spray them white or any other colors too according to personal preference.
Video Link: https://www.youtube.com/embed/IeikvNDW7nI
Media Contact
Company Name: Victorage Inc.
Contact Person: Hetty
Email: Send Email
Phone: +8617348275869
Country: China
Website: www.victorage.com