24 March, 2022 – Compression socks have been found to help reduce calf discomfort, foot pain, and improve circulation in the legs, according to new research. Again 1231 has introduced a new range of reflective, knee-high compression socks that use 3D knit technology for increased comfort and support.
The 3M reflective print on the back of the socks is highly visible in the dark or at night, early in the morning, and by car headlights. Revealing the motion of your legs when running in the night will get you noticed and keep you safe.
These reflective compression socks are ideal for persons who have chronic leg problems or who spend most of their time on their feet at work or in pleasure. Advanced compression is used in these high-quality knee-high socks to reduce swelling by improving blood flow back to the heart.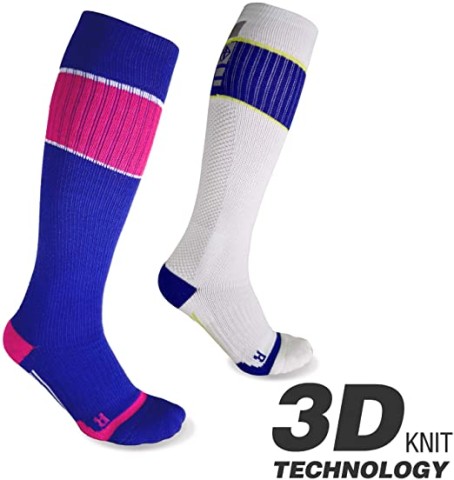 Compression knee-high socks can be a lifeline for anyone suffering from calf pain, foot pain, or poor circulation. Thanks to Again 1231, there's a new choice on the market that provides even more compression and comfort than before. Their new 3D compression knee-high socks use cutting-edge 3D knit technology to provide more advanced compression that better targets trouble regions.
Furthermore, the socks are composed of a breathable and moisture-wicking fabric comprised of Polyester, Cotton, and Nylon, which keeps your feet cool and comfy throughout the day. Also, the sock's design is customized to fit the calves and foot, giving a precise, snug fit every time.
Its fitting arch tightness creates specific compression zones that enhance circulation and ease foot pain. These compression socks have extra cushioning around the toes and ankles for added protection and shock absorption. In addition, the socks are designed to support the shapes and arches of the feet on both the left and right feet.
Blister-proof and with reinforced heel pockets to keep socks in place, these knee-high socks are great for jogging, exercising, and high-intensity training. They come in a variety of colors, sizes, are unisex, and are pretty trendy, giving any outfit an active and sporty appeal.
Look no farther than Again 1231's new 3D compression knee-high socks if you're searching for a pair of high-quality compression knee-high socks that can enhance your blood circulation and help relieve foot and calf pain.
Order yours from Amazon today and experience how much of a difference they can make!
Media Contact
Company Name: Again 1231
Contact Person: Andy Hong
Email: Send Email
Phone: +82 70-4038 9303
Country: South Korea
Website: https://www.amazon.com/dp/B07R6L25QK