Washington, D.C. – March 31, 2022 – Today, Blawbz announces the launch of their own non-fungible tokens, also known as NFTs. The collection contains 10,000 unique hand-drawn NFTs with different rarity and traits, along with a noble cause.
"We want to become a staple NFT project that people can look towards for Web 3 philanthropy," said Carlos Hernandez, Founder of Blawbz NFT. "Our team fully believes in what we're trying to accomplish and are working hard to ensure the project's success." stated Nelson Velis, Head of Operations of Blawbz NFT.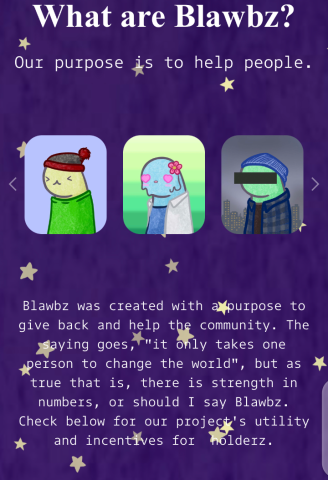 The purpose of Blawbz is simply philanthropy. To incentivize our holders (buyers of our NFT) to continue supporting our project, they will have multiple ways to receive value from our utility. Our utility is providing financial assistance to our holders, by hosting monthly giveaways and weekly raffles. The giveaway money is used to benefit holders that have personal debt (student, medical, or credit card) or support upcoming entrepreneurs. In addition, we will be donating $5,000 monthly to a charity selected by holders.
Our project's mission is relatable and impactful to people all over the world and we plan to use that to our advantage. In order to guarantee a long-term future, we will be partnering with small businesses and Fortune 500 companies to deliver on our aforementioned utility.
There are many projects in the NFT space that have great utility, but there aren't many that are using it for good. We believe Blawbz is one of a kind with this utility. Our vision is to use blockchain technology to give back to citizens of the world in a fresh, new way. Our NFTs will be available to purchase in the summer of 2022.
For more information on Our Non-Fungible Tokens: https://www.blawbznft.com/
Media Contact
Company Name: Blawbz NFT
Email: Send Email
Phone: (301)-820-8549
Country: United States
Website: Blawbznft.com