Franky Fade is a fast-rising songwriter and music producer who has worked with many top names in the music industry including Mac Miller, Latoya Williams, Shontelle, Scoop Deville, and more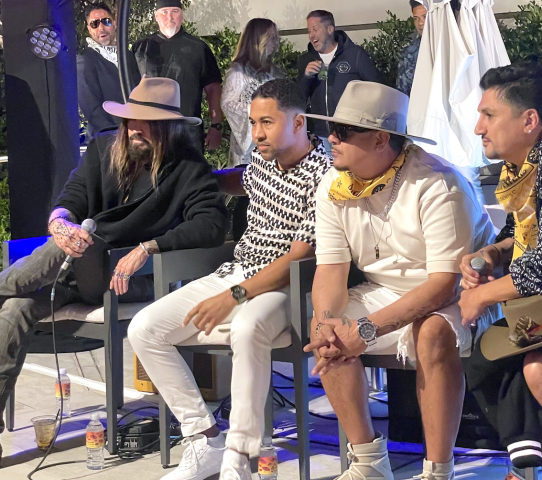 American-born songwriter and music producer, Franky Fade, has revealed that his late father, Frank Stallworth, was instrumental in developing the lyrics for the Snoop Dogg and Billy Ray hit track titled A Hard Working Man.
The amazingly talented writer-producer insists that his father wrote the lyrics to the hit song and inspired the timeless record through his body.
"My father's last words the day before he died were "Never stop working hard son." Not long after, I was making songs at The Avila Brothers studio in Rancho Cucamonga. They sent me the backing track and told me they wanted a song about a man that works hard. It was like a spiritual experience," says Franky Fade.
"When I write lyrics & melody I use a laptop or my pc, so I keep a tab open of a photo of the artist I'm channeling depending who I'm writing it for. When I recorded the demo and played it back, I had this feeling and all I could think about was Billy Ray Cyrus, and how stunned I was that I finished a song in around 10 minutes, top to bottom. The song ended up finding its way to Billy Ray, and Snoop. All I can say is… thanks dad," adds Franky.
The new song, A Hard Working Man by the Avila Brothers, was released on the first of April 2022 and features legendary entertainers Snoop Dogg and Billy Ray Cyrus.
Written to collectively illuminate, celebrate, and honor all those who work tirelessly to ensure the world functions as it should, A Hard Working Man also serves as a testament to the amazing power of music in transcending boundaries and bringing together people from all walks of life.
For Franky Fade, an R & B artist, the new song perfectly captures and encapsulates his father's last words of encouragement to him. The phenomenal record-maker has come a long way from smuggling AM/FM cassette recorders under his bed in elementary school, to secretly booking gigs around Los Angeles to show his music productions.
Media Contact
Company Name: Franky Fade
Contact Person: Dave S.
Email: Send Email
Country: United States
Website: http://www.frankyfademusic.com