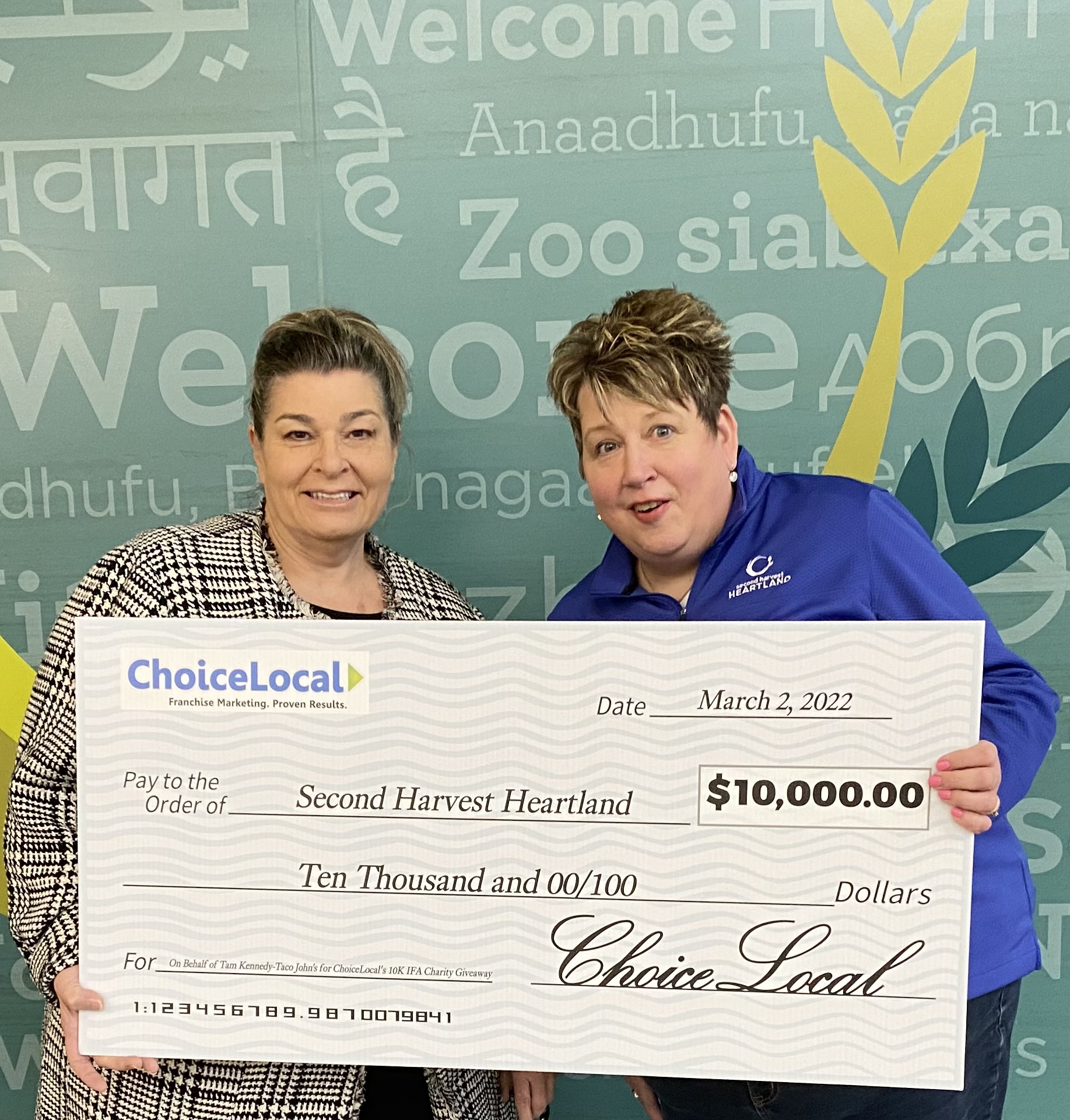 ""Second Harvest Heartland serves a critical need in our community — a constant relief for those that don't have the resources to feed their families as well as supporting lunch programs for kids when school is not in session. A gift like this will directly improve the lives of many families, giving them much needed supplies and a break from the fear of going without.""
Choice Local, in conjunction with Kennedy, gifts $10K to Second Harvest Heartland
ChoiceLocal, founded by Joe Solits, is pleased to announce Tamara Kennedy as the winner of the annual $10K International Franchise Association (IFA) Charity Giveaway, who has selected Second Harvest Heartland as the recipient of the $10,000 donation.
Members of the IFA have a long history of supporting communities through charitable work, giving and financial support. It's mission is to protect, enhance, and promote franchising in every neighborhood. ChoiceLocal has certainly heeded the call in stepping up to represent franchising in the most humbling of ways.
"After the loss of my wife's and my son, Ben, we decided that we no longer wanted to live a life simply making money, we wanted to help others — that is why ChoiceLocal was founded. That is also why my wife and I founded the Benjaming Isaac Foundation, named in honor of our son," said Soltis. "We are honored to partner with Tamra Kennedy of Taco Johns and the International Franchise Association in making our dream of helping others a reality. ChoiceLocal is donating $10,000 to her favorite charity, Second Harvest Heartland, which is a dream come true as it helps us build toward our goal of helping 10,000 children each year, showing the love of humanity and God to those who need it most. We look forward to doing something similar every year moving forward as ChoiceLocal will be donating $10K, yearly, via its annual $10K IFA Charity Giveaway at the conclusion of the annual IFA conference."
The IFA is the world's largest membership organization for franchisors, franchisees and franchise suppliers. It provides top notch industry events, growth opportunities, advocacy and education to its community.
Second Harvest Heartland aims to destroy hunger in the region in providing food for everyone. The organization believes that each meal can help people thrive at work, children in the classrooms and communities, in general. Along with its efforts to feed the hungry, the nonprofit also believes in the importance of its work in helping sustain the environment as well.
"I chose Second Harvest Heartland because, in a world filled with abundance, there are families that go without food, even today. Growing up, I was that child with a special-colored lunch ticket to eat for free because we had no money. We picked up supplies each week from food banks and found ways to make do when times were tough," Kennedy stated. "Second Harvest Heartland serves a critical need in our community — a constant relief for those that don't have the resources to feed their families as well as supporting lunch programs for kids when school is not in session. A gift like this will directly improve the lives of many families, giving them much needed supplies and a break from the fear of going without."
For more information about Second Harvest Hearland and to donate to families in need, please visit https://www.2harvest.org/
About ChoiceLocal
ChoiceLocal is a purpose-driven and results-focused franchise marketing agency that only serves franchisors and franchisees. They are the 1st and only franchise marketing agency to offer a money back guarantee. They are a member of IFA (International Franchise Association), named on the Inc. 5000 list, and rated as a Top Workplace for the last five years.
To find out more about their franchise growth engine, please visit https://choicelocal.com/
Media Contact
Company Name: ChoiceLocal
Contact Person: Joe Soltis
Email: Send Email
Country: United States
Website: www.choicelocal.com