With the development and popularization of the country, diesel generator set has become an indispensable equipment in modern life. It can be used continuously in areas with power shortage, and can also be used as a standby power supply to achieve ideal results. Then let's introduce you to the 1000kW Cummins diesel generator set.
1. Cummins 1000kw generator technical parameter
Prime power: 1000KW 1250KVA
Standby power: 1100KW 1375KVA
Rated voltage: 400/230V ( or as the user's requirement)
Power factor: 0.80lag
Frequency: 50Hz, speed: 1500RPM
Electrical wiring: 3-phase
Insulation grade of rotor and stator winding: H
Continuous short-circuit current: not less than 3 times of rated current
Overload: 10%, overload operation for 2 hours in any 24 hours
Dimensions of open type generator(LxWxH): 5000X2001X2450mm, gross weight: 10000kg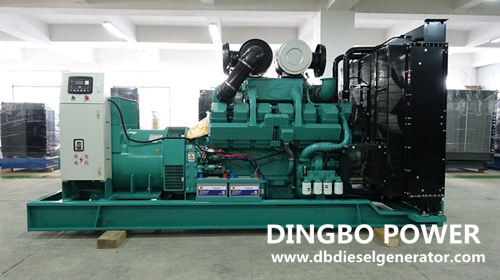 2. CCEC Cummins engine KTA50-G3 technical parameter
Engine prime/standby power: 1116KW / 1227KW
Turbocharged and Aftercooled, 16 cylinders, 4-Cycle, 60°Vee, water cooling.
Bore and stroke: 159x159mm
Compression Ratio: 13.9:1
Engine coolant capacity: 161liter
Total oil system capacity: 171liter
Fuel system: Cummins PT
Governor: electronic speed regulation
3. Stamford alternator S6L1D-G41 technical parameter
Output power: 1080KW 1260KVA at Cont. H – 125/40°C
Insulation System: H
Stator Winding: Double Layer Concentric
Winding leads: 6
Protection class: IP23, telephone Interference: THF less than 2%
AVR type: MX341 with PMG, voltage Regulation ±1%
4. Deep Sea control DSE7320 technical parameter
Auto Mains (Utility) Failure Control Module
The DSE7320 MKII is a powerful, new generation Auto Mains (Utility) Failure genset control module with a highly sophisticated level of new features and functions, presented in the usual DSE user-friendly format. Suitable for a wide variety of single, diesel or gas Gen-set applications.
5. Features of Cummins diesel generator set
A. The design of cylinder is sturdy and durable, small vibration, low noise. Four stroke, stable operation and high efficiency. Long service life and easy maintenance.
B. Fuel system: Cummins PT system has a unique overspeed protection device, low pressure oil pipeline, few pipelines, low failure rate and high reliability; High pressure injection, full combustion. Equipped with fuel supply and return check valve, it is safe and reliable to use.
C. Air intake system: Cummins diesel generator is equipped with dry air filter and air resistance indicator and turbocharger with sufficient air intake and guaranteed performance.
D. Exhaust system: Cummins diesel generator set uses pulse dry exhaust pipe, which can effectively use waste gas energy and give full play to engine performance. The unit is equipped with an exhaust elbow and exhaust bellows with a diameter of 127mm for easy connection.
E. Cooling system: Cummins engine adopts gear centrifugal water pump for forced water cooling and large flow channel design, which has good cooling effect and can effectively reduce heat radiation and noise. The unique spin on water filter can prevent rust and corrosion, control acidity and remove impurities.
F. The oil pump is variable flow type with main oil passage signal pipe, which can adjust the oil volume of the pump according to the oil pressure of the main oil passage to optimize the oil volume entering the engine. Low oil pressure (241-345kPa). The above measures can effectively reduce the loss of pump oil power to improve power performance and improve the economy of the engine.
G. Power output: the crankshaft pulley with double groove power output can be installed in front of the shock absorber. The front end of Cummins diesel generator set is equipped with multi groove accessory drive pulley, which can be equipped with various front-end power output devices.
H. Very low fuel consumption: adopts Cummins XPI ultra-high pressure common rail fuel injection system and CTT large flow turbocharger and combine with Cummins advanced power cylinder design and electronic control system to greatly reduce fuel consumption and ensure excellent fuel economy of the engine in different working conditions and applications
I. Excellent reliability: using the world's leading engineering technology and analysis tools and combined with the use conditions of Chinese users, with the support of powerful sensors and electronic control system, the engine has stronger high-altitude operation ability, low-temperature operation and large load continuous operation ability. The engine can run freely at minus 40 to 60 ℃ and 5200m altitude, and can output at full load without affecting the output ability.
Above information is technical datasheet of 1000kw Cummins generator, but if you want to get other information, do not hesitate to contact us, we will help you. And if you have purchase plan of 1000kw Cummins generator, please also can contact us, we are also a manufacturer, our email is dingbo@dieselgeneratortech.com
Media Contact
Company Name: Guangxi Dingbo Power Equipment Manufacturing Co., Ltd.
Email: Send Email
Country: China
Website: https://www.dbdieselgenerator.com/