Multi-utility and community-driven metaverse project, Peepol Human Club, announces plans to the presale of the PHC NFT and $PHCT, The Peepols Native Currency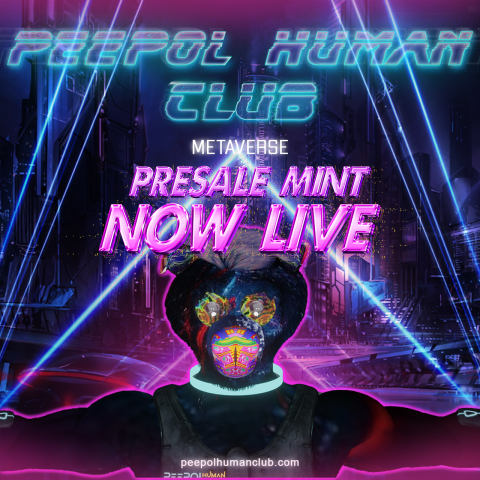 Marcus McCracken and the entire team behind Peepol Human Club, Meta Virtual Labs, have again reiterated their commitment to leveraging the features of blockchain technology and the metaverse to unite all humanity and provide an opportunity for financial profit as the project announces plans to launch the $PHCT and PHC NFT presale. The presale of $PHCT and PHC NFT described as The Peepols Native Currency, will commence on April 15, 2022, allowing as many people as possible to be a part of the revolutionary project, with 1,274 NFTs available for sale.
The blockchain space has literally exploded over the years, with the recent emergence of the Metaverse further substantiating this claim. However, many of the available metaverse projects do not particularly drive inclusiveness and benefits for as many people as possible, irrespective of gender or age group. Consequently, Marcus McCracken and his team at Peepol Human Club are looking to make a difference by creating an all-inclusive project to unite the world and help members of the community grow.
The presale is the first phase of the decentralized, multi-utility and community-driven metaverse project, with the goal of setting the foundation for an NFT community that will be beneficial to all. Participants of the presale will be the first members of a Metaverse project that will pay holders of the NFTs crypto daily for 7 years, in line with the motto – "for the Peepol, by the Peepol." It aligns with the goal of providing a place for everyone to profit financially, learn, grow or even just escape their day-to-day difficulties to a community where they are embraced with open arms.
Peepol Human Club will offer a total of 6371 Genesis NFT avatar holders the ability to claim 7 $PHCT (The Peepols Native Currency) daily for 7 years immediately after the presale. It also forms part of the project that includes implementing a Game-Fi Play-to-Earn Utility into PHC that allows players to gamble, earn, accessorize, and "cash out" their PHCT on DEXs and a host of others. There is also DAO, allowing Peepol to vote on which charity or nonprofit to support. Peepol Human Club also plans to launch the Beta Version of PHC for download on VR from April 15, 2022.
For further information about the presale and other aspects of the Peepol Human Club Metaverse, visit – http://peepolhumanclub.com/. Peepol Human Club also has a growing online community across social media, including Discord and Twitter.
Media Contact
Company Name: Peepol Human Club Metaverse by Meta Virtual Labs
Contact Person: Marcus McCracken Founder/CEO
Email: Send Email
Country: United States
Website: peepolhumanclub.com