Innovative crypto social networking platform, EverIncome, announces plans to launch the presale of $EIC, a hyper-deflationary token with BUSD reflections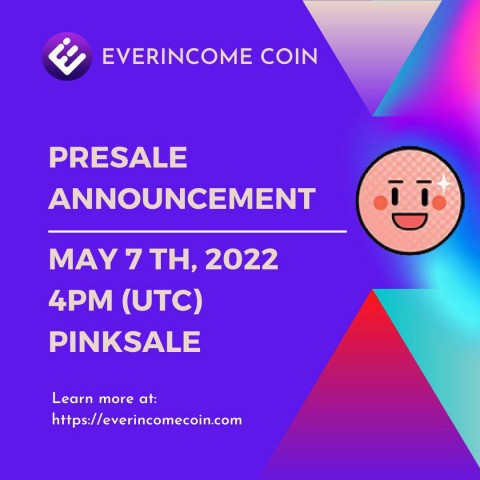 EverIncome has announced plans to launch the presale of their $EIC token. The presale will officially go live on 7th May at 4pm UTC, as the crypto social networking platform seeks to meet the growing and diverse needs of blockchain enthusiasts worldwide. The token is part of the all-inclusive crypto ecosystem designed to bring the best of Defi to the global blockchain community, as the platform plans to list $EIC on PancakeSwap.
The use of cryptocurrency has increased tremendously in recent times as more industries look to get into the virtual space to enhance the experience of different stakeholders. While the situation is not particularly different in the world of social networking, many of the available platforms do not offer decentralized functionality to users. However, EverIncome is seeking to change this narrative, as substantiated by the upcoming presale of $EIC.
The hyper deflationary token offers an avenue for crypto enthusiasts to earn passive income with $BUSD reflections. Holders of $EIC will earn an 8% reward from every transaction in Binance pegged USD ($BUSD), with the earnings automatically paid into their wallet every 60 minutes. $EIC is particularly unique as it is designed to increase in value over time, with various strategies put in place to decrease its supply and prevent price manipulation by crypto whales.
A total supply of 100 million $EIC tokens will be available, with 40.25% offered during presale at 115.000 $EIC per BNB. The presale soft cap is 175 BNB while the hard cap is 350 BNB. $EIC will also be available at private sale for 135.000 $EIC per BNB and eventual listing at 100.000 $EIC per BNB.
In addition to the passive income reward, EverIncome holders also become a part of the revolutionary crypto-based social platform. The user-friendly Facebook-like will offer a unique engage to earn system, with top active users on the platform will be rewarded with $EIC. Other aspects of the EverIncome project are an NFT Marketplace to be launched in Q3 2022 and an immersive Play-To-Earn game to be developed in 2022 Q3 and launched in 2023 Q1.
For further information about the presale of EverIncome Coin and other activities as the first-of-its-kind crypto social networking platform launches, visit – https://everincomecoin.com/. EverIncome Coin also has a growing online community across social media, including Facebook, Telegram, and Twitter.
Media Contact
Company Name: EverIncome
Contact Person: Christopher James
Email: Send Email
Country: Singapore
Website: everincomecoin.com