On February 2, the torch relay for the Olympic Winter Games Beijing 2022 was held in Beijing. Upon the invitation of the Beijing Organizing Committee for the 2022 Olympic and Paralympic Winter Games, Mr. Hong Jie, Chairman and President of SKSHU Paint Co., Ltd. ("3TREES"), participated in the torch relay as a torchbearer of the Winter Olympics.
When interviewed by CCTV at the torch relay site, Chairman Hong Jie said, "It is my hope that Chinese athletes could win glories for the country during the Games and inspire the whole nation to scale new heights in the New Year; and outside the competition, I hope they can present China's image to the world and promote the concept of green and healthy life for all! Go Team China! Go China go! Moment of China, Excellence Together!"
As the "sales champion" of 3TREES for the past three consecutive years, Wang Desheng, Chairman and President of Anhui Kaicheng Construction Engineering Corporation, joined Chairman Hong in the torch relay. Wang Desheng said, "I feel honored to undertake the sacred mission of torchbearer in the Olympic Winter Games Beijing 2022. I am deeply grateful to 3TREES for the recognition of me and my team, and will do my best to live up to this glory. I will work even harder in the future to pass on the sports spirit of always racing to the top, return the company's trust with the best performance, and create higher and better sales results for the company."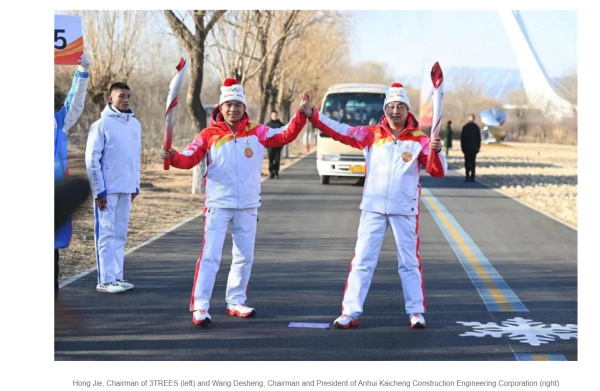 Since its establishment, 3TREES has upheld the vision of "cultivating a hundred-year evergreen tree through green innovation", and embarked on a path of green and high-quality development with distinctive features. In the eyes of Chairman Hong Jie, 3TREES's corporate spirit of making hard efforts and always racing to the top is perfectly in line with the Olympic motto of "Faster, Higher, Stronger – Together", and 3TREES's corporate mission of "making homes healthier and cities more beautiful" is also consistent with the "green" approach in running the Olympic Winter Games Beijing 2022, which provides the opportunity and marks the beginning of the cooperation between the two sides.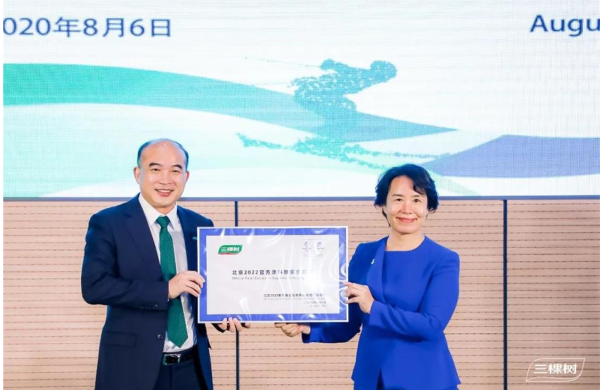 3TREES has all along cherished the aspiration of serving the country by building a strong industry. In the international sports arena provided by the Olympic Winter Games Beijing 2022, 3TREES is taking big strides to grow from a national paint brand to a world-class paint enterprise. With its quality and competitive products, 3TREES has undertaken the responsibility of a major national brand, and showed the world the power of Chinese brands on this joyous occasion for the Chinese nation.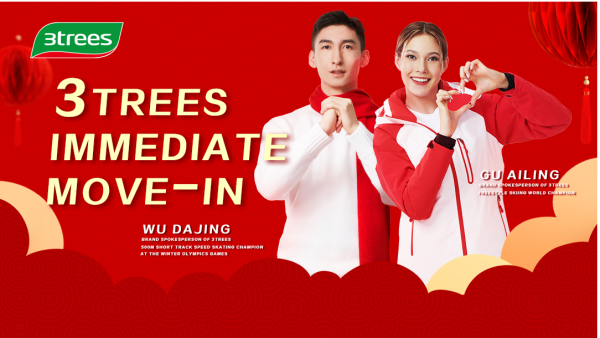 Media Contact
Company Name: SKSHU Paint Co., Ltd.
Email: Send Email
Phone: +86 0594 2761989
Address:Headquarter: 518 Liyuan North Avenue, Licheng District
City: Putian
State: Fujian, 351100
Country: China
Website: https://www.3treesgroup.com/en/