Australia's premier entertainment hub, StarCentral Media Group, has released its monthly media movements covering outstanding career moves and other industry news. This list contains prominent Entrepreneurs, Artists, Designers, Social Media Influencers, among others.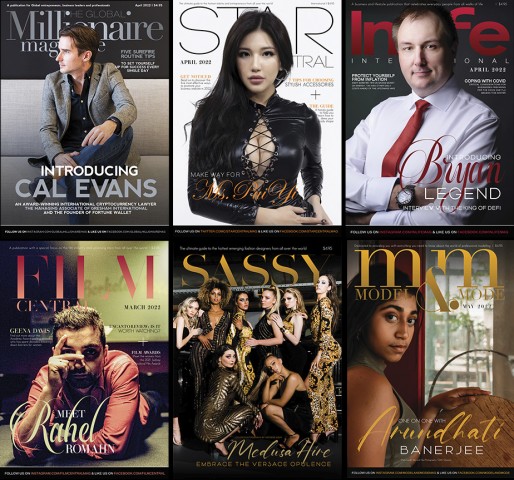 Let's take a look at the movers and shakers that rocked their way in April 2022.
Cal Evans is the entrepreneur behind the cover of Global Millionaire magazine (April 2022 issue)
Cal Evans is an award-winning international cryptocurrency lawyer. He is the managing associate of Gresham International, a US Securities Consultant with a wealth of experience working in top law firms in both California and London as well as the founder of Fortune Wallet.
Find out more about Cal via this link: https://globalmillionairemag.com/2022/04/13/cal-evans/
Bryan Legend is the entrepreneur behind the cover of Inlife International (April 2022 issue)
A veteran entrepreneur, Bryan Legend is a self-made millionaire specializing in Cryptocurrency with over eight years of experience in the e-commerce and blockchain space. He has far-reaching expertise in building businesses from the ground up with an extensive sales background and vast knowledge across all dynamics.
Find out more about Bryan via this link: https://www.inlifemagazine.com/2022/04/bryan-legend/
Arundhati Banerjee is the model behind the cover of Model & Mode magazine (May 2022 issue)
Arundhati Banerjee's journey from a South Australian Women of the Year – Emerging Leader, performing artist, pageant winner, humanitarian services to winning the title of "Australian Supermodel of the Year – Commercial category" has been rewarding and fulfilling. She is a teenager pursuing a second-year Bachelor of Creative Industries (Theatre and Performing Arts) from Flinders University with a vision to work and contribute to the performing arts industry.
Find out more about Arundhati via this link: https://modelandmodemag.com/2022/04/arundhati-banerjee/
MSPUIYI is the beauty CEO behind the cover of StarCentral Magazine (April 2022 issue)
MSPUIYI is a famed model, Beauty CEO, and Musician who at only 23 years old is one of the fastest-rising influencers in the world with 16.8 million Instagram followers. She has singlehandedly carved her name as one of Asia's highest-paid social media influencers and won the International Asia Wang Hong Award in Shanghai as Asia's top influencer.
Find out more about MSPUIYI via this link: https://starcentralmagazine.com/celebrity-2/2022/04/17/mspuiyi/
Rahel Romahn is the actor behind the cover of FilmCentral Magazine (March 2022 issue)
Rahel Romahn is a Western Sydney-based actor, known mainly for his roles in The Principal, Here Out West, Alex and Eve, Australian Gangster, and many more. He has appeared in several Film, Television, and Theatre productions in the last 15 years, with multiple awards, for his performance in the internationally acclaimed The Principal. He has worked on numerous films, and US TV shows in the past year.
Find out more about Rahel via this link: https://filmcentralmagazine.com/2022/03/rahel-romahn/
Medusa Hire is the brand behind the cover of Sassy & Co Magazine (March 2022 issue)
Medusa Hire is the world's first and ONLY Versace tableware and decor hire company. It adopts the embodiment of Versace's DNA that is defined by the emblematic Medusa head and gold tones, they each truly capture the essence of luxury.
Find out more about Medusa Hire via this link: https://sassyandcomag.com/2022/03/medusa-hire-2/
TV1 Australia launches TV1 News
TV1 Australia is pleased to announce the launch of TV1 News! TV1 News is an independent news site, delivering entertainment news and interesting local and national stories thanks to a team of dedicated writers. TV1 News will deliver the news spanning movies, entertainment, lifestyle, fashion, business, and money on a daily basis.
Find out more about TV1 News via this link: https://tv1news.com.au/
StarCentral Magazine launches StarCentral Kids
Based in Sydney, Australia, the concept for StarCentral Kids was derived from the need to establish a publication that informs and promotes models, actors, and creative kids from all over the world.
Find out more about StarCentral Kids via this link: https://starcentralkids.com/
Media Contact
Company Name: StarCentral Media
Contact Person: Krissy Anderson
Email: Send Email
Phone: 02 8001 6594
Country: Australia
Website: https://starcentralmagazine.com