Xiamen, China – May 17th, 2022 – DNAKE, an industry-leading and trusted manufacturer and innovator of IP intercom and solutions, today announced a new technology partnership with TVT for IP-based camera integration. IP intercoms play an increasingly greater role in both advanced enterprise security systems and private residential properties. The integration allows organizations to own the flexibility and mobility of entry access, increasing the security level of premises.
Undoubtedly, integrating the TVT IP camera with the DNAKE IP intercom can further support security teams by detecting incidents and triggering actions. The coronavirus pandemic changes the way we live and work, and the new normal brings us to hybrid work that allows employees to split their time between working in the office and working from home. For the residential properties and office buildings, keeping track of who is entering the premise is more vital than ever.
The integration allows organizations to handle and monitor visitor access in the way of flexibility and scalability as TVT IP cameras can be connected to the DNAKE indoor monitors as an external camera. In other words, users can check the live view of TVT IP cameras through DNAKE indoor monitor and master station. Besides, the live stream of the DNAKE door station can also be viewed by the APP "SuperCam Plus", monitoring and tracking activities and events wherever customers are.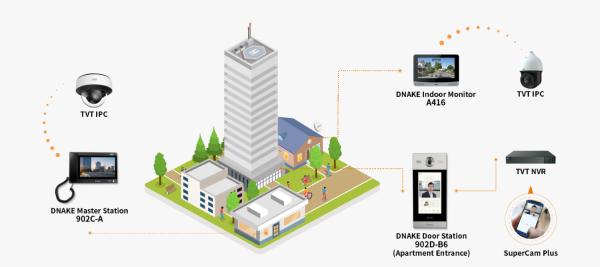 With the integration, users can:
Monitor the TVT's IP camera from DNAKE indoor monitor and master station.
View the live stream of TVT's camera from DNAKE indoor monitor during an intercom call.
Stream, watch and record video from the DNAKE intercoms on TVT's NVR.
View the live stream of DNAKE's door station via TVT's SuperCam Plus after connecting to TVT's NVR.
Media Contact
Company Name: DNAKE
Email: Send Email
Phone: 86-592-5705812
Country: China
Website: https://www.dnake-global.com/