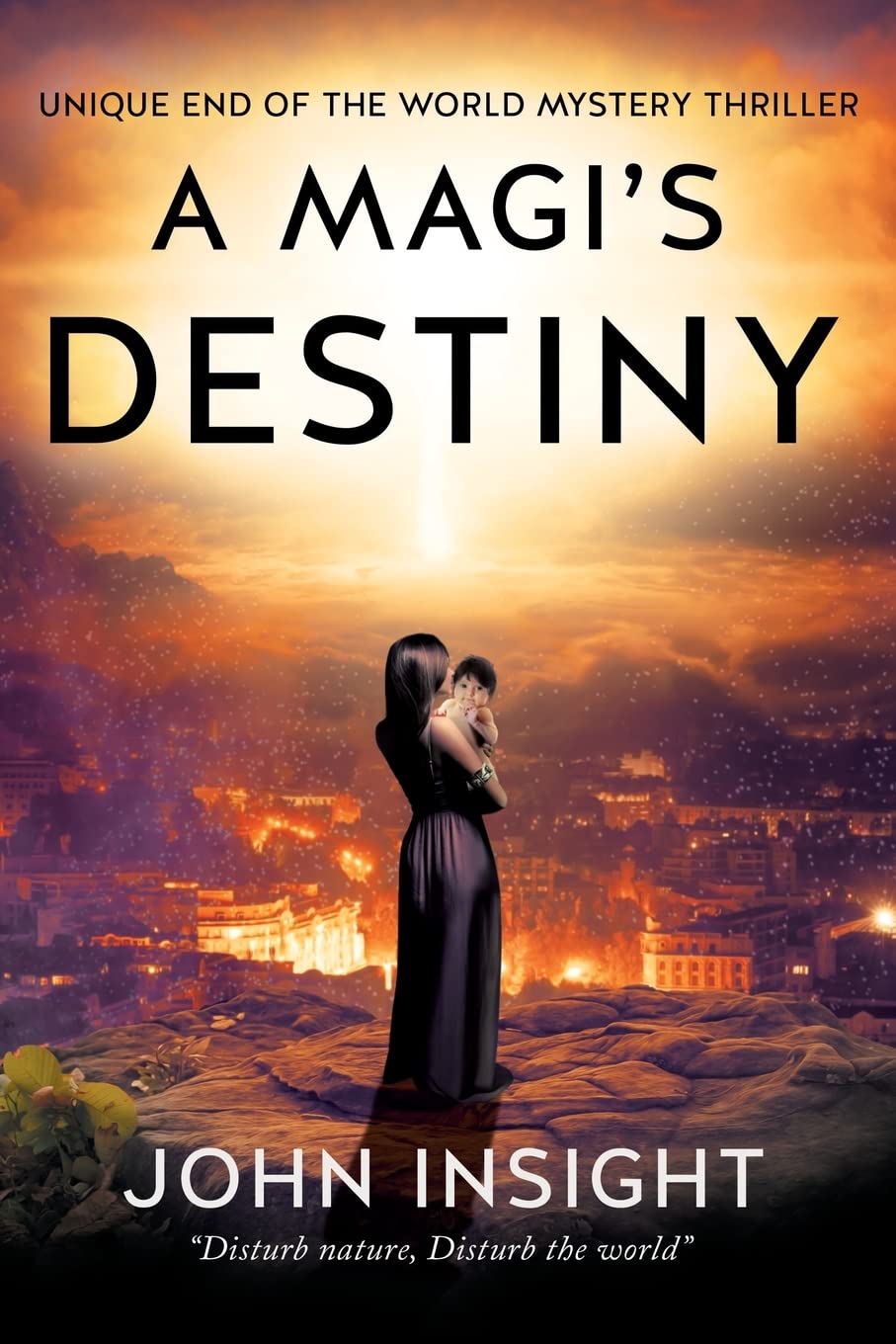 This novel is a stunning mystery-thriller about love and courage.
It follows an unlikely team on a quest to reset the end-of-the-world time clock.
Available: 6/3/2022
A Magi's Destiny (ISBN: 9798986061429) can be purchased through retailers worldwide, including Barnes and Noble and Amazon. The paperback retails for $16.99. Kindle $2.99. Wholesale orders are available through Ingram.
A Magi's Destiny by John Insight has been released worldwide. This is a riveting, 346-page novel. Combining modern academia. Ancient history. And native spirituality. Into an amazing adventure.
As the story unfolds, puzzles and supernatural elements keep readers on edge. With suspense and mystery.
A Hopi-Indian doctor. Her infant daughter with special gifts. A timeless Magi. And an Oxford student of ancient languages. All must battle the deadly forces pitted against them. To save Mother Earth.
Gathering clues, unraveling puzzles, visiting English castles. Traveling to Stonehenge. Tracking through the jungles of the Yucatan. And across the deserts of Africa. The team works to restore balance to the world. A world on the brink.
Generations on the brink. Of vanishing. Forever. As the world clock clicks down to zero.
With rich imagery and charismatic characters, "A Magi's Destiny" is a bold, smart novel. With an action-driven plot. That keeps the readers looking for more.
Plus Insight's tale of rescuing the world creates questions. That readers can apply to their own lives. This engaging story will entertain and provide real-life wisdom. Wisdom for the ages.
For sure. A Magi's Destiny is a good read.
From the back cover:
A Magi's Destiny is a page-turning mystery thriller. It's packed with high adventure, suspense, puzzles, and plot twists. Experience edge-of-your-seat excitement across four continents. Encounter danger in U.S., England, South Africa, and the Yucatan. And gather insights. As you dive deep into wisdom and enigma with a compelling cast of characters. Follow a compassionate doctor. And her infant daughter gifted in the ways of spirit. Follow a Magi Master. An event witness throughout time and history. Follow an Oxford University student in Ancient Languages. And a Hopi Indian Chief. As they all must work as a team to prevent the unthinkable. The end of Mother Earth.
Can their courage overcome the deadly forces pitted against them? In the final hours. With death coming from able and below the earth. Hopi seer Dr. Faith Roper, with her daughter Sasha, stand under a dark and fiery sky. The last chance for the world.
About the author:
John Insight M.A. is a college English professor and novelist. He is a trained acupuncturist. And he is an ex Top Secret International Courier Officer for the U.S. Army. He has worked as an Operations Manager for two global companies. Wrote both a comic book story and a TV cartoon. And writes to engage, entertain, and enlighten the reader. Presently, he is working as a freelance Expert Copywriter.
He believes that love is at the center of story. That fiction is more attuned to life's mysteries. More able to answer life's questions. And more able to dig deep into history. In other words, he believes that fictional possibilities reveal realities through narrative. He writes to uncover secrets. To define legends and myths. To create non-stop action. To raise your enjoy-factor. And to heighten your consciousness. To know the past or future is to imagine it through the drama of fiction.
About MindStir Media:
MindStir Media LLC is an award-winning book publisher. To learn more about publishing a book with MindStir Media, visit http://mindstirmedia.com or call 800-767-0531
Media Contact
Company Name: MindStir Media LLC
Contact Person: Jen McNabney
Email: Send Email
Phone: 800-767-0531
Address:1 New Hampshire Ave Suite 125
City: Portsmouth
State: NH
Country: United States
Website: https://mindstirmedia.com/