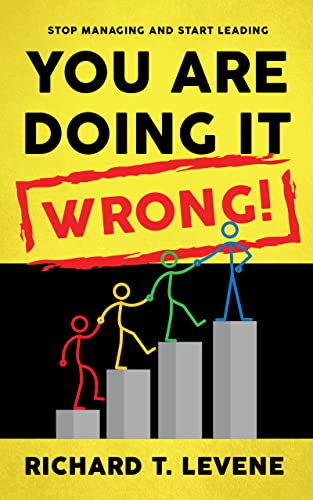 "You Are Doing It Wrong" by Richard T. Levene has been released worldwide. This 142-page book examines the critical differences between management and leadership, identifying the characteristics and mindset of effective leaders that so many mere "managers" get wrong.
Based on his own transformation from unaware, entitled manager into a patient, self-aware, compassionate leader, this book offers practical, concise guidance that is easy to understand – but difficult to execute. True leadership, Levene defines, isn't simply a set of actions or checkboxes, but instead a collection of interpersonal and intrapersonal skills that can be developed.
These skills include humility and empathy, as well as staff-facing emotional intelligence that allows leaders to understand and connect with their teams. This approach to the principles of leadership helps teams thrive, maximizes potential, and creates a company culture of joyful honesty and collaboration.
You Are Doing It Wrong (ISBN: 9798986061467) can be purchased through retailers worldwide, including Barnes and Noble and Amazon. The paperback retails for $14.99. Wholesale orders are available through Ingram.
From the back cover:
Leadership is the most important trait in a good business owner. You must have the ability to create a culture and core values that your employees trust and respect. In order to be a successful leader, you must use both intrapersonal and interpersonal skills to lead your team, customers and employees. The book's core message is that while leadership can be learned, it must be practiced. It encourages leaders to put their trust in employees, because they have the ability to do great things if given the right tools and encouragement. The main concepts introduced in this book include emotional intelligence, hope, humility, and empathy. The author emphasizes that if leaders focus on these traits both inside themselves and with their work teams and clients, they will be able to help their businesses grow and maximize their potential.
About the author:
Richard T. Levene is the founder of Dignity Leadership Consulting, a consulting firm that helps individuals, teams and organizations build and improve their cultures by developing core leadership skills. Rich has a Master's of Science in Leadership & Change from St. Edward's University in Austin, TX, and has studied how people work together for his entire 25-plus year career. Rich's knowledge stems from a wide background in operations in the automotive industry. This includes working with auto finance lenders and wholesale business-to-business companies. Rich has spent the last few years utilizing behavior assessment tools to assist organizations to enhance their performance through effective people development.
About MindStir Media:
MindStir Media LLC is an award-winning book publisher. To learn more about publishing a book with MindStir Media, visit http://mindstirmedia.com or call 800-767-0531.
Media Contact
Company Name: MindStir Media LLC
Contact Person: Jen McNabney
Email: Send Email
Phone: 800-767-0531
Address:1 New Hampshire Ave Suite 125
City: Portsmouth
State: NH
Country: United States
Website: https://mindstirmedia.com/