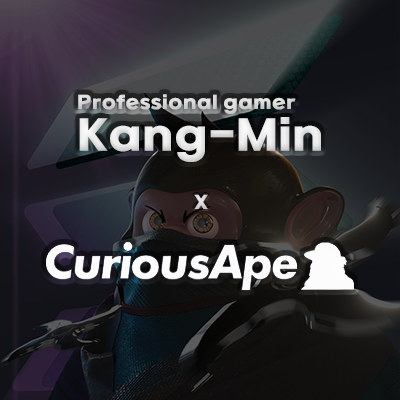 Curious APE NFT is a blockchain-based startup that recently received VCs funding via Series K Foundation and the founding members include professional gamer Kang Min.
By forming infrastructure with experts in global IT industry, they hope to accelerate the development of Curious Ape NFT project from PFP (ProFile Picture), which is the initial model of blockchain business, to commercialization of P2E gaming.
Kang-min, known as the first generation of professional gamers is the founding member this NFT project. This proves the business feasibility of the project which will be launched within the South Korean's e-sports industry.
CEO Lim Seung-hyun, who oversees all domestic and foreign business units along with the Curious Ape NFT project said, "This opportunity has paved the way for us to take a leap forward."
The Solana-based PFP NFT project is being talked about among many Solana Alpha communities.
Curiosity Ape attracted investment from professional angels and accelerators from the early stage of the project. The Web3 startup Series K which operates the Curiosity Ape project recently attracted investment from Blue Helix's MarkHard Fund.
Blue Helix's Mark Hard Fund includes world-class blockchain VCs such as Sequoia Capital, Hansinki Partners, LD Capital, Huobi Global, Chainup, and Acrutz Invest.
Meanwhile, Series K is composed of founders from platform companies and board members from global IT companies.
The foundation will release their own metaverse and P2E games later with utility NFT that shall be used in the metaverse. Minting schedule is set be on July 7, 1pm until July 8, 1pm UTC time. These NFTs can be purchased on the official site with SOL tokens. The pre-sale price for shall be 2 SOL and the public price shall be 3 SOL.
It is expected that the foundation shall be releasing their metaverse and P2E games sequentially.
Media Contact
Company Name: Curious Ape
Contact Person: Sean Lim
Email: Send Email
Phone: 18652938965
Country: South Korea
Website: http://curious-ape.io