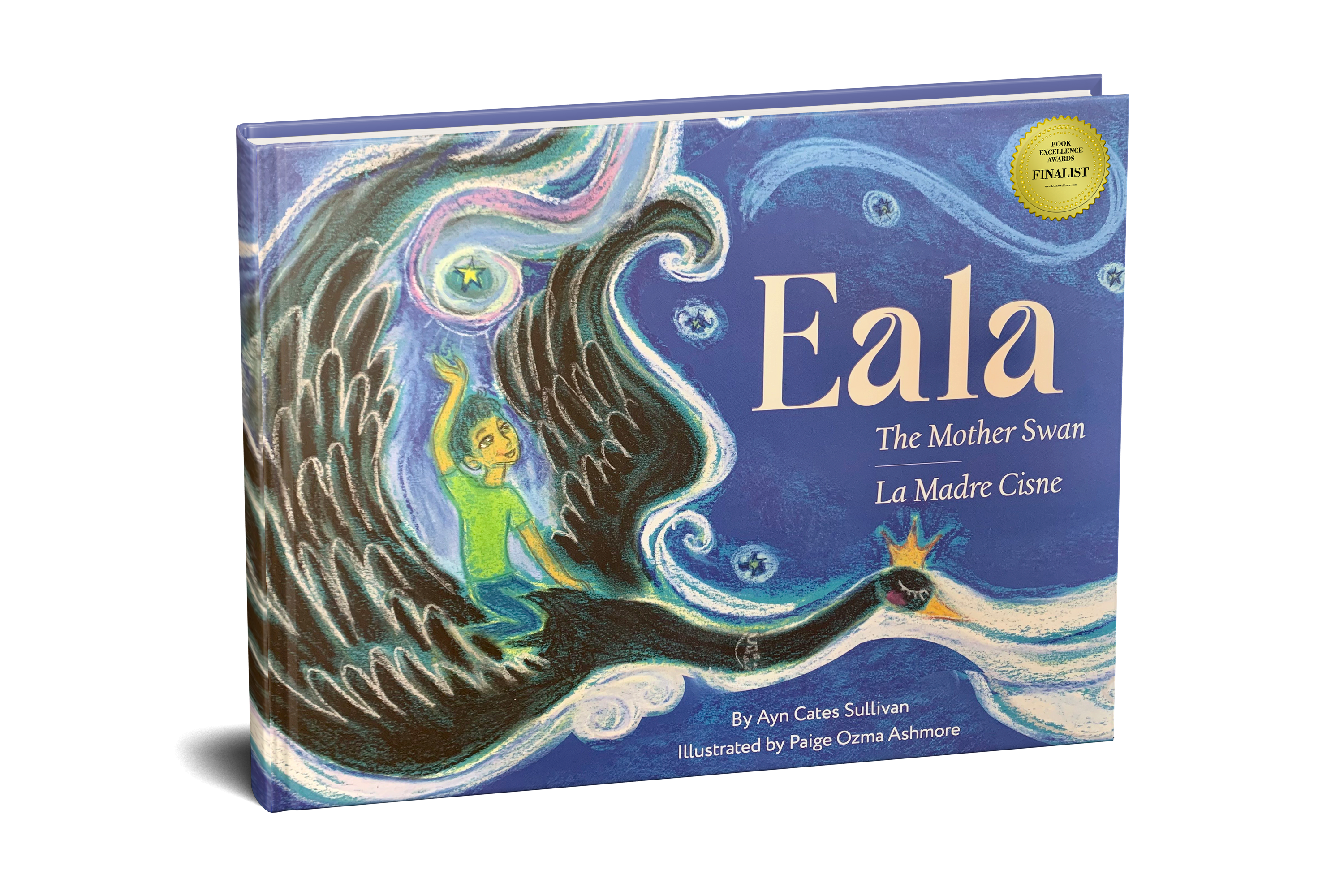 Eala: Mother Swan, a bilingual children's picture book written by Ayn Cates Sullivan, is recognized for its outstanding writing, design and overall market appeal out of thousands of books submitted.
Eala: Mother Swan, or La Madre Cisne in Spanish, is a beautifully illustrated children's picture book written by Ayn Cates Sullivan. The bilingual English/Spanish folktale follows a magical swan named Eala, who helps a young boy named Hugo awaken to the magic of the Universe and the truth about who he really is.
Eala: Mother Swan was named a Finalist in the Children's Inspirational/Motivational category of the 2022 Book Excellence Awards. The awards competition is dedicated to recognizing both independent and traditionally published authors for excellence in writing, design and overall market appeal. Previous Winners and Finalists have been New York Times' best-sellers, spoken at the United Nations and TEDx, and have had their books optioned by movie studios.
"I am delighted to have received a Book Excellence Award. Each time one of my books is recognized, I feel that another child might be encouraged to dream into a beautiful world along with me. When I win an award it encourages me to write and I start my next book. 15 books later, I'm still writing, so thank you for supporting artists and writers," says author, Ayn Cates Sullivan. Weaving ancient wisdom traditions together with personal experience, Dr. Sullivan is an expert at crafting messages that support an evolving humanity. "My aim in writing Eala: Mother Swan was to create a multi-cultural fantasy version of a fairy tale, designed to uplift and restore the soul."
A healing and uplifting fairy tale, Eala: Mother Swan will help readers remember the truth of who they are as unique human beings. It is the perfect book to read when you wish to connect to the magical Otherworld. In addition, the bilingual text helps readers, or a parent and child, learn or practice English and Spanish.
The book has received positive reviews from some of the most well-renowned authors, journalists, and reviewers around the world. "Eala, Mother Swan is a fable for our time, for boys and girls—and for us all. Eala, this Mother Swan, takes you to a new awakening of the spirit of a young boy into the wonder and majesty of what is to become his life," wrote Linda Foster.
Eala: Mother Swan is available for sale on Amazon, Barnes & Noble, Apple iBooks, Kobo, Nook, Google Play, and other online bookstores. To learn more about the book and connect with the author, readers are encouraged to visit: http://ayncatessullivan.com or https://www.infinitelightpublishing.com/ayncatessullivan.
About the Author
Ayn Cates Sullivan, MA, MFA, Ph.D. is an Amazon, Wall Street Journal and USA Today Best-Selling author of 15 books, an independent publisher, and podcast host of the Messages of Infinite Light Podcast and the Wisdom of the Ages Podcast with over 5 million listeners in 2021.
Her books include the award-winning children's series the longer continual readers Sparkle & the Gift, Sparkle & The Light and the Sparkle Fairy Tales: Kachina's Rose, Ella's Magic and Undina's Spell. Her best-selling fable, A Story of Becoming, won 18 literary awards. Her latest children's fable Eala: Mother Swan, is bilingual and appeals to a larger global audience ready to rediscover some magic in their hearts and souls.
Her books on Celtic mythology include Legends of the Grail: Stories of Celtic Goddesses, Heroines of Avalon & Other Tales and her award-winning debut novel, Nimue: Freeding Merlin, was chosen by Kirkus Reviews as a top Indie book 2021 and as the Indie Excellence Winner for New Age fiction.
In total, she has won over 60 literary awards. Ayn Cates Sullivan, Ph.D. is the president of Infinite Light Publishing & Media and loves supporting other authors with messages for an evolving humanity. She won the International Association of Top Professionals Lifetime Achievement Award in 2022.
Connect with Ayn Cates Sullivan:
Facebook: https://www.facebook.com/ILPBooks
Twitter: https://www.twitter.com/ayncatesullivan
Podcasts: Messages of Infinite Light, Wisdom of the Ages
Media Contact
Company Name: Author News Network
Contact Person: Media Relations
Email: Send Email
Country: United States
Website: authornewsnetwork.com