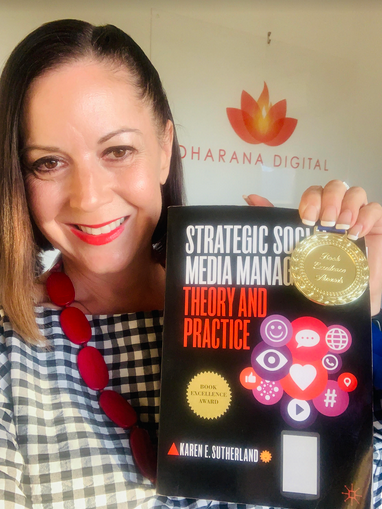 Strategic Social Media Management: Theory and Practice is recognized for its outstanding writing, design and overall market appeal out of thousands of books submitted.
Strategic Social Media Management: Theory and Practice by Dr. Karen Sutherland is a groundbreaking book that helps readers create and implement effective social media strategies leveraging the fundamentals of audience research to provide outstanding value. Strategic Social Media Management was named a Winner in the Social Media category of the 2022 Book Excellence Awards. Dedicated to recognizing authors for excellence in writing, design and overall market appeal, previous Winners and Finalists have been New York Times' best-sellers, spoken at the United Nations and TEDx, and have had their books optioned by movie studios.
"I was ecstatic when I found out that my book received international recognition in this esteemed awards program," said Dr. Karen Sutherland. An award-winning social media educator, author and the co-founder of digital marketing agency, Dharana Digital, Dr. Karen's mission is to help readers learn to stop blatantly selling on social media, and instead, to start helping their audiences to achieve better results. "My aim was to demystify social media for readers and to empower them to feel confident online."
Combining theory and practice, Strategic Social Media Management teaches readers how to take a strategic approach to social media from an organizational and business perspective, and how to measure results. Richly supported by robust and engaging pedagogy and case studies in each chapter, it integrates international perspectives from public relations, marketing and advertising, and examines key topics such as risk, ethics, privacy, and crises management. After reading this book, readers will be able to develop a social media strategy, curate accurate and relevant content, and create engaging social media content that tells compelling stories, connects with target audiences and supports the achievement of strategic goals and objectives.
The book has received positive reviews from well-known experts and professionals around the world. Social Media Manager, Claudio Corvaglia, says, "If you work in digital communication, you know how fast this world goes. I was looking for a book that could help me go back to basics, principles, and the sense of it. This one worked."
Strategic Social Media Management is an ideal book for business owners and students, and essential reading for marketing, public relations, advertising and communications professionals looking to hone their social media skills and strategies. The book is available for sale on Amazon and other online bookstores.
Individuals interested in working directly with Dr. Karen Sutherland are encouraged to visit Dharana Digital to learn more about their Social Media Coaching, Social Media Management and Search Engine Optimization services: https://www.dharanadigital.com/
About the Author
Dr. Karen Sutherland is an award-winning social media educator and author with 20+ years of industry experience in marketing and communication. As Co-Founder and Social Media Specialist at Dharana Digital marketing agency, Dr. Sutherland also holds the position of Senior Lecturer in Public Relations at the University of the Sunshine Coast, Australia. Dr. Sutherland is responsible for the social media curriculum at USC Australia and is a Senior Fellow of the Higher Education Academy in London. As a 2022 winner in the social media category of the Book Excellence Awards for her book, Strategic Social Media Management – Theory and Practice by Palgrave Macmillan, 2021 winner of the DASSH Award for Education, Innovation & Employability, and 2020 winner of the Social Media Marketing Institute's Best Social Media Educator of the Year, Karen is also the co-author of the book, Public Relations and Strategic Communication by Oxford University Press. Dr. Sutherland has presented at research conferences and industry events in Australia, New Zealand, Portugal, the Czech Republic, India, the UK and the USA, led Social Media Study Tours to Vietnam, Hong Kong and India and regularly delivers social media workshops and coaching sessions to clients from around the world.
Connect with Dr Karen Sutherland:
Email: drkaren@dharanadigital.com
Website: https://drkarensutherland.com/strategic-social-media-management/
Facebook: https://www.facebook.com/drkarensutherland
Twitter: https://twitter.com/kesutherland777
LinkedIn: https://www.linkedin.com/in/karenesutherland/
Instagram: https://www.instagram.com/karenesutherland/
YouTube: https://www.youtube.com/channel/UCs6g7FyGVMvNuTJ6IQdEt8g
TikTok: https://www.tiktok.com/@karensutherland
Media Contact
Company Name: Author News Network
Contact Person: Media Relations
Email: Send Email
Country: United States
Website: authornewsnetwork.com