Time flies, years go by. Ten years, twenty years… As the market tide rises and the industry evolves, one customer after another invests in laser systems from goldenlaser. It is the trust and support that their customers give to goldenlaser that has led to our continued growth.
The 2021 goldenlaser free inspection activity has kicked off. Goldenlaser's professional service teams travel to all parts of the country to carry out comprehensive free inspection services. Among these customers, there are laser cutting machines that have been used for 15 years is still in stable operation, and there are also more efficient and faster laser machines that are up-to-date facilities. Behind every laser device is their story. Let's talk about the stories of new and old customers.
When the inspection team came to Shantou, Guangdong, an old CO2 laser cutter produced in 2006 attracted our attention. The story of this laser system has to start 15 years ago.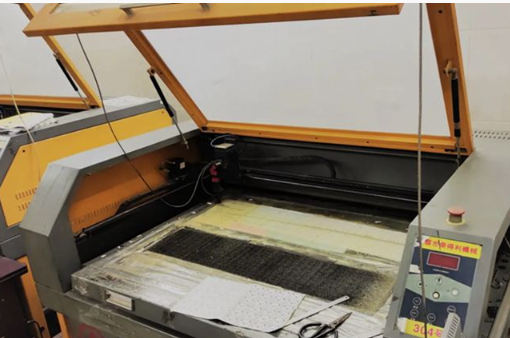 At that time, the clothing industry ushered in vigorous development, and new demands were put forward for the quality of clothing accessories such as embroidery labels, woven labels, and badges. "Laser cutting" – this was a relatively new technology at the time. Mr. Lian, who was in his early 20s, keenly captured the business opportunities and became the starting point for his success. The efficiency of the laser and the guaranteed quality of the cuts made his products quickly gain the favor of customers.
In the past fifteen years, Mr. Lian has successively invested in 11 more CO2 laser cutting machines from goldenlaser. The expansion of production capacity has also enabled his career to develop by leaps and bounds. When it comes to the use of laser cutting machines, "stable", "accurate", "high efficiency" are the most frequent words.
Stable, precise and efficient, this is exactly what goldenlaser's laser cutting machine is pursuing. Fifteen years of joint growth have witnessed each other's heartfelt journey, and we will certainly not forget our original intention to continue to create value for our customers.
Another service team came to Fuzhou, Fujian. This is a new customer who just invested in a laser cutting machine last year. Our technicians first inspected the equipment and carried out basic servicing and maintenance.
In addition to the basic maintenance of the laser cutters, is it easy to use for new customers? Is the efficiency of the process improved? These are the things we focus on during our inspections.
Goldenlaser 2021 free inspection activities are still in progress. Our attentive, patient and warm-hearted service has been highly appreciated by our customers. Goldenlaser has always been adhering to the concept of providing customers with laser processing solutions, not only for the sale of laser machines, but more importantly, using laser processing technology to continuously improve efficiency and create value for customers.
Media Contact
Company Name: Golden Laser
Email: Send Email
Phone: +86 158 7171 4482
Address:Goldenlaser Industrial Park, Tianxing Road, Hengdian Street
City: Chuanlong
Country: China
Website: https://www.goldenlaser.cc/