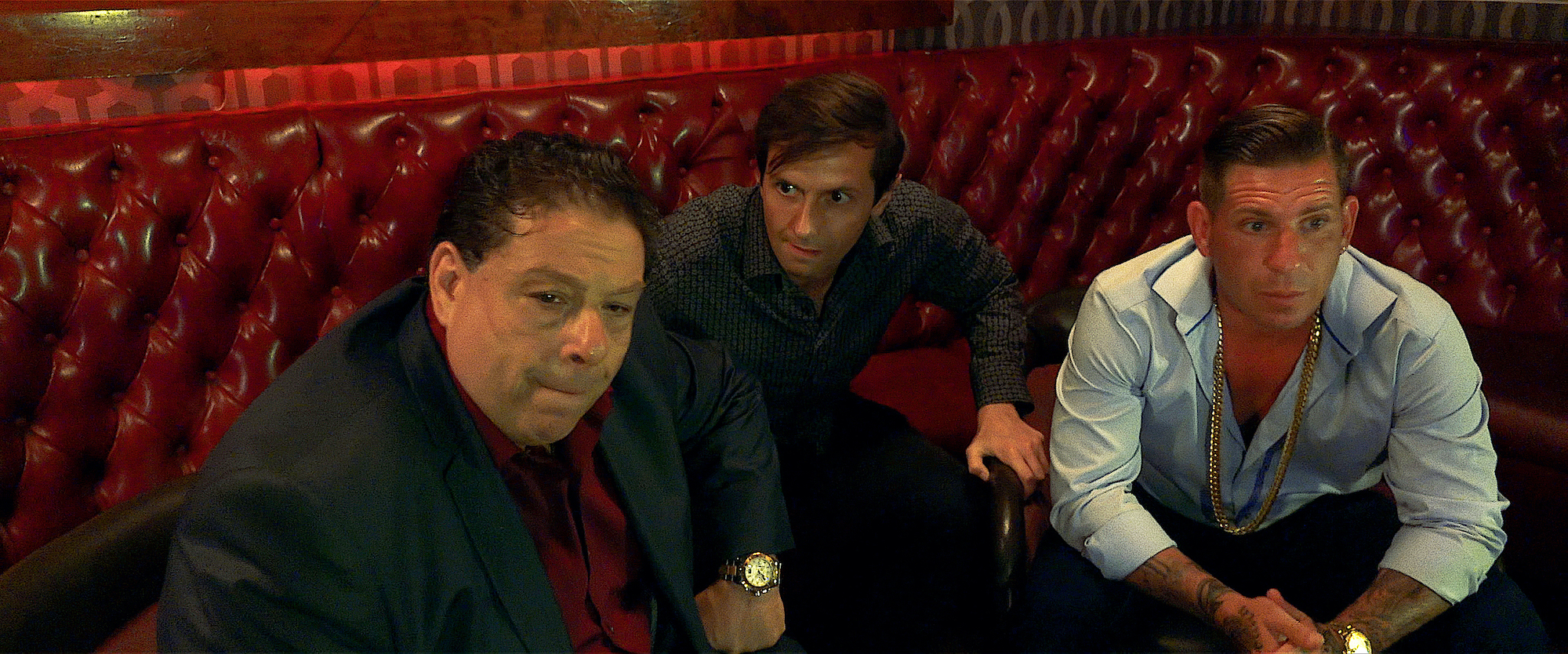 "Above: Greg Kritikos, Dave Morrissey Jr. and Annunziato Carbone in the well received, "Tomorrow's Today"."
Critic G.W. at Indiefilmcritics gave a glowing review to Timothy Hines' new comedy movie with comments like, "A delightful comedy feature that manages the convergence of humor and crime in the most hilarious way," and "Hines deftly balances the perfect marriage of crime and humor," adding "A difficult balancing act, but masterfully done in this highly entertaining film," and finally, "Tomorrow's Today is a well-executed film with great dialogue, captivating scenes and good laughs to boot."
Critic G.W. of indiefilmcritics.com gave a rave review of Timothy Hines' new comedy film "Tomorrow's Today."

The movie that features lauded cameos from Kelly Le Brock and Burt Young, was well received by critic G.W. who wrote in his review, "A classic gangster film with a healthy dose of crime, gambling and heavily tattooed Italian mobsters is always a pleasure to watch. However, Tomorrow's Today, directed by Timothy Hines, is not your typical gangster film. Rather, it is a delightful comedy feature that manages the convergence of humor and crime in the most hilarious way."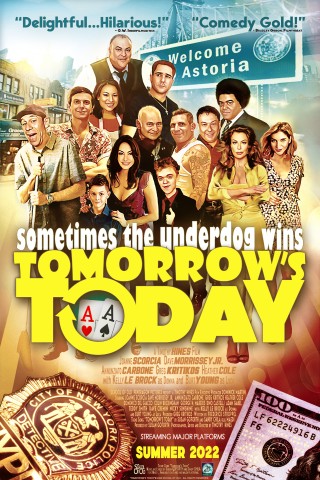 Above: Timothy Hines' new comedy movie, "Tomorrow's Today," with Kelly Le Brock and Burt Young in great cameos, premieres this summer on most major platforms.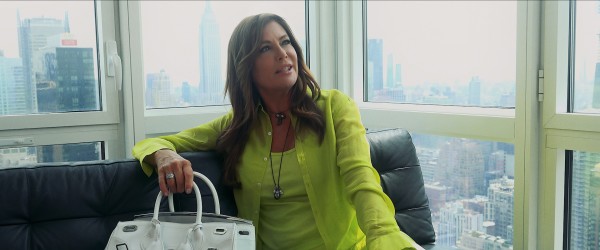 Above: Legendary supermodel and actress Kelly Le Brock plays Donna in Timothy Hines' "Tomorrow's Today," premiering on major streaming platforms this summer, 2022.
"Set in Astoria, New York City, "Tomorrow's Today" revolves around the life of Charlie Boy played by Greg Kritikos. Charlie is an ebullient middle-aged man who is trying to move away from a life of organized crime after narrowly avoiding arrest. However, his numerous financial challenges push him to become a part-time comedian and a con artist to make ends meet. In between trying to reform himself and managing quarrels with his wife, one of his closest friends, Tommy G (Annunziato Carbone), a gambling addict, asks him for help: after having accumulated a mountain of gambling debt and with no means to pay it off, he gets Charlie to begrudgingly agree to rob a liquor store with him.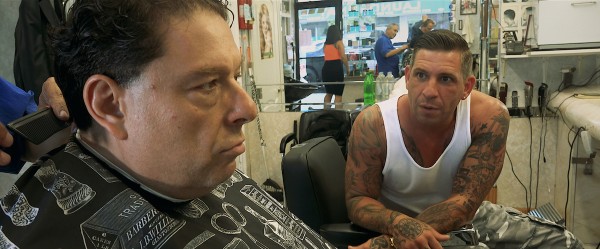 R to L Greg Kritikos as Charlie and Annunziato Carbone as Tommy G. in Timothy Hines' "Tomorrow's Today," premiering on most major online streaming platforms this Summer, 2022.
"The Indiefilmcritics reviewer went on further to praise the film, "In this production, Timothy Hines clearly demonstrates his apt directing skills. His story-telling adopts an experimental twist by injecting rich humor into what otherwise typically would have been a 'regular' gangster film, filled with gory scenes of destruction, violence and pain. However, Hines deftly balances the perfect marriage of crime and humor in a manner where neither of those two elements waters down the other; a difficult balancing act, but masterfully done in this highly entertaining film. The scenes are short and fluid, with quick transitions seamlessly edited into each other, ensuring a consistent flow of the plot."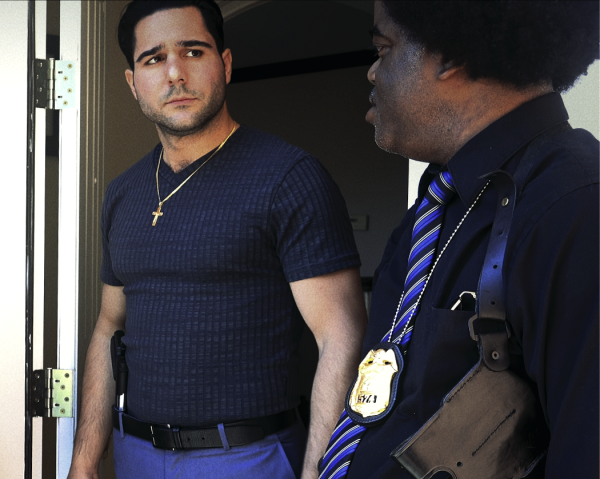 Above: Domenico Del Giacco as Mikey and Teddy Smith as Detective Frank in Timothy Hines' "Tomorrow's Today."
G.W. ended the review by saying, "Tomorrow's Today is a well-executed film with great dialogue, captivating scenes and good laughs to boot. Highly recommended to both comedy and crime fans. 4 1/2 stars out of 5"
The entire review can be found at Indefilmcritics: https://www.indiefilmcritics.com/post/tomorrow-s-today-is-a-perfect-marriage-of-crime-and-humor?fbclid=IwAR3WTe3Xi1ozUCxSOgmTeCh2kzlp32qMIKDFEREKcrY8Fa1Enh5DHjcOo8I
The cast of "Tomorrow's Today" is led by stand-up comic Greg Kritikos and stand-up comic/actress Joanne Scorcia, who headlines shows such as at The Comedy Store in Los Angeles. Kelly Le Brock plays Donna and Burt Young as Luca. The cast includes Dave Morrissey Jr., Annunziato Carbone, Nicky Sunshine, Pascal Yen-Pfister, Teddy Smith, Heather Cole, Colin Buckingham, Adam Gabel, Dominick Martini, Dave Cremin and George N. Mikedis. Produced by Susan Goforth, Dominick Martini and Greg Kritikos.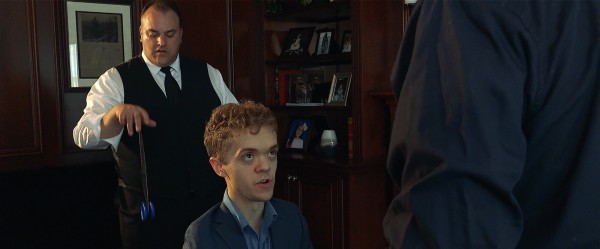 Above L to R Dominick Martini, COlin Buckingham and Dino Castilli in: "Tomorrow's Today" Official Trailer – https://www.youtube.com/watch?v=mFkJMqvxFMg
Media Contact
Company Name: School Of Old Media Entertainment
Contact Person: Susan Goforth
Email: Send Email
Phone: 310-480-0837
Country: United States
Website: www.pendragonpictures.com