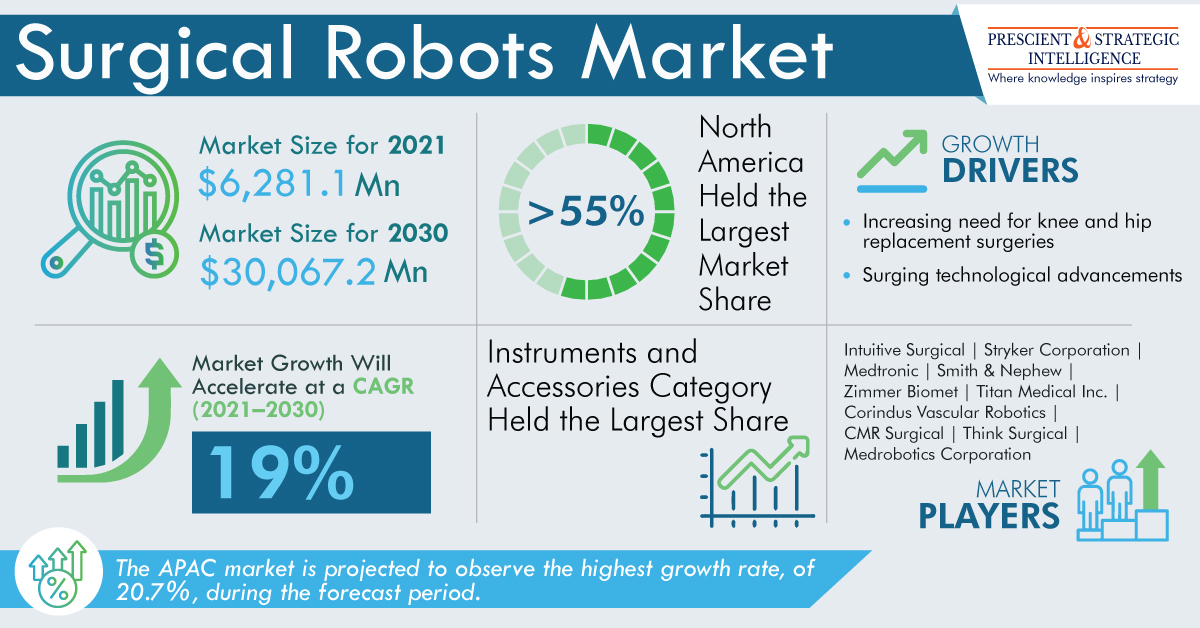 The Asia-Pacific surgical robots market is projected to observe the highest growth rate, of 20.7%, during the forecast period.
The global surgical robots market was worth around $6,281.1 million in 2021, which is predicted to touch $30,067.2 million by 2030, growing at a 19% CAGR from 2021 to 2030. According to the market research study published by P&S Intelligence. This might be related to the rising demand for hip and knee surgery, as well as technical advances. Hospitals reduced or canceled non-urgent outpatient visits during the epidemic. However, with more procedures being performed throughout the world in the future years, the industry is projected to recover and grow more.
Robotic surgery has effectively overcome the constraints of old laparoscopic and thoracoscopic surgeries, enabling more precise execution of complicated and sophisticated surgical operations in a less invasive manner. The surgeon is situated easily on the robotic control console, as opposed to the uncomfortable postures necessary for laparoscopic surgery, which decreases the physician's physical strain. In addition, as compared to standard laparoscopic devices, manipulating robotic arm instruments enhances the range of motion, allowing the surgeon to conduct more complicated surgical operations.
Request for sample pages of this report: https://www.psmarketresearch.com/market-analysis/surgical-robotics-market/report-sample
During the projection period, the surgical robots market is expected to grow at the fastest pace in the neurology category, with a CAGR of roughly 21%. The increasing use of surgical robots for treating patients with tumors and other brain problems can be ascribed to improved technology in robotic brain surgeries and the increasing use of surgical robots for treating patients with tumors and other brain conditions. Furthermore, due to the rising frequency of neurological illnesses and growing need for minimally invasive procedures for executing delicate brain surgeries, the industry in this category is developing.
For example, utilizing DBS technology, the University of California San Francisco devised a way to treat depression symptoms. Electrodes are implanted in the brain to provide electrical currents that change brain function. This form of automated on-demand therapy has a long-term impact on the patient's condition. Furthermore, in 2021, university researchers produced a new type of voice neuroprosthesis for paralyzed individuals. It will benefit individuals who have a severely injured central nervous system, which can cause paralysis throughout the body.
During the projection period, the APAC surgical robots market is expected to develop at the fastest pace of 20.7%. This can be attributed to rising demand for less invasive procedures to shorten recovery times, a significant presence of international rivals, and increasing robotics advances. Furthermore, prominent firms invest in R & D, to reduce the cost of innovative surgery procedures and accelerate their clinical adoption. In addition, more positive results compared to open procedures, as well as a shorter hospital stay and recovery time for patients, are driving up the need for robotic-assisted surgeries.
Pre-Purchase Inquiry at: https://www.psmarketresearch.com/send-enquiry?enquiry-url=surgical-robotics-market
Surgical robots have grown in popularity in recent years, both in terms of research and testing, and in terms of use in ordinary treatment including shoulder, foot & ankle, elbow, hand & wrist, and neck. Employing robot arms controlled by a computer, surgeons may perform less invasive treatments with greater precision. Furthermore, as the benefits of minimally invasive surgery become more widely accepted and used, including shorter hospital stays, reduce blood loss, and less pain, new industry participants are launching cost-effective and sophisticated surgical robots.
Hence, the advancing frequency of neurological illnesses and rising demand for minimally invasive treatments are growing for surgical robots.
Global Surgical Robots Market Size Breakdown by Segment
By Product & Service
RAS Systems
Instruments and Accessories
Services
By Application
Orthopedics
Neurology
Urology
Gynecology
By End User
Hospitals
Ambulatory Surgery Centers
By Region
North America
Europe

U.K.
Germany
France
Spain
Italy
Spain
Russia

Asia-Pacific

Japan
China
India
South Korea
Singapore

Latin America
Middle East and Africa

Saudi Africa
Saudi Arabia
U.A.E
Browse Other Related Reports
AI in Genomics Market Size and Share Analysis by Delivery Mode, Functionality, Application, End User – Industry Growth Forecast to 2030
Surgical Simulation Market Growth Analysis by Offering, End User – Industry Size Forecast to 2030
About P&S Intelligence
P&S Intelligence provides market research and consulting services to a vast array of industries across the world. As an enterprising research and consulting company, P&S believes in providing thorough insights on the ever-changing market scenario, to empower companies to make informed decisions and base their business strategies with astuteness. P&S keeps the interest of its clients at heart, which is why the insights we provide are both honest and accurate. Our long list of satisfied clients includes entry-level firms as well as multi-million-dollar businesses and government agencies.
Media Contact
Company Name: P&S Intelligence
Contact Person: Abhishek
Email: Send Email
Phone: +918887787886
Address:Noida Sector 2
City: Noida
State: UP
Country: India
Website: https://www.psmarketresearch.com/market-analysis/surgical-robotics-market