"New book released to five-star reviews. "Why Me? A Story of Abuse, Betrayal, and the Ultimate Journey to Purpose" is a personal life story of author Carla K. Bone's life which was filled with trauma and bad decisions."
Carla K. Bone has dedicated her life to helping people who have experienced trauma. As a pastor and the CEO of CKBone Ministries Inc., Bone's experience and expertise provided the framework for her book, "Why Me? A Story of Abuse, Betrayal, and the Ultimate Journey to Purpose" now available on Amazon
Chicago, IL, USA – July 18, 2022 – Carla K. Bone is a twenty-six-year survivor of child abuse and domestic violence. Bone's mission in life is to eradicate domestic violence in our world. "Never give up and make a decision and stick to it are extremely important for domestic violence sufferers," Bone says. "I know because I have been there." Bone has taken her life experiences and the wisdom she gained to write not only a book but a guide that encourages people in abusive situations. Her book, "Why Me? A Story of Abuse, Betrayal, and the Ultimate Journey to Purpose" teaches individuals how to turn their mess into a ministry, their betrayal into a beacon of light, and channel their pain into power.
"Why Me? A Story of Abuse, Betrayal, and the Ultimate Journey to Purpose" is a personal life story of Bone's life which was filled with trauma and bad decisions. She uses this book to give answers and solutions to people going through trauma, domestic violence, and child abuse. It is Christian based with biblical answers from the Bible. Her goal is to help eradicate domestic violence by working with churches, schools, colleges, shelters, and partnerships to help families navigate the plague of domestic violence. According to Mrs. Bone, "I hope that my book will help others to process their trauma, help people who are suffering in silence, and anyone who is on their journey to purpose. The road isn't easy and filled with thorns and roses, but the journey is a must to overcome trauma."
ABOUT THE BOOK
Have you ever wondered, "Why me?"
Good, you're not alone. Why Me? is a journey and guide that inspires people to never give up.
Why Me? is a brilliant, provoking story that is filled with vivid experiences, lessons learned, and applied wisdom that has shaped Carla's life. Why Me? not only invites you into the story but it allows you to partake in the resolution together and find healing, freedom, forgiveness, joy, and peace. Buy now on Amazon – https://amzn.to/3Pjw5Ak.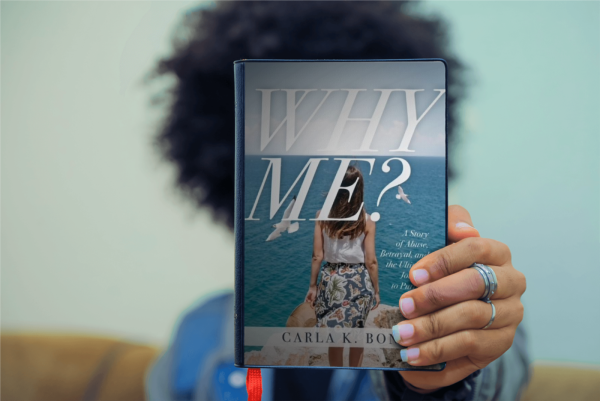 ABOUT THE AUTHOR
Carla K. Bone is a married twenty-six-year survivor of domestic violence. She is a notable speaker, preacher, and author. Carla is the CEO of CKBone Ministries Inc., a ministry that brings hope to women around the world. Both serving in ministry, Carla and her husband have dedicated their lives to helping people who are like they once were.
Facebook https://www.facebook.com/CKBoneministries
Media Contact
Company Name: AAPH Press Distribution, LLC
Contact Person: Carla K. Bones
Email: Send Email
Phone: 310-362-6999
Address:1231 Williams Blvd
City: St. Louis
State: MO
Country: United States
Website: www.ckboneministries.org