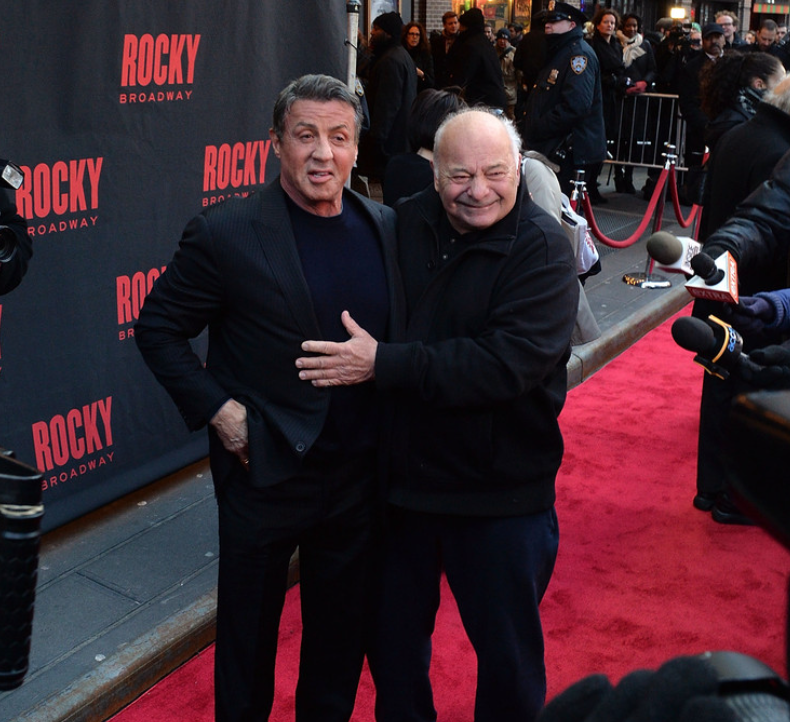 "Above: Sylvester Stallone and co-star Burt Young at a red carpet "Rocky" series premiere. Photo courtesy MGM."
Actor Sylvester Stallone has spoken out about Irwin Winkler and issues of rights to "Rocky" through his Instagram account.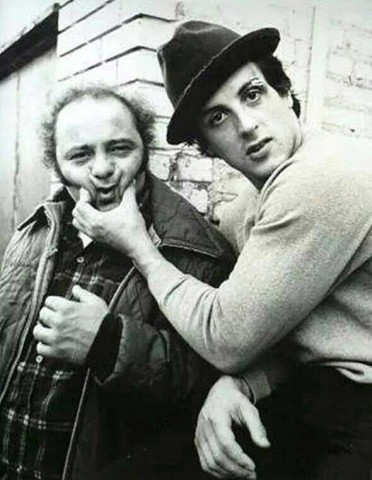 Above: Sylvester Stallone and Burt Young in "Rocky". Photo courtesy MGM.
Sylvester Stallone slammed "Rocky" producer Irwin Winkler for hoarding ownership of the "Rocky" franchise in an Instagram post this Sunday.
The post shows an image of Winkler as a serpent with a knife for a tongue. Stallone captioned the image "A very flattering portrait of the great 'Rocky'/'Creed' producer, Irwin Winkler, from one of the country's greatest. After Irwin controlling 'Rocky' for over 47 years, and now 'Creed', I really would like to have at least a little [of] WHAT'S LEFT of my rights back, before passing it on to ONLY YOUR CHILDREN — I believe that would be a fair gesture from this 93-year-old gentleman?"
Burt Young, pictured above in the upcoming comedy movie, "Tomorrow's Today," and who stars as Rocky's brother in the "Rocky" series has maintained a warm relationship with Stallone over the years.
The Rocky Balboa franchise which began with 1976 film, "Rocky," co-starred Burt Young who was nominated for an academy award for the picture and has a cameo in Timothy Hines' new comedy movie, "Tomorrow's Today." The "Rocky" series as generated five sequels written and directed by Stallone. The spinoff franchise, "Creed," will have a third film with a plan release date of Nov. 2022.
Media Contact
Company Name: School Of Old Media Entertainment
Contact Person: Susan Goforth
Email: Send Email
Phone: 310-480-0837
Country: United States
Website: www.pendragonpictures.com