When Diogo Custodio showed up as a contestant on the 2013 edition of 'The Bachelorette', – the trendy abc's reality show and produced by Warner Horizon Television, vying for the love of Desiree Hartsock, he was one of the stars of the show.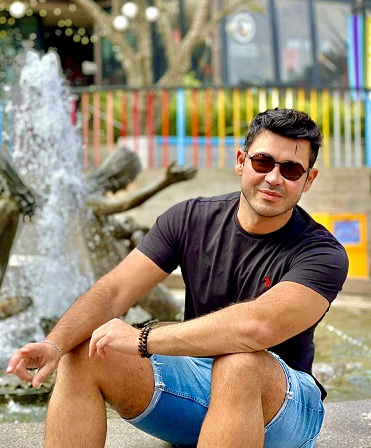 Born and raised in Brazil, the Lake Tahoe resident- a global internet influencer, entrepreneur and model,is not your type of everyday personality. They say 'A powerful and passionate mind achieves success easily but the struggle is quite real,' this is exactly what Diogo Custodio has gone through to achieve success in life.
Diogo's journey to the present level of success may be far shorter than other more experienced influencers, and yet he has experienced gut-wrenching lows and come out on the other side excelling in all ramifications. However, he aspires to achieve more. At one point, especially during his childhood, he lived in abject poverty as his family could not even afford a home. His adulthood is not left out on the hook as he weighed over 400 pounds one time. Ad to that bullying, abuse.
His participation in Season 9 edition of 'The Bachelorette' became the whole turning point of his life as it took him a lot of hard work to feature as a participant in the show. Since then, he has gone ahead to garner much respect and recognition. He has a master's degree from universities in Europe and a doctoral degree in international business from San Diego University. He has crossed many hurdles to achieve his dreams and is taking his hard work to the next level to achieve the best for himself. His epic words 'hard work pays off' have been an inspiration.
He is a firm believer in the importance of having the right mindset, thus, telling the people that it's a common principle. While backgrounds and situations may differ, experience and life challenges should make people aware at an early age that having the right mindset can change your life forever no matter what you're going through.
Diogo's life mission is to inspire and encourage others to live the life of achievers full of abundance and fulfillment by creating an inspiring environment. Diogo came from poverty, to become a world traveler – been to 80 countries and counting… This is due to the fact that he has quite an inspiring personality and an influential aura. He is very passionate about his dreams and works hard to convert them into reality. Presently, he now gives back to society through charity work in his home country, and other parts of the world and also helps the youth to reach their goals in simple and effective ways as an influencer.
The tag of one of the most successful influencer and entrepreneur suits him well. He impersonates the slogan of 'Hard work breeds success' perfectly and "When you cease to dream, you cease to live."
Follow Diogo on Instagram-@hellodiogo to know more about him and connect with him. He constantly posts his travel adventures and other inspiring works.
For further information click on the link https://en.wikipedia.org/wiki/The_Bachelorette_(American_season_9)
Media Contact
Contact Person: Jessica Lenox
Email: Send Email
Phone: 424-302-1766
Country: United States
Website: pro.imdb.com