CBS Sports will do pre-fight promotions, and Traverse Television Network will be handling the Pay-Per-View Live Streaming on Redemptionppv.com for only $29.99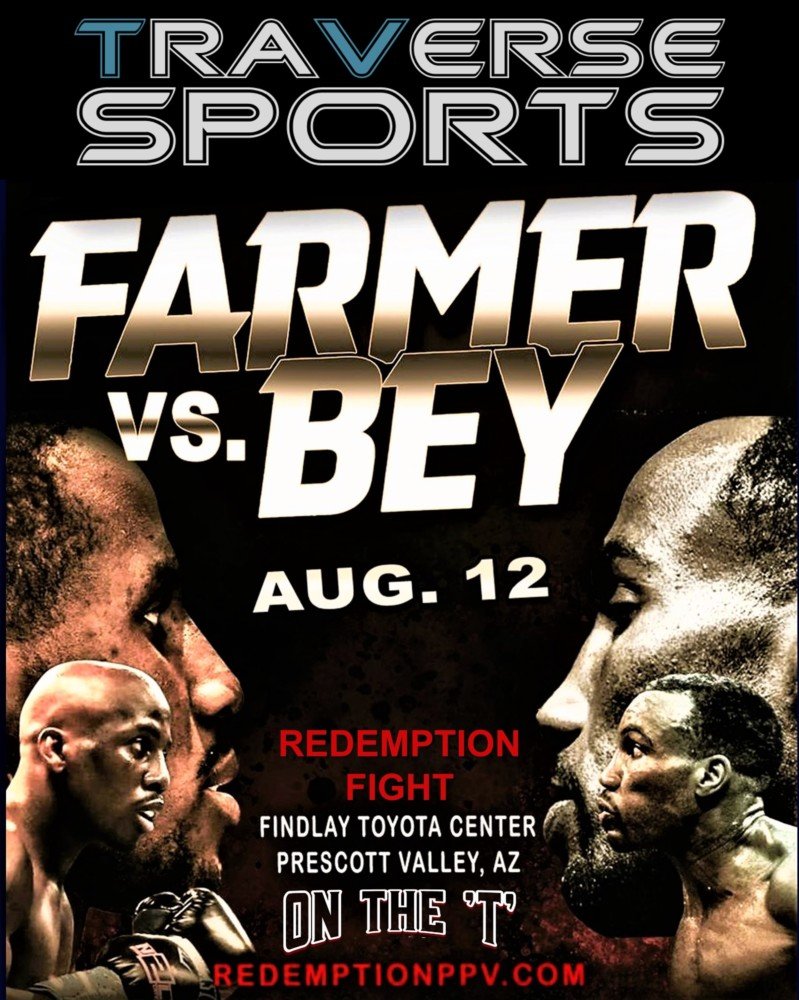 Traverse is an Over-The-Top (OTT) streaming platform with a global Content Delivery Network. A platform designed for content creators to reach large global audiences on popular platforms, whether on smartphones or T.V., They provide a comprehensive all-in-one technology platform that enables you to start, maintain, and monetize independent Internet T.V. channels on networks distributed across all popular platforms. Combined with their web, mobile, and smart T.V. apps, their state-of-the-art software platform allows everyday video creators to transform their content into full-scale internet T.V. and video-on-demand content to reach to millions of potential viewers quickly.
Traverse Television Network gives a production team complete video content control. It can organize content into Categories, Create and Schedule Live Linear Playlists, Stream Live Broadcasts, and Restream to Social Media sites while providing security for your content and video streams. Content and streams are delivered to several edge networks to maximize the viewer's experience.
For more information, visit https://traversetv.com.
This event is presented by Bigger Than Life Sports & Entertainment and Sweet Science Boxing & MMA.
Bigger Than Life Sports & Entertainment is a full-service entertainment company specializing in Concert Promotion, Public Relations, and Artist Management. That is placing sports and entertainment celebrities at major events worldwide. Their relationships with boxers, famous music artists, and other celebrities help them create exceptional events that will be remembered forever. http://www.biggerthanlifeent.com.
Ejay Mathews, Co-founder of Bigger Than Life Sports and Entertainment LLC, has traveled worldwide, encountering numerous celebrities, including all recent U.S. Presidents: Carter, Reagan, George H.W. Bush, Clinton, and Obama. Also, Don King, Muhammad Ali, Mike Tyson, Butch Lewis, Denzel Washington, Randall Cunningham, Eric Dickerson, Magic Johnson, Joe, and Gavin Maloof, former owners of the NBA Sacramento Kings and the world-famous Palms Resort & Casino, and Harry Belafonte.
Sweet Science Boxing & MMA, a dedicated member of USA Boxing and licensed through the California State Athletic Commission, aims to produce high-caliber boxers and MMA fighters. Still, as a community business, they are motivated to inspire and help people get in shape. https://traversetv.tv/https://www.sweetsciencegym.com.

Video Link: https://www.youtube.com/embed/K1Ua3Be0JGE
Farmer vs. Bey is a historical event, but what's it unique is that Bey (23-3-1, 11 knockouts) and Farmer (30-5-1, 6 K.O.'s) set this up themselves. Mickey Bey once held the IBF lightweight title. Tevin Farmer once held the IBF junior lightweight title. Bey hasn't fought since he dropped a split decision to current lightweight world champion George Kambosos in 2019. Farmer hasn't fought since he lost the IBF junior lightweight belt to Jo Jo Diaz in 2020. So, naturally, since the pair didn't have dance partners lining up to fight either of them, they decided on their own to fight each other in a 10-round lightweight bout on August 12, 2022, at the Findlay Toyota Center.
Bey and Farmer made this fight after it came up on social media from former lightweight world champion Teofimo Lopez, who thought Farmer should fight Haney. Bey thought Haney was too much for Farmer, but he volunteered himself to fight Farmer. Bey got in touch with one of Farmer's people; they began talking and, through some contacts, got this venue,
Tevin Farmer – Headliner:
Farmer is an American professional boxer from Philadelphia, Pennsylvania, who held the IBF super featherweight title from 2018 to 2020. Farmer started boxing late as boxers' age goes. Still, once Tevin began, he moved his career along very fast by fighting more than any other fighter in the boxing business at the time, fighting six professional bouts a year; this is unheard of in this era of boxing today; most fighters are fighting twice in one year, six fights are getting it done. Farmer, who is right-handed but fights in a southpaw stance, is known for his old-school style and slick defensive skills with 37 Bouts, 30 Wins, and 6 K.O.'s—pattering his boxing style after one of the great Southpaws of the 80s, Parnell Whitaker with slick head movement. Now after not fighting for two years cause of the Pandemic. Tevin is excited about returning to the ring to regain his World Title.
Farmer won the IBF Super Featherweight title on August 3, 2018, with a 12-round unanimous decision over former world champion Billy Dib. He went on to make four successful defenses over James Tennyson, Francisco Fonseca, Jono Carroll, and Guillaume Frenois. In his last bout, Farmer dropped his belt to Joseph Diaz Jr. on January 30, 2020. Farmer also has wins over Angelo Ward (1-0), Tim Witherspoon Jr. (6-1-1), Tyrone Luckey (4-1-1)l, Camilo Perez (9-0, Noel Echievarria (11-1), Emanuel Gonzalez (14-0), Viktor Chernous (15-1-1), Angel Luna (10-0-1), Daulis Prescott (30-2, former world champion Gamaliel Diaz, Ivan Redkach (19-1-1), and Dardan Zenunaj (12-2).
Mickey Bey – Headliner:
Mickey Bey, A ring veteran of 17 years, started boxing at a much earlier age, a young 8-year-old; he and his brother both fought, and Mickey ended up on the Olympics team even though he did not get a Medal. Bey is a 2x lightweight IBF champion. He was born in Cleveland, Ohio, where he made his professional boxing debut at 21 against Shane Gierke. Bey had one set of grandparents who grew up with Don King. His other grandparents grew up with Al Haymon. Those two men are Bey's inspiration. Bey has fought in 28 professional fights and has a record of 23 wins, three loses, one draw, and one no-contest. And 11 K.O.'s. Bey is also known as a great trainer with lightweight champion Devin Haney amongst others. Mickey Bey found himself on Top of the World.
Bey won the IBF Lightweight title with a 12-round split decision over Miguel Vazquez on September 13, 2014, in Las Vegas. He dropped the title when he lost a split decision to Rances Barthelemy on June 3, 2016. Bey also has wins over Rashad Ganaway (10-1-1), Alejandro Rodriguez (12-3), Jose Herrera Garcia (32-5) and Naim Nelson (12-0). In his last fight, Bey lost a split decision to current undisputed lightweight champion George Kambosos on December 14, 2019, in New York.
To read the complete story and background about the dynamics of the fight in Business Innovators Magazine, go to https://businessinnovatorsmagazine.com/major-boxing-event-tevin-farmer-vs-mickey-bey-on-august-12-2022-at-the-findlay-toyota-center-in-prescott-valley-az-will-be-streamed-live-on-redemptionppv-com/2/
To see the fight on Traverse TV, sign up for Pay-Per-View at Redemptionppv.com.
Media Contact
Company Name: Rise Up Media & Marketing
Contact Person: Tom Chesser
Email: Send Email
Phone: 210-289-5996
Country: United States
Website: http://riseupmedia-marketing.vcardinfo.com/