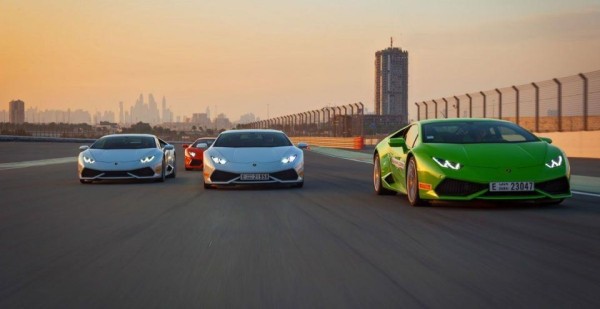 Have you heard of any offer where you pay for seven days and get two days free?
No? This is where OneClickDrive takes the lead in the market and offers a fantastic discount for people looking to book Lamborghini for longer than usual.
Rent Lamborghini in Dubai
Are you looking to rent a Lamborghini in Dubai? But worried about inflated prices?
Now you can rent a Lamborghini in Dubai for seven days and get two days free as a complimentary gift from OneClickDrive. The portal is known to offer the best prices and zero commission for over 1500 different cars in Dubai.
Who wouldn't want to drive a Lamborghini Urus on one of the world's most well-carpeted roads – Dubai, with prices you can find nowhere in the world.
Now you don't have to look for agents or go to individual car rental companies. Find luxury cars at all-inclusive prices with insurance, delivery and standard mileage limit – a click away.
All you need to do is to make a choice, book your car, and get it delivered to you! You can schedule a delivery at your home, hotel, airport or even the mall. Their suppliers are located across the country and can reach you within minutes at the nearest parking lot.
OneClickDrive will make your search easier yet affordable. It is one of the largest and most trusted rental marketplaces. Save money and time by looking through a combined fleet of over 150 car rental companies. The car rental search engine has almost every luxury car and sports car available. It's accessible for tourists and residents looking to have an adrenaline-filled drive in their favorite car.
With these fantastic offers and services, the OneClickDrive marketplace makes the process of car rental in Dubai hassle-free. Now, with special discounts, offers and zero commission, you can explore and enjoy this wonderful country as much as you want. It offers secure and reliable services to its customers from around the world.
Dubai is one of the most attractive countries for vacations and tourism. With its skyscraper buildings, the world's biggest shopping malls, and modern architecture, the city has always been the ultimate choice of wealthy people for their vacation. This country offers an exhilarating experience to those seeking a getaway from their hectic and tedious lives. The ease of accessibility and affordability makes car rental in Dubai a safe and worthwhile experience.
The car rental industry has evolved over time. They cater to a growing number of travelers who wish to explore destinations on their own as well as tourists looking to enjoy their holiday in an exotic car. Car rentals in Dubai have a wide range of luxury cars like Audi, Bentley, BMW, Ferrari, Lamborghini, Maserati, Mercedes, Porsche, Range Rover, Rolls Royce, etc.
Renting a luxury car in Dubai is not a problem anymore for those who want to explore this amazingly adventurous country on their own. Many car rentals in Dubai offer special bonuses and discounts to tourists looking for their dream car. But OneClickDrive is the first choice when it comes to a car rental service that has everything you need, including the cars, amazing discounts, and affordable prices or services.
Take advantage of incredible deals on OneClickDrive to sort your favorite car in Dubai. Quench your thirst for speed and a once-in-a-lifetime experience!
Media Contact
Company Name: OneClickDrive Car Rental Marketplace
Contact Person: Media Relations
Email: Send Email
Country: United Arab Emirates
Website: https://www.oneclickdrive.com/