August is coming, and there will be a back-to-school season. It is the best time to buy school supplies, there will be many businesses launching back-to-school season promotions. Of course, it is also the best time to buy one new human hair wig for yourself or for your children.
Yolissa Hair Back-To-School Promotion
Over $179 Save $15, Code: sale15
Over $299 Save $25, Code: sale25
Over $419 Save $35, Code: sale35
613 Wigs Save $50, Code: 61350
(1) 613 Blonde Wigs
Yolissa hair's biggest promotion for the back-to-school sale is the human 613 lace wig. We know that usually, the price of blonde lace frontal wig is relatively high because it is a high-end human hair wig that has already been dyed and bleached. It's a light color that can be colored any color you like. But now, there is a $50 coupon for all 613 wigs online, only once a year, it's time to catch it!
There are so many different kinds of blonde hair wigs to choose from. If you don't like too complicated a care process and prefer to smooth hairstyle, a straight or body wave blonde wig will be a better choice, because you don't need to spend energy to maintain the curvature, just use your fingers or wide-toothed numbers to simply comb it. This is very friendly for beginners. There are also different lace types, such as 5×5 closure wigs, 13×4 lace frontal wigs, and 13×6 lace frontal wigs.
Straight and body waves are common for 613 wigs, but some customers are more likely to full, lined hairstyles, so the 613 deep wave lace frontal wig was listed on Yolissa hair website, and if you want water wave, you could contact their customer service, they can customize that for you.
Most customers buy blonde hair wigs to dye it in their favorite color after receiving them. But some beginners are not good at bleaching, so they have to pay a professional hair stylist to dye it. The answer is no. If you do not want to do additional processing after receiving the wig, you could buy 613 blonde wigs which are already dyed in Yolissa Hair, it is more convenient. Highlight wigs are a hot sale in Yolissa, Especially Brown Wig With Blonde Highlights wigs, it is an exclusive original of Yolissa Hair, As soon as this wig was launched, it was unanimously loved by the majority of customers, and the heat only increased. So you have to try it. Besides that, there are also black and blonde skunk stripe wigs, #4/613 blonde full lace wig with brown roots for a different choice.
613 wigs are the best choice for women who want to feel more secure and stylish. Just buy it now with a $50 coupon!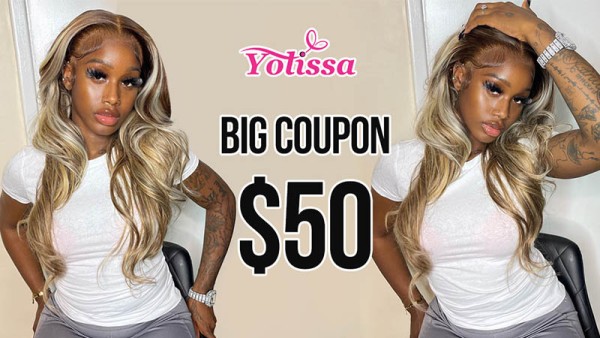 (2) Brown Wigs
Brown human hair wigs are very classic colored hair wigs, it makes people look calmer and more elegant. When you wear brown lace front wigs, you can wear them with any color and style of clothing and they will look coordinated without being obtrusive. brown hair wigs will save you a lot of time when dressing yourself up.
It is worth mentioning that there is HD lace with brown wigs in Yolissa Hair. Usually, only Swiss lace is available for colored human hair wigs, and there is almost no HD lace. Because the lace will be colored during the dyeing process, it is also likely to damage the lace, so there are generally few HD lace for colored lace wigs. But in Yolissa Hair, you could get one HD lace for the brown wig. There are HD 5×5 lace closure wigs and HD 13×4 lace frontal wigs, customers can choose according to their personal preferences.
(3) Burgundy Wigs
Human hair burgundy wig is also a good choice for customers who want to try a different colored wig. Burgundy human hair wig is not as exaggerated as light red, but noble. When you need to go to a party or dinner, it will be a good choice, it will make you look more confident and attractive.
There are not only HD lace for burgundy wigs, but also different styles of wigs, such as burgundy headband wigs, black ombre wigs with burgundy roots, and so on.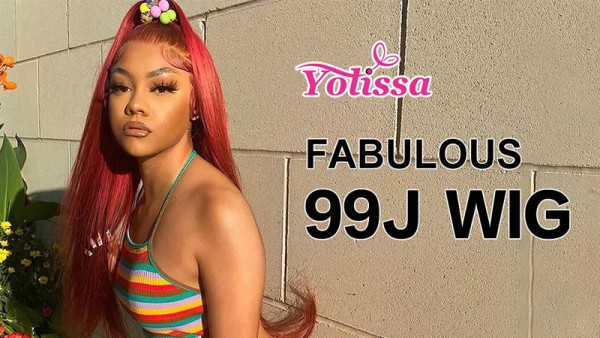 (4) HD lace wigs
HD human hair lace frontal wig is no stranger to the majority of customers. It has been unanimously sought after by customers for its high-definition lace, the best quality, and a more natural hairline. It can naturally match any skin tone and is lightweight and breathable, so even in hot summer, you don't have to worry about being stuffy.
Yolissa Hair has 13×4 HD lace front wigs, 13×6 HD lace frontal wigs, 5×5 HD lace closure wigs, and 6×6 HD closure wigs, also have a different curly pattern, especially when you buy one water wave HD lace wig, you will get one free random wig. So don't miss it.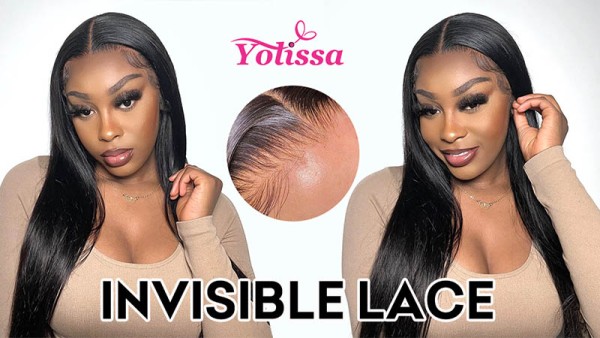 New semester, new look, come and buy a beautiful human wig to welcome your new semester!
Media Contact
Company Name: Yolissa Hair
Contact Person: Media Relations
Email: Send Email
Phone: +8615803834514
Address:Jinlanwan Jiudian Xiezilou 13F A Xinxing Road
City: Xuchang
State: Henan
Country: China
Website: yolissahair.com