A non-fungible token (NFT) is a monetary guarantee composed of digital data protected on a blockchain. The ownership of NFT is tracked by this blockchain, and the owner can easily transfer it to other people. Therefore, NFTs can be sold and traded without much discomfort. Anyone with fundamental knowledge regarding this can do them. Little to no programming experience is required to generate them. NFTs often have some references to digital files, which may contain photos, audio, or video. Since NFTs can be uniquely identified, they are not similar to cryptocurrencies. The market value of this financial token depends on some digital files. It allows the owners to copy their relevant digital files and avoid preventing the execution of NFTs that reference identical files.
Benefits of NFT
One of the most important advantages of NFT is its non-fungibility. Non-fungible items are commodities that are distinctive from others in their category. Only the owner has the right to have it. Hence, the value of someone's belonging cannot be divided, they can only be transferred. It is one of the most significant methods for artists to sell their art. They can illustrate their unique creation to the people and earn money by selling them. This token is also highly advantageous for investors. It saves their tax significantly sometimes. It can also bring them handsome profit, as they mostly grow in their value. Investors can easily advertise the unique creation they have. Interested people approach them and agree to buy the NFTs by paying the demanded price.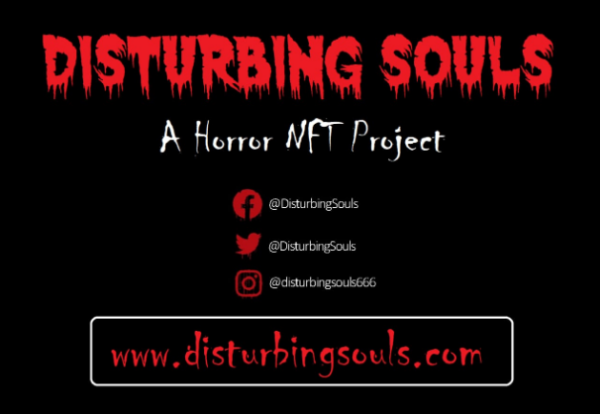 Disturbing souls
Many unique creations are out there as NFTs. 'Disturbing souls' is a Mexico-based firm that has started a new genre of NFTs. This company sells horror creations that are liked by numerous people. They are not restricted to providing photos of terrifying creations. One can also get GIFs and some scary haunted houses in the metaverse. This unique idea makes disturbing souls highly distinctive in the NFT market. Many people think that the characters created by this firm are the result of some AI technology. It is certainly a false concept because these characters are not only hand-made but also rare.
The creators of their NFTs are some amazing local artists with a lot of potential. The staff is limited till now, however, the company is growing exponentially. It is an excellent investment opportunity for interested people. Initially, their plan involves launching 300 NFTs. Buyers can access them only at OpenSea which is a wide website that serves its visitors by allowing the sale and purchase of NFTs. The purpose of a single platform is to avoid scams and keep their tokens secure.
Purpose of DS
We are aware that many people and children in Mexico are homeless. They have a limited food supply. To help these people, this firm came into being. Its prime focus is to distribute the wealth earned by this firm to the needy ones. If we talk about statistics, Nearly 5 million Mexican children are at risk of losing the care of their families due to poverty, addiction, and domestic violence. This company claims to give 20% of its sales to multiple shelters.
They sell!
Disturbing souls have a variety of creations to sell that can fascinate many buyers. Most of their sales come from their horror yet amazing characters. Three-head satan and bipolar girl have earned good popularity in this matter. These characters are not only terrifying but also unique in appearance. Therefore, they get the attention of many people. However, there are some other characters that buyers can purchase as NFT. Burnt girl, psycho nurse, fat clown, disgusting alien, and charming witch are some other creations that are earning significant fame in their field. You can also find more horror characters that catch the interest of investors.
Conclusion
Non-fungible token or NFT works as a receipt for a valuable thing. People spend their money to buy them as they are highly profitable. There are many NFTs available in the market. However disturbing souls have brought something exceptional to the market. This company is all about selling horror things. Horror characters made by this company can terrify anyone at first glance. NFTs of this firm seems to have a bright future in the market. The idea is new yet distinctive which enhances its importance.
SOCIAL MEDIA:
Facebook:
https://www.facebook.com/DisturbingSouls
Twitter:
https://twitter.com/DisturbingSouls
Instagram:
@disturbingsouls666
Discord Channel:
Youtube:
https://www.youtube.com/channel/UCrHYcgHdOPK18wX28m2RU8w
Project created by Sadistic Messiah
https://sadisticmessiah.com
The Art / Collection is being sold in OpenSea:
https://opensea.io/collection/disturbing-souls
website
Media Contact
Company Name: Disturbingsouls
Contact Person: Sadistic Messiah
Email: Send Email
Country: United States
Website: https://disturbingsouls.com