The busy workload brings additional challenges along with increased job opportunities and profit ratios.
For managers, the issue of how to effectively manage staff and project activities has become an essential part of their life. A good tool plays an extremely important role in the management review of a project. It should be noted that this is not the 1950s. Managers no longer need to be in the office with their notebooks and investigate in person. Why not try the latest web collaboration platform?
Have you ever met such problems?
• Not sure whether each project will be completed before the deadline without any delay
• Very easy to ignore tasks that are due to close soon
• Always out of synchronization when project leaders change task content
• Got a new project but not sure who should be assigned?With Tracup, users can visualize where they are in the business process and manage transactions more effectively.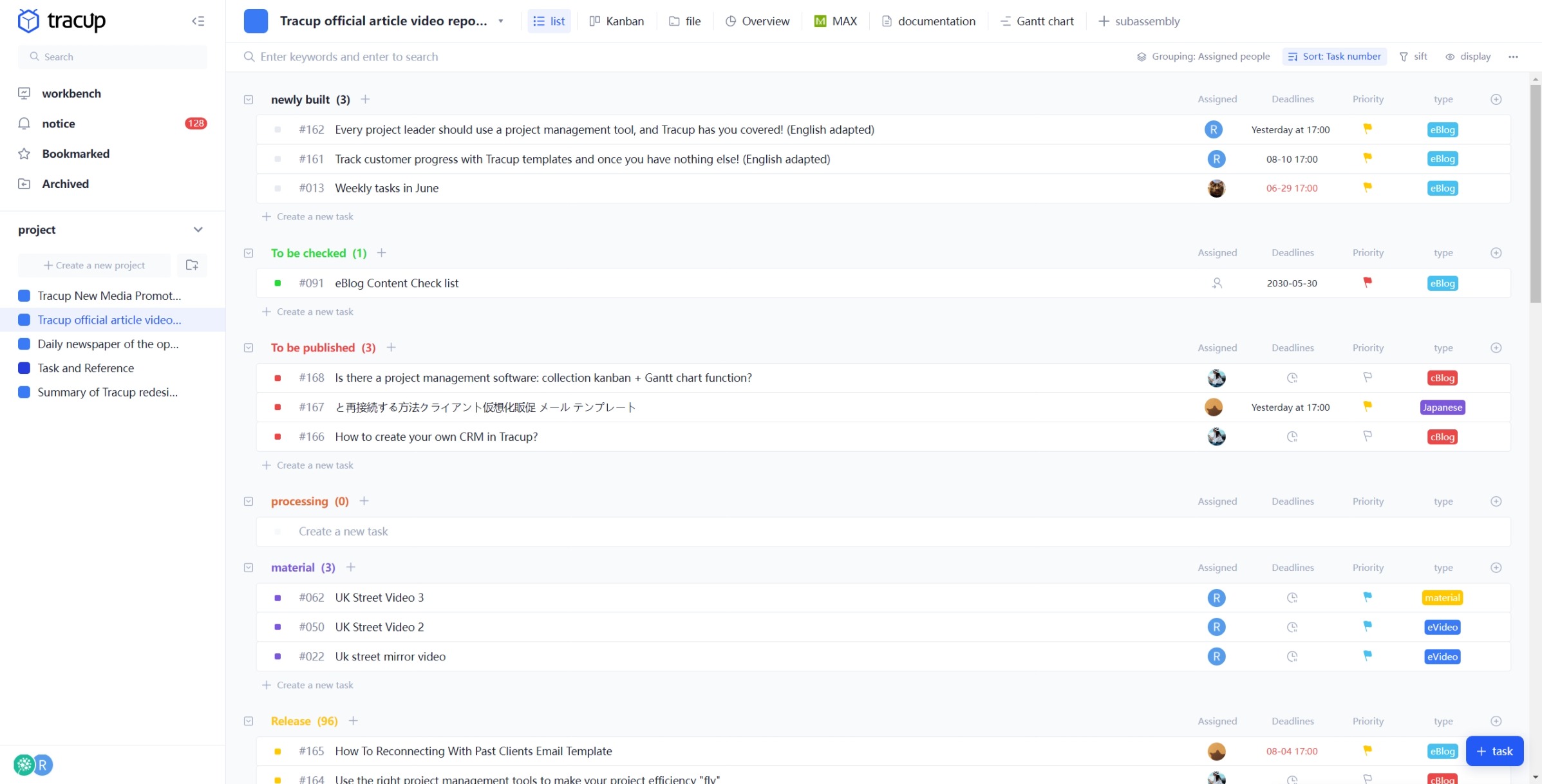 Tracup, the best way to keep track of the project's progress at a glance:Create a series of tasks under the supervision of an administratorIf the user has more than one sales team, e.g., sales group 1, or sales group 2… then a project can be created for each group to enable easier management. Furthermore, multiple relevant templates can be selected for an easier process.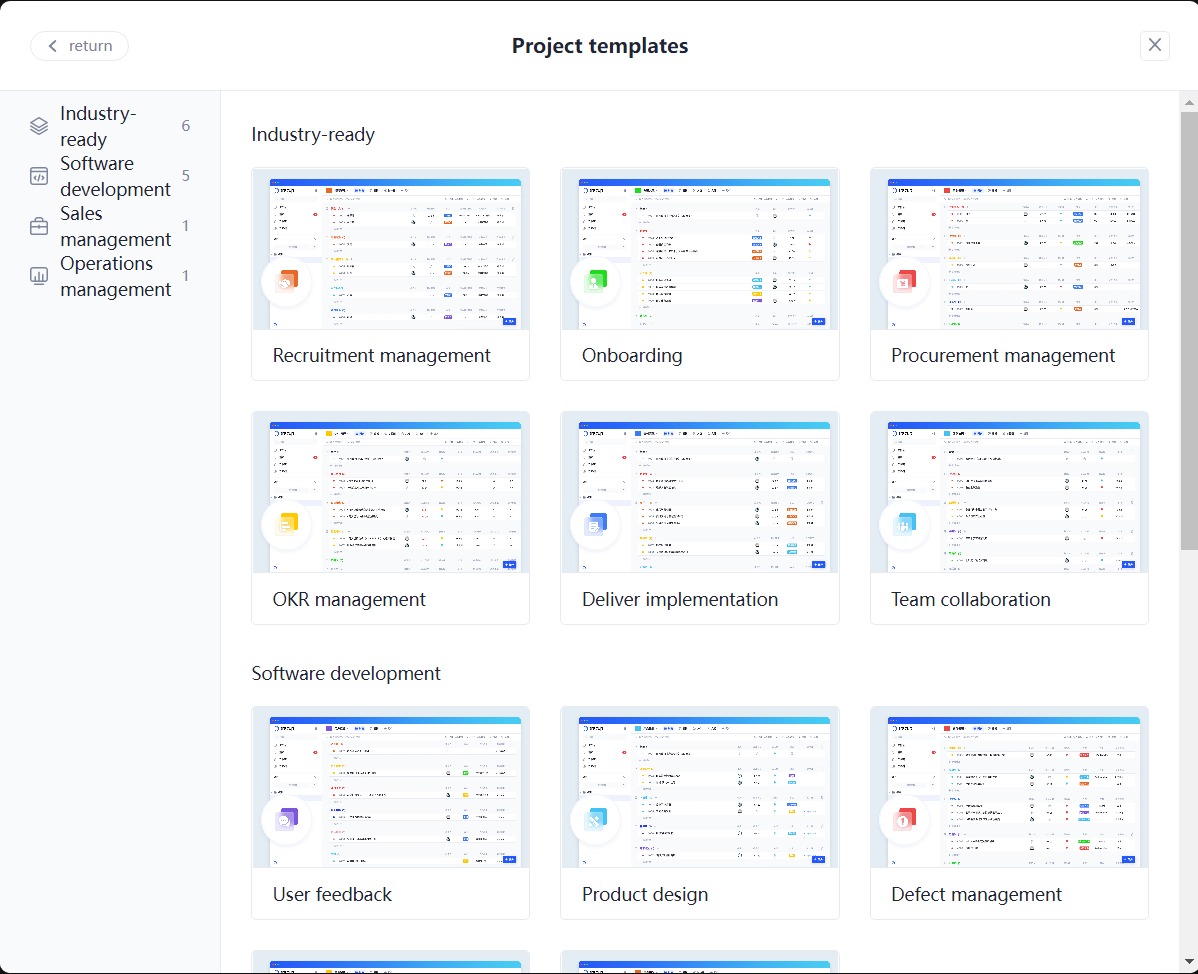 List: a clear view of the current progressThe list allows users to customize the 'Task Status', 'Task Type', and 'Custom Fields' to assist with their requirements. By creating different types of custom fields, it is possible to extend tasks and meet the information needs of specific scenarios. Users can also further subdivide tasks by setting the assignee and a start and deadline date or multiple subtasks for each task created.
Gantt charts: understanding project progress and timelines at a glanceWith the Gantt chart, users can directly view task start dates and deadlines. Even for large projects and projects with a detailed schedule, progress can still be displayed at a glance to support smooth development. Gantt chart features include but are not limited to: start and due dates, task adjustment, and customized project monitoring settings.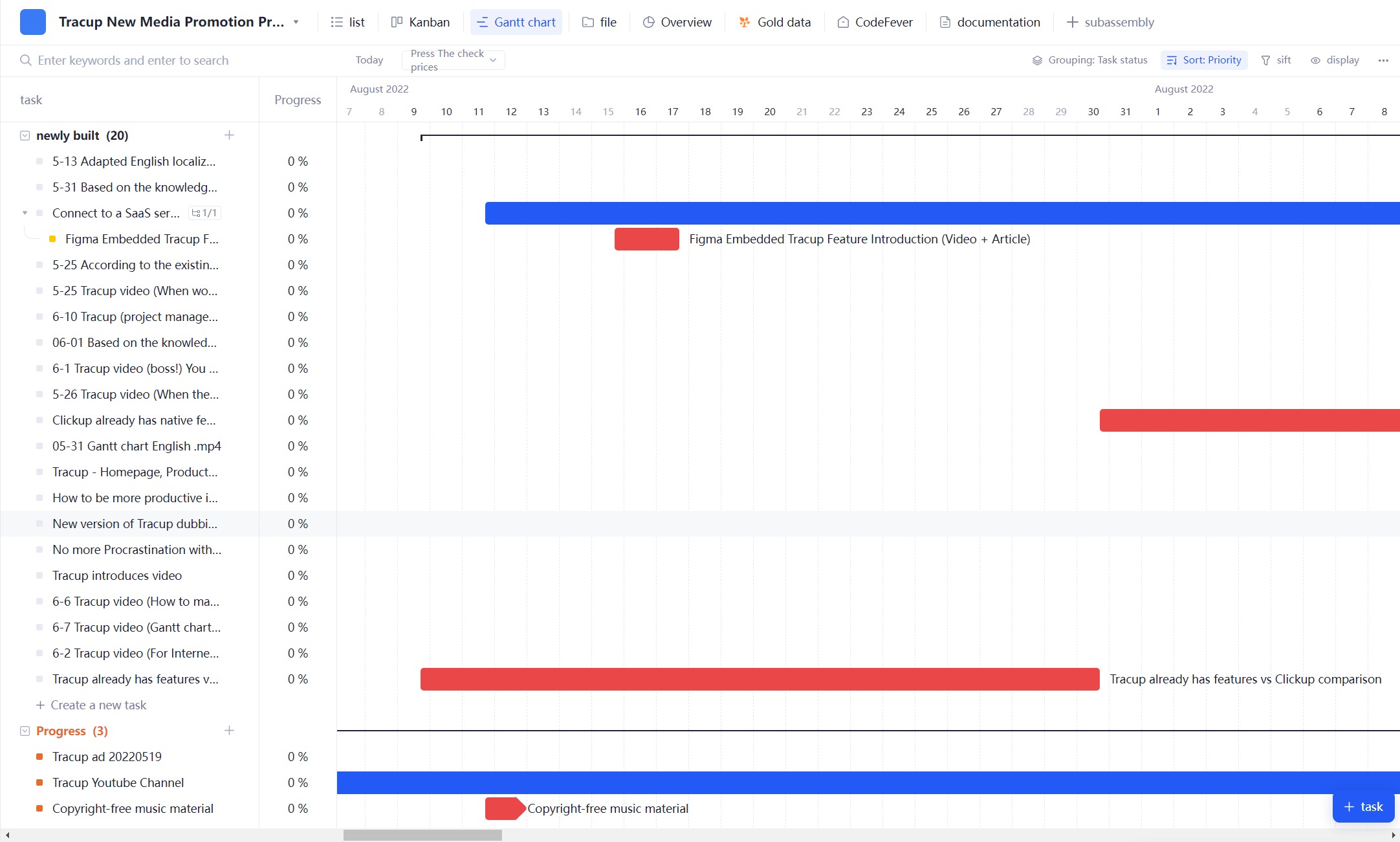 Communication: communicating about the tasks within the projectsUsers can comment on questions and reports about tasks and exchange data with other team members. The difference with WhatsApp or email is that users can communicate about the task within the task. No information will be missed.
• Communicating in tasks
• Documents can be attached and specific people can be referred to
• Preventing the loss of information
Sharing: data sharing and file management functionsAttachments such as video files, design files, and images can be uploaded to the task. Data is managed in files for each project and associated with each task, no more asking "where is the A file that is used in project B?"
• Documents can be shared
• Since documents are associated with projects and tasks, it is easy to find the corresponding files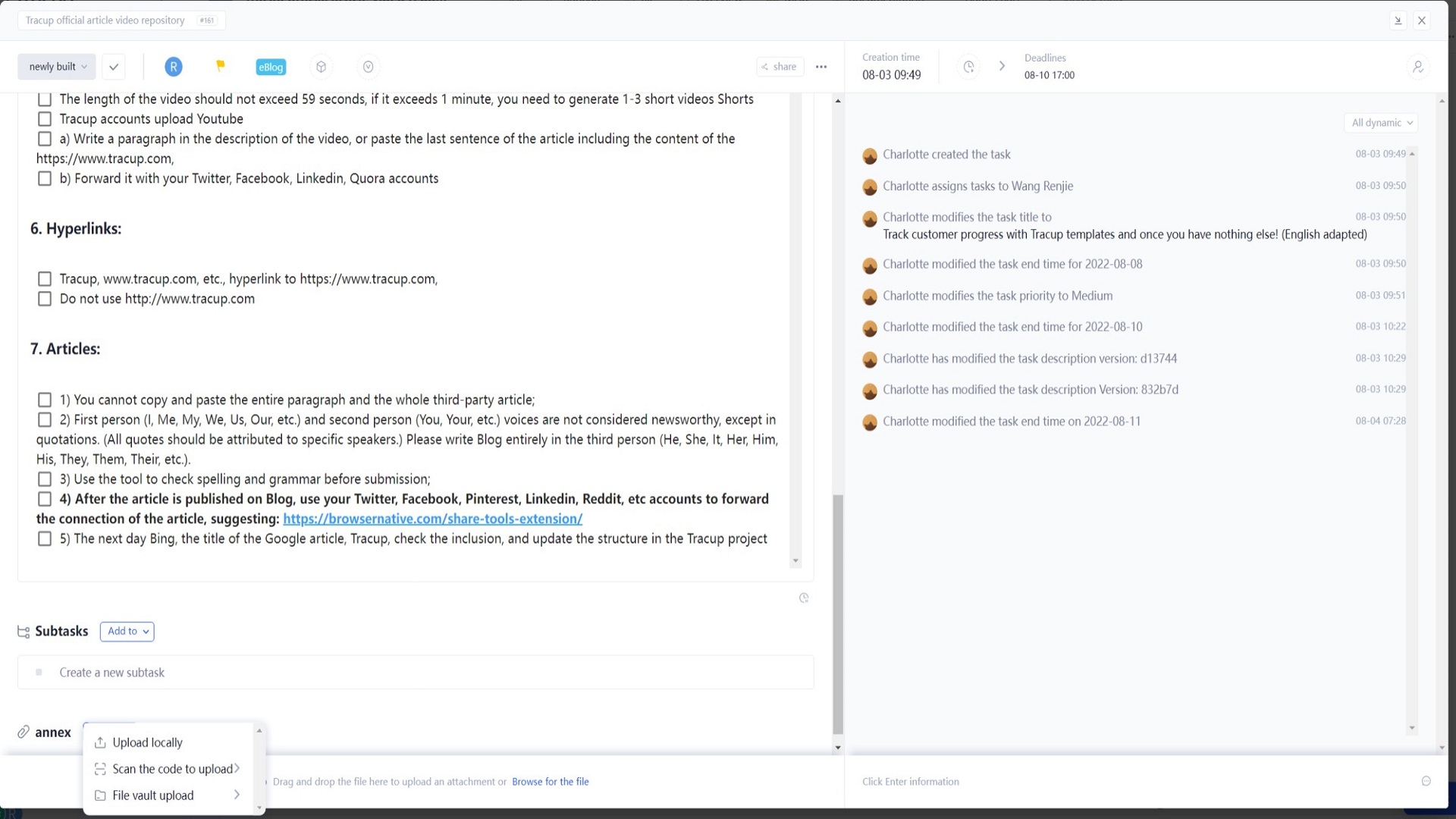 Task status: efficient and smooth task managementTracup is very easy to start and its task management features are very easy to use for new users. It can be used to visualize team members' progress and task totals, to achieve efficient task management or higher productivity.
• View the status at a glance, such as hasn't started, in progress, or completed
• Managers can choose to assign more than one person for a task, which will make the project develop faster.
• The comment function makes it easier for members to communicate with each other.
Tracup is a tool that connects all departments to work efficientlyBefore using Tracup, it was difficult for team members to understand each other's duties and areas of responsibility, which required unnecessary hours of verbal confirmation. Everyone only knows their own tasks and cannot properly cooperate, even if there is a lack of clarity. Even for the managers, there are still limits to the amount of work that can be managed. It is difficult to keep track of the progress of tasks and deadlines requested by members individually, for example, "who has been instructed to do what by when?", "work progress" and "the time to complete". Although each person manages their own work schedule, every time there is always a major problem caused by the delay in members' communication.
All the problems mentioned above can be solved effectively by Tracup. It is really necessary to use this tool to manage measures and visualize employees' performance.
Read more: https://tracup.com/blog/How-To-Offer-A-Helping-Hand-With-the-Best-Project-Management-Tool-For-Marketing
Media Contact
Company Name: Tracup
Contact Person: Jon W
Email: Send Email
Country: Singapore
Website: https://www.tracup.com/