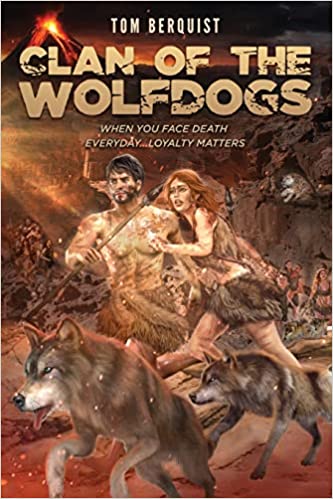 "Clan of the Wolfdogs" is set at the dawn of humankind, some thirty-thousand years ago, and follows Irik, a Cro-Magnon boy surrounded by the very real dangers of volcanic eruptions, saber-toothed cats, and cannibalistic tribes. A sensitive, quiet boy among brawnier man-boys, Irik is gifted with a special ability to sense the spirit of the animals around him, leading him to discover the potential for companionship with a fierce pack of wolves.
After his clan chief father is killed by lions and his family is crippled, a too-young Irik is thrust into a journey to rebuild the clan – which means taking a woman, learning to kill, and becoming a leader that can protect the clan from daily threats to their survival. Readers will connect with this relatable boy and come to know him in their hearts as he struggles to come of age, find his first love, and achieve vast power through the loyalty of wolfdogs.
Clan of the Wolfdogs is a YA novel that spans the subgenres of heroic/prehistoric fantasy, but unlike many other novels with dystopian settings, the hero Irik is a knowable human whose epic battles are not against mythical beasts or demon warriors, but with real threats (both human and animal) that roamed the earth tens of thousands of years ago. By examining these early tribal struggles, the novel provides a peek into our human propensities for both virtue and wrath.
Inspired by recent research by noted paleoanthropologists, Berquist's compelling tale of survival and heroism explores themes of loyalty, societal development, and the ways our earliest ancestors forged a relationship with wolves (and eventually, dogs) to become the apex species of the planet. Both young and adult readers will be fascinated and moved to experience how our early ancestors may have cooperated with wolves for protection and hunting.
Berquist's vivid images animate readers to feel what it's like to grow up as a nearly defenseless early human, surviving on cunning alone in a treacherous and unforgiving wilderness. In the process, the novel inspires people of all ages to contemplate their own beliefs, consider the universality of the human experience across groups and time periods, and ultimately imagine a better world that can be achieved through growth and cooperation.
Clan of the Wolfdogs (ISBN: 9798986139241) can be purchased through retailers worldwide, including Barnes and Noble and Amazon. The paperback retails for $14.99. Wholesale orders are available through Ingram.
Reviews for Clan of the Wolfdogs:"Tom's story takes you on a fascinating journey through time and you will find yourself lost in a distant era that impacts us still." – Dr. Pat Shipman, Adjunct Professor of Anthropology and author of The Invaders – How Humans and Their Dogs Drove Neanderthals to Extinction, Harvard University Press, Cambridge, Massachusetts
"Can a foreign group be peaceful even if they keep human skulls mounted on spikes? Friendly wolves or not, it's a dangerous world out there. Clan of the Wolfdogs immerses the reader in a prehistoric time—a thoughtful take on ancient community and the human will to survive." – Kirkus Reviews
About the author:
Growing up in the Northern Minnesota woods, hiking with his dog, Pal, Tom Berquist observed and experienced the wonders of wildlife: being chased by a mother moose protecting her calf, watching a red fox scavenge his campsite, a blind skunk tipping a saucer of milk over on itself. He wanted to become a game warden and vowed he'd never work in an office. Following service in the army and graduate school he ended up in New York, writing advertising copy. Many years later, a mountain lion left South Dakota and traveled some seventeen-hundred miles across the country in search of a mate. It was killed near Tom's home in Connecticut and its journey rekindled his passion to write about the wildlife he loved.
Tom has one previously published novel, Stalking Los Angeles, and another in the works.
About Manhattan Book Group:
Manhattan Book Group ("MBG"), located on Broadway in New York City, is a registered trade name of Mindstir Media LLC. MBG is widely known as a premier hybrid book publisher. We have combined the best of traditional publishing with the best of self-publishing to provide authors with the "best of both worlds" in a sense. To learn more about MBG, visit https://www.manhattanbookgroup.com/
Media Contact
Company Name: Manhattan Book Group
Contact Person: Jen McNabney
Email: Send Email
Phone: 212-634-7677
Address:447 Broadway 2nd Floor #354
City: New York
State: New York
Country: United States
Website: https://www.manhattanbookgroup.com/