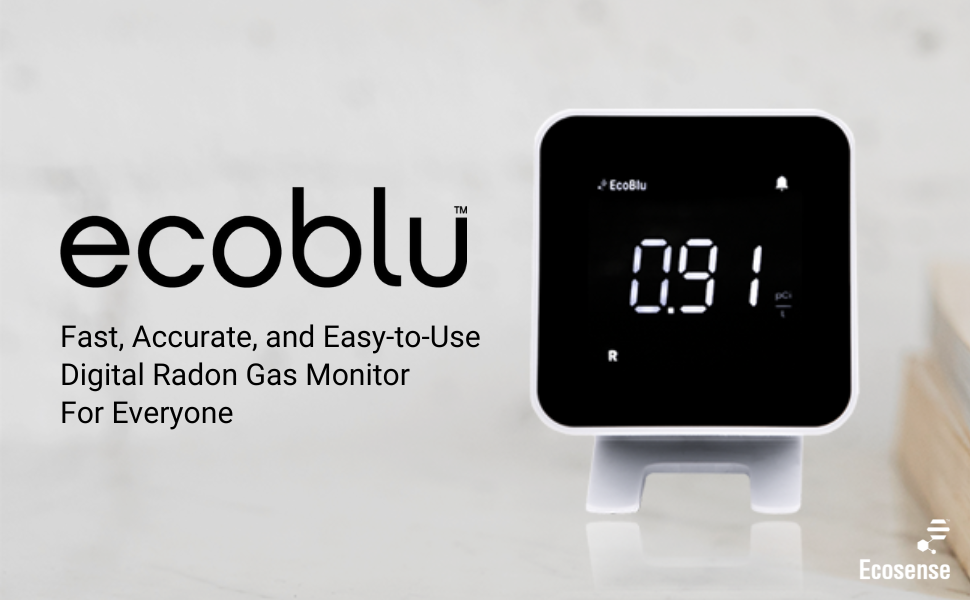 "Integrating the latest patented radon sensor technology, EcoBlu™ is a plug-and-play radon detector that provides the first radon result in minutes, not days."
New Product is more affordable and integrates the latest patented technology to protect the health and safety of everyone and reduce chance of lung cancer among non-smokers
San Jose, CA – August 16, 2022 – Ecosense®, the premier radon detection technology company, announces the release of the EcoBlu™, the only digital radon detector with fast, accurate, and real-time results on an LED display suitable for both short and long-term monitoring. Integrating the latest patented radon sensor technology, EcoBlu™ is a plug-and-play radon detector that provides the first radon result in minutes, not days. It displays radon fluctuations and gives daily, weekly, monthly, and yearly average readings– thus peace of mind all year round. According to the EPA, radon gas, also known as "The Silent Killer," is responsible for over 21,000 lung cancer deaths in the United States every year. Even more alarming is the fact that it is the number one cause of lung cancer among non-smokers.
"Homeowners and tenants deserve to have health security and a living environment free from cancer-causing radon at an affordable price point," stated Insoo Park, CEO of Ecosense. "As our product catalog continues to expand and we offer consumers and professionals the most accurate and reliable radon monitoring devices, our mission remains the same to empower consumers to lead a safe and healthy lifestyle free from the life-threatening dangers of radon gas by accurately and quickly delivering detection results and promoting the importance of long-term radon monitoring."
"The EcoBlu is a must-have for consumers to properly detect and monitor continually fluctuating radon levels," stated Dallas Jones, Ecosense Vice President. "We are working not only to ingrain the Ecosense brand into the public's mind as the premier radon monitoring and detection product line but also to drive awareness about the life-threatening dangers posed by this silent killer."
To order your device follow this link here.
About Ecosense®
Based in the heart of Silicon Valley, Ecosense is a leader in and trusted provider of both professional and consumer radon detection and monitoring solutions that are easy to use, accurate, and fast. The company's smart real-time radon detectors utilize a patented detection technology with high accuracy, delivering reliable results in minutes, not days. The EcoQube was named to TIME's List of the 100 Best Inventions of 2021 and previously was recognized as a CES 2021 Innovation Awards Honoree in the health and wellness category. Ecosense's patented ion chamber technology performance has received independent validation from the University of Michigan (Dept. of Nuclear Engineering and Radiological Science) and the Kansas State University Radon Chamber. Both studies concluded that Ecosense's patented technology performed comparably to premium research-grade detectors.
For more information, visit www.ecosense.io
Source: Ecosense
Media Contact
Company Name: Ecosense
Contact Person: Otter Public Relations
Email: Send Email
Phone: 407-394-5881
Address:100 E Pine St Suite 110
City: Orlando
State: FL
Country: United States
Website: www.OtterPR.com