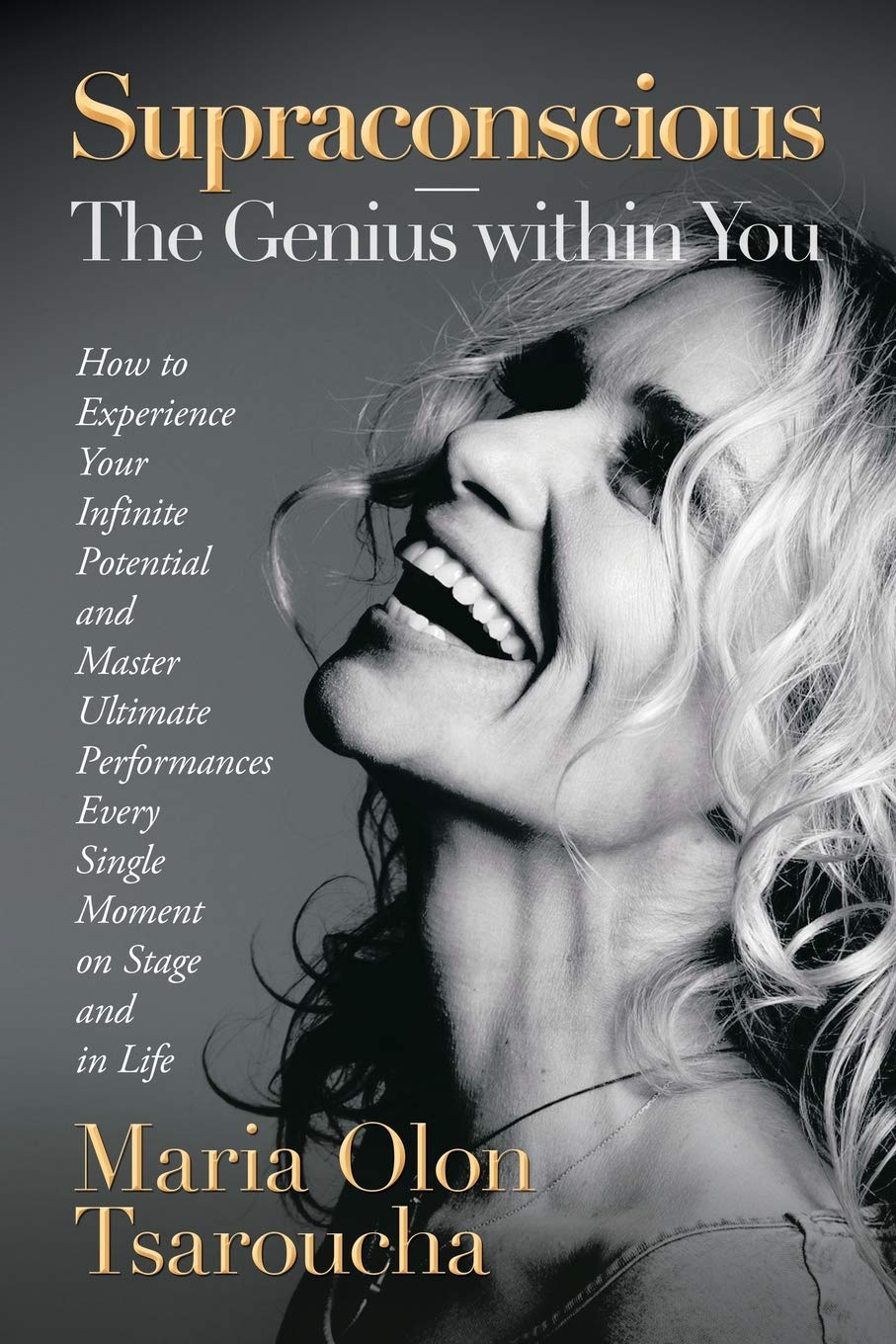 Multifaceted, creative content creator, Maria Olon Tsaroucha, teaches Perpetual Acting and Directing (PAD) in her book titled "Supraconscious – The Genius Within You"
Maria Olon Tsaroucha has gotten the support of Author's Tranquility Press in her pursuit of helping as many people, especially actors, realize and explore their infinite potential following the release of her book titled Supraconscious -The Genius Within You: How to Experience Your Infinite Potential and Master Ultimate Performances Every Single Moment on Stage and in Life.
"Humanity's greatest story ever told is the "Story of Immortality." This story explains that every human being is an actor in the collective drama of life. Each one's script is unique to the part he/she plays. Maria Olon captures this concept beautifully in her work. The foundation of life is about flourishing at all levels, spiritual, mental, emotional, relational, and physical. This book is a life's manual on how to achieve this through our unique script, unique parts, and unique roles. The world needs a new story and humanity needs a new script." – Gayatri Naraine, Brahma Kumaris Representative to the United Nations.
The book is cultivating the awareness and consciousness of all people for their true self beyond the identities they carry in life. It is the most innovative new theory and method for actors to perform outstanding breathtaking performances on stage.
While the core of the book focuses on methods designed for actors, it is certainly valuable to the public of seekers of self-discovery and personal growth. The use of the word actor is highlighting a new meaning into the process of action itself.
PAD theory is created for anyone, who is looking for self-actualization that leads to enhanced collective consciousness put into action. It is a useful theoretical and practical approach for building a healthy perceptual mindset through creativity, aligned with scientific evidence that applies to people in all walks of life and for the man of the 21c.
The concept of Perpetual Acting and Directing (PAD) has been around for decades, with different stakeholders in the movie industry and sciences looking to explore its inherent features. However, there are not enough resources comprehensively dissect the theory for actors, which is where Maria aims to make a difference by unraveling the quantum science of acting on stage and in life in the book – Supraconscious – The Genius Within You.
The release of Supraconscious – The Genius Within You by Maria Olon Tsaroucha cannot be timelier, coming at a time when the line between arts and sciences is becoming finer. Maria explains "the new system of translating and decoding" in terms that practically anyone can understand to make the best of their career.
Supraconscious – The Genius Within You is currently available on Amazon and has continued to enjoy rave reviews from big names in the industry as well as the science field, including Coni Ciongoli Koepfinger, Deepak Chopra MD, Menas Kafatos, Astrophysicist, Dhapman University, NASA Goddard Space Flight Center, and Angel Biri.
For more information about Supraconscious – The Genius Within You and other books promoted by Author's Tranquility Press, visit – https://www.supraconscious.co/ and www.authorstranquilitypress.com.
About Author's Tranquility Press
Author's Tranquility Press is one of the leading publicity agencies that specialize in helping writers across genres to reach a wider audience. The firm leverages the latest technologies and the expertise and diverse experience of the team to deliver quality, relatable content to as many people as possible, irrespective of their location across the globe.
Media Contact
Company Name: Author's Tranquility Press
Contact Person: Patricia Adams, Marketing Supervisor
Email: Send Email
Phone: (866) 411-8655
Address:2706 Station Club Drive SW
City: Marietta
State: Georgia, 30060
Country: United States
Website: www.authorstranquilitypress.com