The HIIRLA's new board game, "Explore Your Period," which is aimed at providing education on what menstruation and the puberty stage is about, is designed to be played by both parents and children
For many parents, it's hard to explain the various stages that their young daughters should go through. These girls rely on their peers and the Internet for information about what they're going through, but sometimes they are given incorrect or confusing information. While it's important that parents are aware of the signs their daughter is going through and how to help them through these difficult times, it's also important for parents to explain those things. This can be a challenging undertaking, as parents often have busy schedules and may not fully understand what these stages are and entail.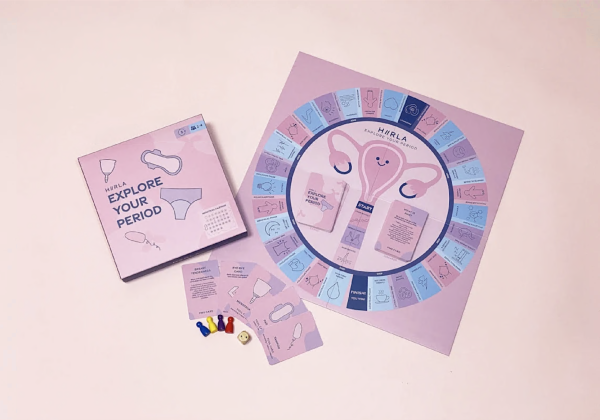 China-based HIIRLA has been a leading provider of safe and natural menstrual supplies and menstrual and reproductive system knowledge for women of different ages, offering solutions to the many problems that face women around the world. Today, the company is pleased to announce the launch of its "Explore Your Period" board game. The game was designed to help parents talk with girls about menstruation and puberty at home, presenting firsthand information on what children should expect as they develop while enjoying some family time and bonding.
"Our world is full of information, and not all of it is healthy," explained Jie Pu, Founder of HIIRLA. "We've created the Explore Your Period board game to help parents teach their girls how to develop physically and emotionally during puberty, menstruation, and hygiene. The game is meant to be played by parents and kids as part of family time and bonding exercises. At HIIRLA, we are concerned with the menstrual and reproductive health of women of all ages and this board game is our innovation for children. They love to play games and it is a great way to tell them about the developmental stages they would undergo. Let's get our children armed with the right information about what they'll experience as girls."
Parents only need to spend 15-30 minutes playing this game with their children, and children can learn all about menstruation. From puberty physical development to menstrual cycle, PMS, PMS coping plan to menstrual supplies and much more. With the Explore Your Period board game, children will get a comprehensive insight into menstruation and puberty. The game will also help parents promote communication with children through games and start more adolescent topics for their children's future.
As a company, HIIRLA is committed to promoting the menstrual and reproductive health of women all over the world, enhancing their sense of happiness and security, and ensuring each woman can comfortably spend her first and last menstrual periods. For young girls, the first time they mature and start seeing their periods, they can become overwhelmed. The Explore Your Period board game will help them better understand this time in their lives and how to respond.
To get the game, please www.exploreyourperiod.com.
About Jie Pu
Jie Pu is the Founder of HIIRLA and the world's first Chinese period coach. She is also a female comprehensive health coach, author, and speaker. With the vision of promoting period and reproductive health of women around the world and increasing their sense of happiness and security, Jie Pu founded the HIIRLA brand of women's health products. At HIIRLA, the mission is to provide women of all ages with safe and natural menstrual supplies, as well as solutions to various menstrual and reproductive system problems. The company seeks to eliminate global period poverty while making every woman feel comfortable during her first period and her last period.
For more information, log on to www.hiirla.com or email info@hiirla.com.
Media Contact
Company Name: HIIRLA
Contact Person: Jie Pu
Email: Send Email
Phone: 864000329228
Country: China
Website: https://www.exploreyourperiod.com/