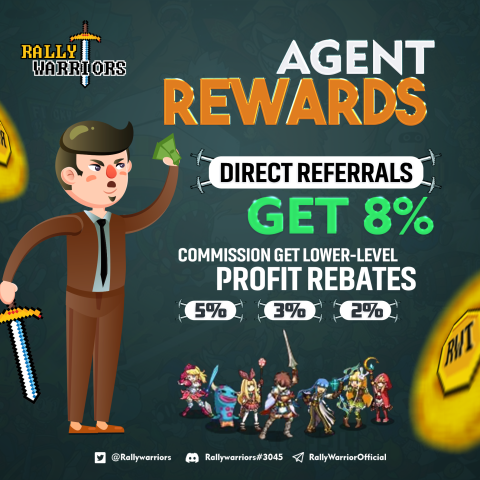 As a GameFi startup, selecting and running an agent's promotions can help to speed up the time it takes for the project to gain recognitions rapidly, by utilizing the team's crypto and gaming expertise and contacts.
Before beginning promotions with any agents, it is important to know how good you are in promoting, and what Rally Warriors is expecting from the promotions. This provides the agents and Rally Warriors a total clarity from the start, and prevents potential fall-outs at a later date over misspending.
Rally Warriors' GameFi marketing strategy – agent promotion, where we will check out the agents' client testimonials and online reviews to ensure previous projects they engaged in are satisfied with their performance.
Most of the NFT GameFi community grows by building and increasing the GameFi startup and its presence which is facilitated by social media management. Therefore, it makes sense to ensure the agents have a healthy online presence. We need promotions that will help the growth of Rally Warriors GameFi project.
Contact us to apply as an agent! We are also hiring moderators (Japanese, Spanish, Filipino, Malaysia)!
Here are the Agent Rewards:
Direct referrals get 8% commission Get lower-level profit rebates: 5% 3% 2%
★ Guild reward: 200 USDT/month
Team size requirements: 5 first-level members and 15 second-level members.
★★ Guild reward: 450 USDT/month
Team size requirements: 15 first-level members and 30 second members
★★★ Guild Reward: 900 USDT/month
Team size requirements: 35 first-level members and 60 second-level members.
★★★★ Guild Reward: 2000 USDT/month
Team size requirements: 80 first level members, 120 second-level members
★★★★★ Guild Reward: 5000 USDT/month
Team size requirements: 200first-level members and 300 second-level members.
About Rally Warriors

Rally Warriors is an NFT GameFi ecosystem built on Binance Smart Chain. It is a turn-based card game where the player's goal is to eliminate all of their opponents. The game exists in a metaverse defined and shared by the community with a sustainable economic system. The characters on the platform are NFTs that can be battled, raised, and synthesized. Designed for both newbies and experts, the game combines simple combat rules and skill mechanisms with exciting and challenging infinite strategy combinations. All in all, the game has its auto manage manager system which allows players to win and earn daily.
For more information, please visit:
Twitter – https://twitter.com/RallyWarriors
Discord – https://discord.gg/PdXDAZFtVV
Telegram – https://t.me/RallyWarriorOfficial
Media Contact
Company Name: Rally Warriors
Contact Person: Admin Cempaka
Email: Send Email
Country: Singapore
Website: https://twitter.com/RallyWarriors