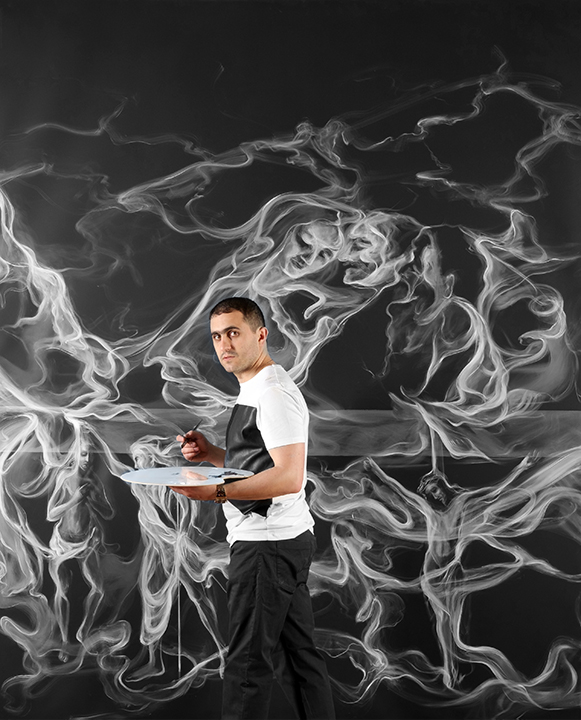 Scheduled to be exhibited at The Gerald R. Ford Presidential Museum, The Last Supper is a creative representation of one of Leonardo's largest works, telling the story of the creation, resurrection, and transfiguration
Armenian-born artist, Mher Khachatryan, has unveiled a spectacular piece of art after the great work of the Italian High Renaissance artist Leonardo da Vinci. Mher's latest work is a creative interpretation of "The Last Supper" by Leonardo, which depicts Jesus telling his apostles the story of the creation of man, resurrection, and transfiguration.
Also known as The Smoke Artist, Mher Khachatryan's interest is in the beauty of the smoke and fire, the life and death. His interpretation of Da Vinci's work was drawn in his signature smoke style, with a lot of creative similarities and dissimilarities when compared to the original version.
Differentiating itself from Da Vinci's version, Mher's interpretation has the Apostles sitting in a mirrored position with Judas in contrast to those around him as he ponders his betrayal with silver in hand. Mher's choice for painting the Apostles in mirrored position was made to subtly touch on the fact that Davinci was known to write in mirrored versions, and raise the question of whether in fact, the original piece by Davinci was painted similarly.
The painting starts with the creation story from the book of Genesis in which God gives life to Adam and moves down to the nativity and baptism. The crucifixion is beautifully depicted with Christ outstretched on the cross at Calvary, while his accession as the promise of eternal life floats at the other end.
The Last Supper by The Smoke Artist is scheduled to be exhibited during ArtPrize 2022, at The Gerald R. Ford Presidential Museum, Pearl St NWS, Grand Rapids, from the 15th of September to the 2nd of October. For more information, please reach out to Mher via the contact info below.
About The Artist
Mher Khachatryan is an Armenian-born artist with a keen interest in the beauty of smoke and fire. Based in New York, Mher is also known as The Smoke Artist and escapes the limits of the real world through his art. The New York-based artists began private art lessons at the age of five before going on to study in Yerevan at the Art school of Hakob Kodjoyan. Mher earned his BFA in drawing and painting at the Art College of Panos Terlemezyan, and his MFA at the Academy Of Fine Arts in Yerevan, Armenia. Since then, Mher has won many awards and is an honored member of the Artist's Union of Armenia. From having his work exhibited at the United Nation's Headquarters on World NO Tobacco day, to his special "My Angel" piece which is dedicated to the 100th anniversary of the Armenian Genocide can be found in the Armenian national gallery, Mher Khachatryan has long established himself as a master of the canvass with global accolades.
Media Contact
Company Name: The Smoke Artist
Email: Send Email
Country: United States
Website: http://www.thesmokeartist.com