Jeffrey Osborne and Eric Darius headlined at the 2022 Oxnard Jazz Festival that featured a talented lineup of musicians with Kelly's Lot, Queens of Soul Jazz, Blake Aaron, Gold Coast Horns, Hiroshima; Thee Travis Miller, Erin Stevenson, Paula Atherton, Bunny Brunel, The Emotions, & Darryl Walker. And Executive Producer Chuck Dennis was honored by the City of Oxnard.
September 19, 2022 – Oxnard, CA – On September 10th-11th, 2022, the Oxnard Jazz Festival presented a bigger-than-life concert event following a two-year hiatus. Lovers of jazz, soul, Latin, blues, and R&B came out in droves. The outdoor festival accommodated over 4,000 ticket holders with a sea of vendors, great cuisine, and most of all, great music. The festival featured artists with household names, as well as local talent. The top contemporary jazz bands graced the OJF stage, many are Billboard-charting artists. What is unique about the festival, it offers a stage and embraces diversity, women musicians, and honors legends. Paula Atherton, whose new release is climbing the Billboard charts performed on Sunday. This multi-instrumentalist not only played sax and flute, but she sang, too. Queens of Soul Jazz, starring Billboard chart-topping artists saxophonist Jeanette Harris and flutist Althea Renee brought the house down with their highly skilled instrumental set, and renown singer Erin Stevenson captivated with her soulful vocal performance. The Oxnard Jazz festival brought to the stage top smooth jazz artists saxophonist Eric Darius, vocalist Darryl Walker, guitarist Blake Aaron, and introduced the new group Gold Coast Horns with Billboard artists saxophonist Jeff Ryan, trumpeters Lin Rountree and Johnny Britt performing.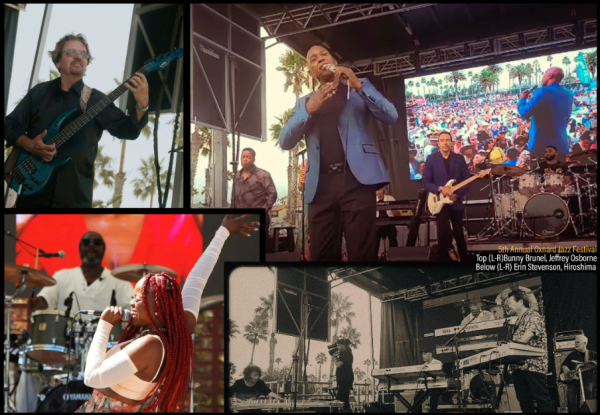 The Oxnard Jazz Festival showed the world that we only get better with age. Legendary Musicians with 40-year careers fascinated the crowd who enthusiastically embraced and praised these seasoned icons. The Grammy-winning group, The Emotions, are still performing and evoking old school memories. During their performance, people crowded around the stage to sing along to their well-loved songs. Fusion giant Bunny Brunel played the groove-heavy music of his Grammy-nominated band CAB as the audience listened and watched in awe the former Chick Corea band member. Hiroshima who has sold over 50 million albums in their career is still penetrating souls with their esoteric, thoughtful music. And the 70-something, multi-Grammy-nominated crooner Jeffrey Osborne, is still the stirring entertainer he was in his 40s—nothing has changed! Osborne was engaging and comical during his show while he performed his litany of hit songs at the Oxnard Jazz Festival. Even with the inclement weather on that Saturday, the headliner told the audience, "If at 74 years of age, I can feel energetic, then so can you. Let's party with me singing my "old school" songs. Are you with me? And the audience's approval kicked Osborne's performance into high gear. He brought the house down!
On the opening day of the festival, Oxnard's mayor, John C. Zaragoza, presented Chuck Dennis a Certificate of Appreciation for the 5th Annual Oxnard Jazz Festival. Dennis was also honored by Ventura's city council with Vince Stewart presenting.
Chuck Dennis, Producer of the Oxnard Jazz Festival:
"The highlights of the festival for me was watching the faces and the expressions of the audience of people really having a good time. The Oxnard Jazz festival is not just me, it also includes my great team. And I was especially thrilled to have been able to introduce my personal group, The Gold Coast Horns, on the OJF stage. We have a brand-new single called 'Bounce to This'—this was their introduction to the world!"
Sheryl Aronson, OJF's PR Director of Artist Relations
"The community of Oxnard works together to put on this great festival. The staff is very loyal and has worked with Chuck for years, we're just such a great team, making the absolute best experience for the ticket holders. The motto is "Feel the Groove," and you can really see that. Everybody gets up and dances. People and some of the VIPs have been coming back for years and everybody knows each other. It's just like one big happy family get-together!"
The all-star lineup with two days of performances, as well as a diverse range of music, gave the festival goers a potpourri of styles. The OJF is an outdoor festival, held at the Oxnard Beach Park, and those in attendance came out in droves in spite of the weather. Day 1 was unprecedently gloomy with intermittent rain. Guests said that it was a break and a relief from the heatwave Southern California had been experiencing. On day 2, the sun came out and temperatures exceeded 100 degrees, but it didn't stop the party. Music lovers filled the venue both days and some even traveled across the country to see their favorite musicians; and Kyle Eastwood and Sherry Gordy were just a few of the celebrities that were also in attendance.
OJF's Lineup on Saturday, September 10, 2022:
Kelly's Lot; Queens of Soul Jazz (Jeanette Harris and Althea Renee); Blake Aaron; Gold Coast Horns (Johnny Britt, Jeff Ryan, Lin Rountree); Hiroshima; and Jeffrey Osborne
OJF's Lineup on Sunday, September 11, 2022:
Thee Travis Miller; Erin Stevenson, Paula Atherton; Bunny Brunel; The Emotions; Darryl Walker; and Eric Darius
"Shout out to Oxnard. The entire city is amazing, I'm just so thankful to be here. Everybody is so wonderful and they know all the lyrics! It's just such a blessing to still be doing this. I'm 70 years old, but I still feel 30. I love singing, and that's what keeps me young." –The Emotions, Wanda Hutchinson-Vaughn
"I had a great time playing to such a welcoming crowd at the Oxnard Jazz Festival. I was joined by some amazing musicians, playing the music of CAB as well as honoring the person who started my career, Chick Corea. I always pay a small tribute to him on my shows with tunes like we did today, 'The Slide' and 'Spain.' I have to give it to Chuck Dennis for extending his platform to jazz-fusion." –Bunny Brunel
"We never consider the people who listen to our music as fans but as a part of our growing cultural community. The whole point is [to bring people together], it's about unity, and that's why June [Kuramoto] can play from her heart because she wants to bring people back there every time she plays." –Hiroshima, Dan Kuramoto
About OJF's Headliners:
"The audience makes it fresh because it's always different. I am striving to touch the people who come to my concerts, which is the most important component to my performance. I want to make sure everyone enjoys themselves and has a good time—it stays fresh with me. My first love is performing live. I love recording, but there is a cold aspect to it. It's just me and an engineer. But performing live, I'm out in front of people that have been my fans for many years and their chemistry is what gets me going. I feed off of them and they feed off of me, and there's no other feeling like it."—Jeffrey Osborne, AGENDA Magazine
"I've evolved in every single way. When I go back and listen to my older albums, I feel everything has been elevated. I'm always pushing myself musically. From a stage performance standpoint, I'm bringing new dimensions to my show." Eric Darius goes on to say, "I'm passionate about what I do; I am someone who gives 110% and someone who truly loves sharing his gift of music. I believe God has blessed me with this gift. The fans motivate me and inspire me. I've stayed true to myself and stayed true to my music."—Eric Darius, Schmooze Jazz Magazine
The 5th Annual Oxnard Jazz Festival Sponsors:
Presenting Sponsors: Chuck Dennis Production, Alexander Cadillac, Stella Artois, Advocate Society Wellness, T-Mobile, The Port of Hueneme, Bard Boys, Victoria Entertainment, LLC
Gold Sponsors: Coast Cart, Hueneme Beach Festival, Schmooze Jazz Magazine, Coca-Cola, City of Oxnard, Mission Healthcare
Media Sponsors: KJLH 102.3 FM, Fuego 97.1 FM, Old School 104.7 FM; Alpha Digital Printing (ADP), Divine Brown Media Group, Emerald City Communications & Marketing, LLC
Community Partners: Bud Light, Bomb Life (Ventura County), Good Choice Catering, Costco Wholesale, Holiday Inn Express (An IHG Hotel), IMW – IVIE McNeil Wyatt Purch & Diggs; Fantasy Life Car Show, Marriott Ventura Beach, Pucker Up, Residence Inn Marriott, Nestle; Orange Theory Fitness, Salzer's Records, Union Bank, Switch Car Club, Sparkletts, Mission Healthcare, Victoria Entertainment, LLC
"After a two-year hiatus due to the pandemic, it was very exciting to work on this year's jazz festival. As the festival's executive director, the goal for our fifth year was to bring A-list Jazz, Latin, Soul, Blues, and R&B musicians, vibrant retail, and diverse food vendors, as well as many other inviting attractions to make the festival a top-level event and destination to close out the summer festival season. With over 4000 attendees smiling, dancing, singing, enjoying friends and family among the swaying palm trees near the beach with beautiful white sand dunes and the Pacific blue waters in the background, I think we accomplished our goal!"—Daphne King, Executive Director of the Oxnard Jazz Festival
About Oxnard Jazz Festival:
With the motto, "Feel the Groove," OJF is a cultural music celebration offering a diverse concert experience with the option of VIP seating in an incredible outdoor setting, complemented by scenic beaches, vendor booth shopping, cultural foods, and many other inviting attractions that make the festival a top event and destination to close out the summer festival season. The Oxnard Jazz Festival is a medley of jazz, Latin, soul, blues, and R&B. Southern California's best-kept secret, Ventura County, is the gateway to the "Gold Coast" and home to some of the most respected jazz musicians in the country. The city of Oxnard is a vibrant and culturally diverse community, and known as the "Strawberry Capital." Its historical, recreational, and environmental assets make it listed as one of the wealthiest areas in America, cultivating an exciting celebration of music. The Oxnard Beach Park has beautiful white sand dunes and Pacific blue waters in the background, offering a resort experience. The beaches are known for their sunshine, mild surf, and easy access; they are a five-mile stretch of sand that's a romantic spot for sunset watchers. If you love music, you will love the Oxnard Jazz Festival! (oxnardjazzfestival.com)
Media Contact
Company Name: Oxnard Jazz Festival
Contact Person: Sean McKenzie for First Take PR
Email: Send Email
Country: United States
Website: https://www.firsttakepr.com/