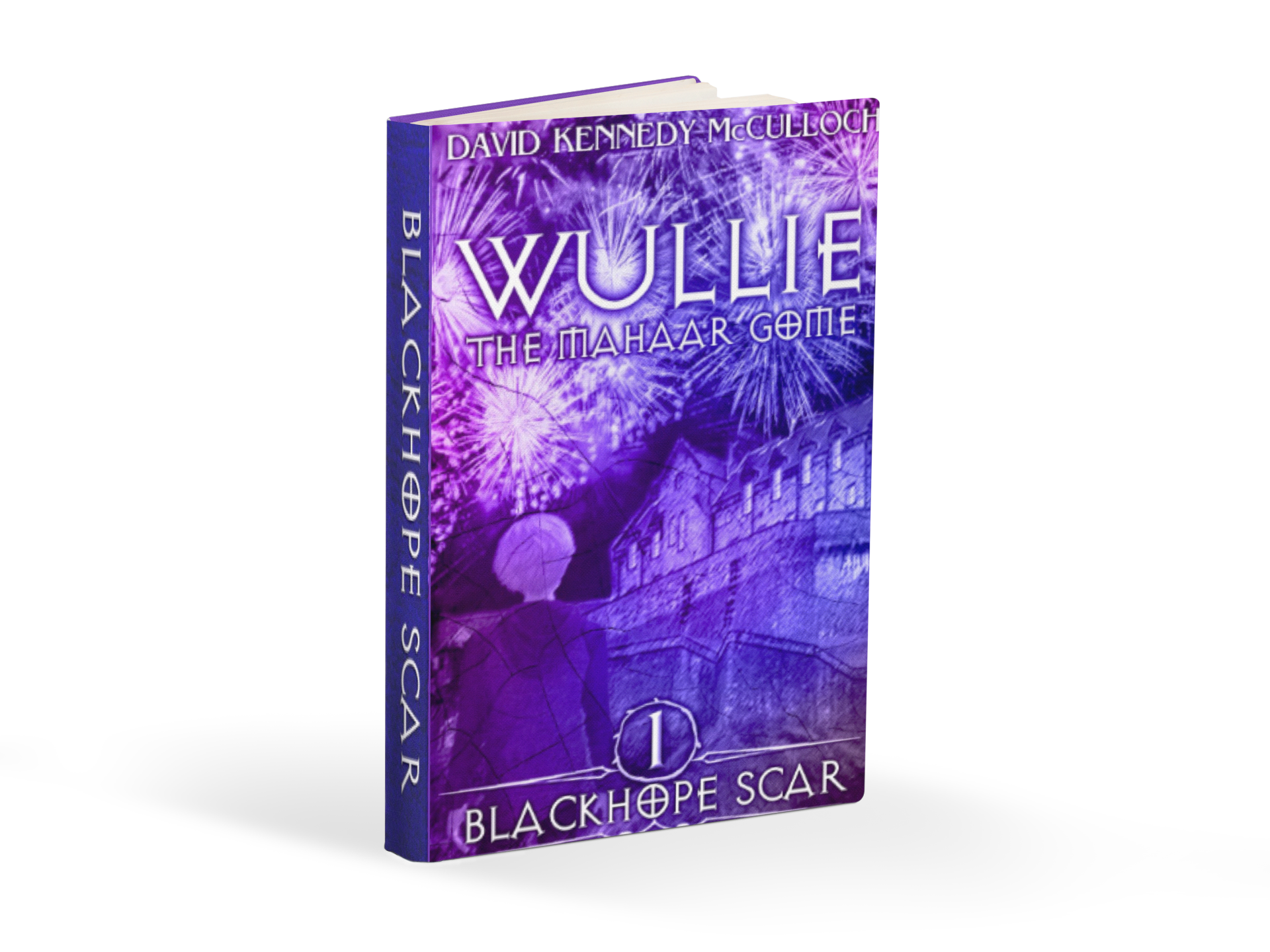 Fantasy fiction author, David Kennedy McCulloch, writes about a scruffy, rude, bad-tempered Scottish rock creature named Wullie that jolts two sixth graders out of their dull regular life.
Wullie the Mahaar Gome: Blackhope Scar is a gripping work of fantasy fiction that offers readers a delightful blend of folklore, mystery and adventure. Finnley McDougall's boring schoolboy life in Seattle is turned upside down when his Great Uncle Hugh gives him a most unusual gift – a scruffy, rude, bad-tempered Scottish rock creature named Wullie, who brings danger and disaster with him wherever he goes. From French snobs in fancy hotels, rusting barges on the Seattle waterfront, abandoned coal mines, and flooded quarries in the Scottish hillside, Finn, and his tenacious best friend, Hadley Kobayashi, are drawn into an evil plot that threatens to destroy everything they love, including the Edinburgh Castle.
"Real-life can be hard for children, teenagers, and adults alike…my stories give people a chance to truly escape into an exciting and complicated new world…and experience surprising and fantastical events in colorful detail," says author, David Kennedy McCulloch. An expert at crafting stories filled with humor, surprise, and authentic details, McCulloch's work is designed to spark the imaginations of readers of all ages. "I write fast-paced and very original stories with larger-than-life characters, dastardly villains, and courageous young heroes and heroines…my books can be enjoyed by anyone aged nine to ninety-nine."
In the likes of Harry Potter and Artemis Fowl, Wullie the Mahaar Gome: Blackhope Scar takes two American sixth graders, Finnley McDougall and Hadley Kobayashi, away from their peaceful, urban Seattle life, to the wilds of the Scottish Highlands surrounded by mythical creatures and danger. Accompanied by Wullie the Mahaar Gome, a bad-tempered but kind rock creature, Finnley and Hadley develop into stronger, wiser people as they square up against gangs of evil humans and armies of wicked rock creatures who are on a mission to bring humanity to its knees.
The book weaves together several standout features that put it in a class of its own. McCulloch's writing is swift and immediate, with many scenes that will keep readers on the edge of their seats. The characters are quirky and relatable, experiencing tremendous growth as the story progresses. In addition, themes of resilience, strength, bravery and adventure tie the work together in a memorable way, showing that even in the midst of unknown threats, magic and danger, there is always goodness to be found.
Wullie the Mahaar Gome: Blackhope Scar has received positive reviews from some of the most well-renowned literary organizations, authors, and reviewers around the world. Book Excellence writes, "Blackhope Scar is a joy for all ages, bringing a unique and creative cast to life in a story of non-stop, page-turning fun." In addition, Asher Syed for Readers' Favorite writes, "Wullie the Mahaar Gome is an infectiously fun story with a great deal to offer in only a few nights of bedtime reading. 5-stars." It also won the Silver Medal in Reader's Favorite Young Adult Fantasy Epic category in 2022.
The first book in an epic series filled with magic, mystery and adventure, Wullie the Mahaar Gome: Blackhope Scar is available for sale on Amazon and Barnes & Noble. Fans of fantasy are encouraged to purchase their copy today: https://www.amazon.com/Wullie-Mahaar-Gome-Blackhope-Scar/dp/1986492117
Readers interested in learning more about McCulloch's fantastical characters and worldbuilding are encouraged to visit the author's website where they can explore the world of Gomes, Gome cities, Scottish words and slang phrases, and more: www.wulliesworld.com
About the Author
David Kennedy McCulloch grew up in a quiet rural backwater of Scotland where his dad was the village schoolmaster. He lives on an island in the wild, wet, wonderful Pacific Northwest where his writing is interrupted by his dogs, and visits from his kids and grandkids. Most of the time he is not scruffy, rude, bad-tempered, or mysterious….
To learn more, please visit: www.wulliesworld.com
Connect with David Kennedy McCulloch on Social Media:
Instagram – @wulliesworld
Facebook – @wulliesworld
TikTok – @wulliesworld
Media Contact
Company Name: Author News Network
Contact Person: Media Relations
Email: Send Email
Country: United States
Website: authornewsnetwork.com