Providers of innovative online trading resources, Financial Markets IQ, announces the introduction of the popular Demand Imbalance Arbitrage free to traders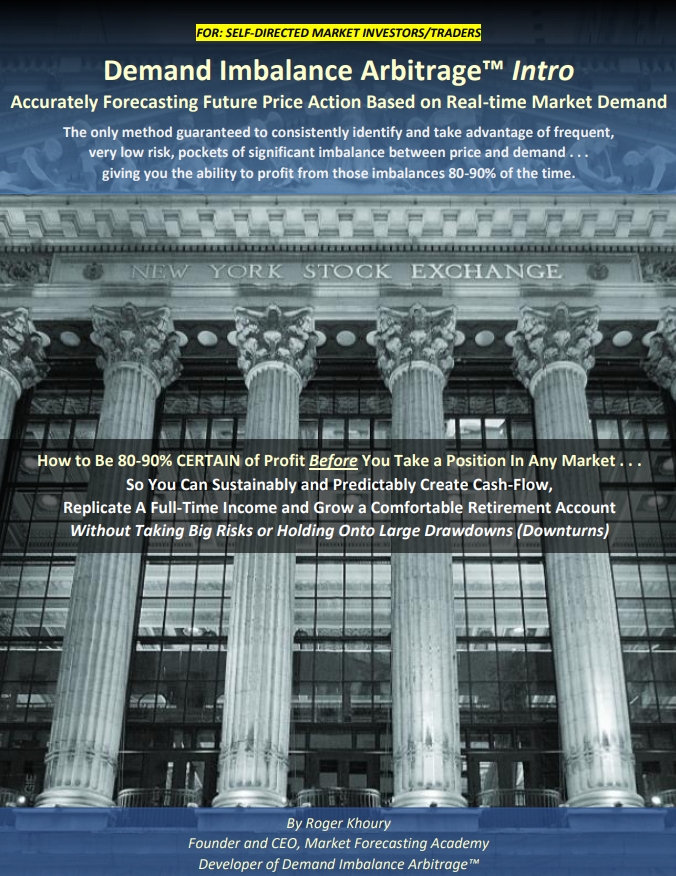 Financial Markets IQ has again taken a huge step towards helping as many people as possible to make the best of financial markets as it offers the Demand Imbalance Arbitrage free to traders. The highly rated strategy has grown in popularity and acceptance in a relatively short while, attracting the attention of experienced traders across the globe, such as Bo Yoder, a professional career trader, author for McGraw Hill, and consultant to the financial industry on matters of market analysis, trading and risk management, for its efficiency and massive ROI.
"Demand Imbalance Arbitrage™ is the strategy of taking advantage of the difference in price AND where the actual real-time market demand is – at key moments where there is a significant imbalance between price and demand – which creates a low risk, high probability opportunity for profit."
Online trading has become increasingly popular worldwide, as more people look to profit from the movement in prices of assets, such as stocks, forex, and even crypto. On the flip side, a good number of traders have burnt their fingers trying to navigate the financial markets due to the lack of resources, especially the strategy to predict market trends correctly. However, Financial Markets IQ is looking to change the narrative by making tested and proven strategies available to people, a claim substantiated by the recent introduction of Demand Imbalance Arbitrage by Roger Khoury.
Described as "the only method GUARANTEED to consistently identify and take advantage of frequent, very low-risk pockets of imbalance between demand and price," Demand Imbalance Arbitrage has a reputation for beating the market and helping users profit 80 to 90% of the time. The game-changing strategy offers 11 years of a fully tested system that teaches users how to identify and filter out losing positions and outperform the markets with very low risk and high winning probability.
Demand Imbalance Arbitrage is suitable for all market conditions and instruments, including stocks, futures, forex, options, and crypto, making it an ideal investing and trading partner for all categories of users.
Video Link: https://www.youtube.com/watch?v=Or6G2-ClysM
For further information about Demand Imbalance Arbitrage and to learn the strategy, visit – https://financialmarketsiq.live.
Media Contact
Company Name: Financial Markets IQ
Contact Person: Mike N
Email: Send Email
Address:2220 Meridian Blvd Suite #HA229
City: Minden
State: NV 89423
Country: United States
Website: https://financialmarketsiq.live/