The device allows users to light up their drinks and enjoy an impressive light show while playing music with colorful light effects to go with it
Surge Beer Speaker has been launched on Kickstarter as a portable Bluetooth speaker that is literally like no other.
The device is designed to allow users to place a beer mug or a soda glass on top of it so that its weight sensors react with an interactive light show that will redefine the experience of having a drink. At the same time, the light show dynamically accompanies the music that the user can play through the Bluetooth speaker in high quality.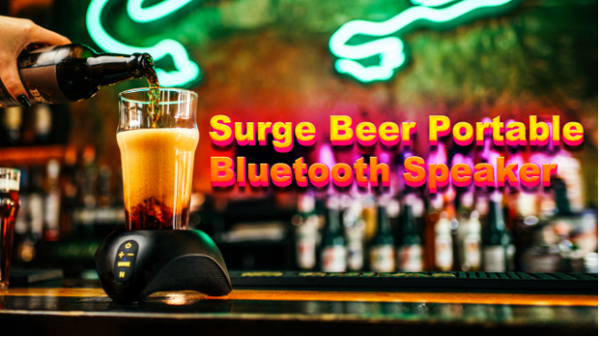 Surge Beer Speaker combines acoustic technology with advanced optics. The device's unique acoustic algorithm makes the projected sound align with the light effects generated by optical technology that interacts with the glass when you place it on the speaker.
Surge Beer Speaker allows the user to choose between multiple light modes, according to specific moods that the light show projects. TWS pairing makes it easy for the device to be paired with a phone, or even for two devices to be paired for a 20W stereo sound experience. Using Bluetooth 5.3 technology, the stability of the connection is also extremely reliable, "all for a perfect user experience.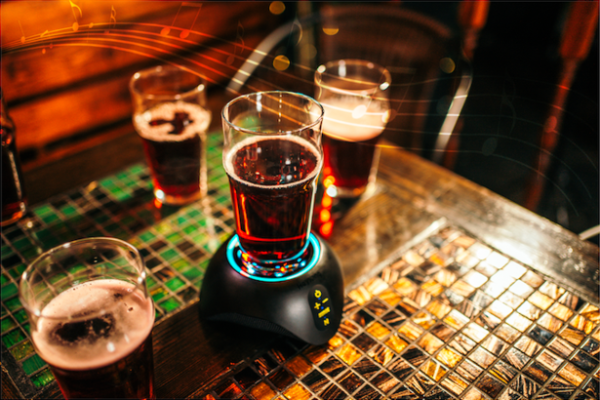 In order to make sure that the beer holding characteristic of this particular device doesn't compromise its integrity, Heysong designed it to be waterproof and rainproof. It has an IPX6 Waterproof level, so that it is actually beerproof, which is essential to the durability it is intended to have.
On the other hand, a built-in 2000mA 18650 battery makes the device ready to play music for up to 50 hours before it needs to be charged again. Its light and compact features are also expected to make this speaker a Kickstarter favorite, measuring only 147*143*69.5mm.
The Surge Beer Speaker campaign on Kickstarter at <https://reurl.cc/QW3Lko> is seeking to fund for the large-scale production of the device, which will be offered early and for a special price to the backers who support the campaign.
About Heysong
Heysong Audio is a team of music enthusiasts with a combined experience of more than 40 years in design, innovation, and development in industry-leading companies such as Harmon Kardon, JBL, and Toshiba. The company has developed and provided products that have been exported to more than 80 countries. Toshiba, Sharp, AIWA, JVC, and other major household brands are our top industry customers. As a brand, we're committed to helping people enjoy the best things in life in an enhanced and optimized way aided by technology.
For more information, please visit <https://reurl.cc/QW3Lko> or contact at business@heysongaudio.com
Media Contact
Company Name: Heysong Technology Co., Ltd
Email: Send Email
Phone: +86 18475523568
Country: China
Website: https://www.kickstarter.com/projects/2033677960/heysong-surge-beer-portable-bluetooth-speaker?ref=1sovog